Aspectos Bioéticos en Cuidados Paliativos para Enfermería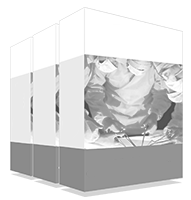 La mejora de la calidad de vida del paciente que sufre una enfermedad grave es el principal objetivo de los Cuidados Paliativos. Por ello, el conceso entre los profesionales para garantizar una serie de aspectos bioéticos en este tipo de atención es importantísimo para asegurar su estabilidad trabajando intensivamente en el tratamiento apropiado, la nutrición, la hidratación o la posición frente a la eutanasia. En base a esto, TECH ha desarrollado un completo y novedoso programa 100% online que recoge la información más actualizada relacionada con los Cuidados Paliativos, el marco legal que los rige y sus aspectos éticos, para que el enfermero pueda ponerse al día y perfeccionar sus competencias en la intervención clínica en las últimas etapas de la vida.
La mayor facultad de enfermería del mundo"
Update your knowledge in bioethics in the palliative patient through this program, where you will find the best didactic material and real clinical cases. Increase your skills by putting into practice the latest advances in non-curative care of the chronic and terminal patient".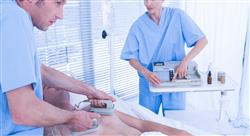 Among the criteria for selecting patients susceptible to palliative care are those suffering from different pathological conditions, such as: cancer, cardiac pathologies, pulmonary diseases, renal failure, dementia, AIDS, amyotrophic lateral sclerosis, etc.
These diseases involve complex situations, which require knowledge and perspective to make the right decisions.
Personalistic bioethics allows maintaining a point of view based on evidence and the importance of the human being as a unique and unrepeatable being. 
Bioethical knowledge facilitates decision making aimed at preserving the life and dignity of the person, making nursing care a fundamental tool in palliative patient care.
This program facilitates the updating of bioethical knowledge to the nursing professional, so that they can provide care to the palliative patient with the maximum scientific and human rigor.
Update your knowledge through the Experto Universitario in Aspectos Bioéticos en Cuidados Paliativos para Enfermería"
This Experto Universitario in Aspectos Bioéticos en Cuidados Paliativos para Enfermería has the most complete and updated scientific program on the market. The most important features of the program include:
Clinical cases presented by experts in palliative care. The graphic, schematic, and eminently practical contents with which they are created contain clinical information that is indispensable for professional practice.
Contains practical exercises where the self-assessment process can be carried out to improve learning.
The latest developments and trends in palliative care and bioethics.
All of this will be complemented by theoretical lessons, questions to the expert, debate forums on controversial topics, and individual reflection assignments.
Content that is accessible from any fixed or portable device with an Internet connection.
This may be the best investment you can make in the selection of an update program for two reasons: in addition to updating your knowledge in palliative care, you will obtain a Experto Universitario from TECH Universidad Tecnológica"
It includes in its teaching staff health professionals belonging to the field of bioethics and palliative care, who pour into this specialization the experience of their work, in addition to recognized professionals belonging to other specialties.
The multimedia content developed with the latest educational technology will provide the professional with situated and contextual learning, i.e., a simulated environment that will provide immersive training program to train in real situations.
The design of this program is based on problem-based learning, by means of which the nursing professional must try to solve the different professional practice situations that arise throughout the course. For this purpose, you will be assisted by an innovative interactive video system created by renowned and experienced experts in the field of palliative care with extensive teaching experience.
The Experto Universitario allows training in simulated environments, which provide immersive learning programmed to train in real situations"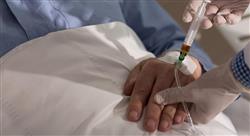 It includes clinical cases to bring the development of the program as close as possible to the reality of nursing practice"
The structure of the contents has been designed by a team of professionals knowledgeable about the implications of training in daily medical practice in palliative care, aware of the relevance of current specialization in order to be able to act before the patient and committed to quality teaching through new educational technologies.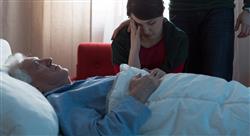 This Experto Universitario in Aspectos Bioéticos en Cuidados Paliativos para Enfermería contains the most complete and updated scientific program on the market"
Module 1. Introduction to palliative care
1.1. History of Palliative Care.
1.2. Overview of Palliative Medicine.
1.3. A Current Overview of Palliative Care at International Level.
1.4. A Current Overview of Palliative Care at National Level.
1.5. Chronic Non-Communicable Disease.
1.6. The Concept of Advanced and Terminal Illness.
1.7. Palliative Care Models.
1.8. Structure and Organization of Palliative Care in the Different Levels of Health Care.
1.9. Palliative Care Team Members and Roles. 
1.10. Palliative Care Referral Criteria.
Module 2. Ethical aspects and legal framework at the end of life
2.1. Regulatory and Legal Framework for Palliative Care.
2.2. Principles of Medical Ethics in Palliative Care.
2.3. Decision-Making: Basic Comfort and Well-Being Measures vs. Advanced Life Support Measures and Limitation of Therapeutic Effort.
2.4. Palliative Care Informed Consent.
2.5. Advanced Treatments: Hydration and Feeding at the End of Life and Hemotransfusion.
2.6. Abandonment, Claudication, Therapeutic obstinacy.
2.7. Dying at Home vs. at the Hospital.
2.8. Euthanasia and Assisted Suicide.
2.9. Advance Life Directives, Advance Directives Act.
2.10. Ethics of Care.
2.11. Vulnerable Population in Palliative Care.
2.12. Concept of Dignity: Terminally Ill Patient's Environment (Dignified Death).
2.13. Palliative Sedation.
2.14. Quality of Life and Suffering.
2.15. Quality of Death Indicators.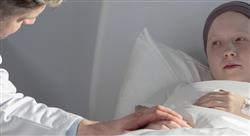 A unique, key, and decisive master's degree experience to boost your professional development"