professional master's degree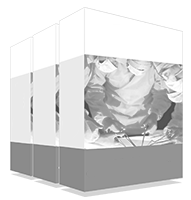 Healthcare professionals play a key role in caring for patients with emergency pathologies or in emergency situations, ensuring a high level of quality and safety. Regular up-to-date training for professionals working in the field of emergency care is essential to ensure the best care, both in hospital and out-of-hospital services.
completion date
03/16/2024
The world's largest faculty of nursing"
New scenarios in accident and emergency nursing push us to propose new specialization programs that meet the real needs of experienced professionals, so that they can incorporate new advances into their daily practice"
Industrialization and technological development increase the probability of these disasters occurring. Terrorism, armed conflicts and seismic and climatological phenomena claim thousands of victims around the world every year. 
In an emergency disaster situation, material and human resources are insufficient, infrastructures are destroyed or seriously damaged etc. All this calls for a concrete and in-depth approach to the management, organization and health care of disasters. The most recent catastrophic events: the New York attacks of 9/11 in 2001, the tsunami in South East Asia in December 2004, the earthquake and tsunami in Japan in March 2011, etc. show us the need to rely on health professionals with specialized training and preparation. In these circumstances, these professionals need to be able to provide assistance to all the people affected by these situations.
The sick or injured person in need of urgent or emergency care presents acute symptoms, in various forms, which change and evolve in a short period of time. They could be fighting for their lives, depending on which organs are affected, and they may need rapid response care.  It is vital they receive specific assistance and care which can only be offered by qualified and specialized professionals, with the specific skills and knowledge required.   
Emergency nurses should also have broad knowledge of the resources and equipment available, as well as their uses and complications, so that they can be used in the each specific situation.
It is clear that the health system must guarantee that there are trained professionals to meet this demand and this is not possible if specific training is not provided. Therefore, we are obligated to offer our users all possible resources and to also provide quality care, given that this is necessary to reach a high skill level through our professional specialized training. 
Improve the care of your patients with training offered by the Professional Master's Degree in Emergency Nursing"
This Professional Master's Degree in Emergency Nursing contains the most complete and updated program on the market. The most important features of the program include:
Practical cases presented by experts in the field of accident, emergency and disaster care for patients. 
The graphic, schematic, and eminently practical contents with which they are created provide scientific and practical information on the disciplines that are essential for professional practice.
The latest information on patient care in situations of accidents, emergencies and disasters.
Practical exercises where the self-assessment process can be carried out to improve learning.
With emphasis on innovative methodologies for patient care in accident, emergency and disaster situations. 
Theoretical lessons, questions to the expert, debate forums on controversial topics, and individual reflection assignments.
Content that is accessible from any fixed or portable device with an Internet connection.
This program is the best investment you can make when choosing a refresher programme to update your existing knowledge of  Emergency Nursing"
The teaching staff includes professionals from the field of nursing, who bring their experience to this training program, as well as renowned specialists from leading societies and prestigious universities.
The multimedia content, developed with the latest educational technology, will provide the professional with situated and contextual learning, i.e., a simulated environment that will provide an immersive training experience designed to train students for real-life situations.
This program is designed around Problem Based Learning, where the nurse must try to solve the different professional practice situations that arise during the course. For this purpose, the specialist will be assisted by an innovative interactive video system created by renowned experts in the field of accidents, emergencies and disasters with extensive experience.
We offer you an interactive video system which makes it easier for you to study this program"
In our program, you will learn the main problems faced by nurses in emergency situations, including the main developments in the diagnosis and treatment of COVID-19."
The structure of the syllabus has been designed by a team of professionals with knowledge of the implications of medical training in the approach to patients with emergency conditions, who are aware of the relevance of the up-to-date specialization, and are committed to quality teaching using new educational technologies.
A comprehensive teaching program, structured in well-developed teaching units, oriented towards efficient and swift learning. Furthermore, it includes the main scientific developments on Coronavirus"
Module 1. General Aspects.

1.1. Definitions and Concepts.
1.2. Comprehensive Study of Health Emergencies.
1.3. Functions of an Emergency Nurse.
1.4. Bioethics in Accidents, Emergencies and Disasters.
Module 2. Hospital Emergency Services.
2.1. Organization of Hospital Emergency Services.
2.2. Nursing Records in the Emergency Department.
2.3. Triaje Systems in Hospitals.
Module 3. Emergency Services and Medical Transport.

3.1. SEM Organization.
3.2. Coordination and Health Regulation.
3.3. Information and Record Systems.
3.4. Types of Medical Transport.
3.4.1. Intrahospital Transport.
3.4.2. Interhospital Transport.
3.4.3. Ground Medical Transport.
3.4.4. Air Medical Transport.
3.5. Types of Out-of-Hospital Health Resources.
3.6. Pathophysiology of Medical Transport and Transfer Positions.
3.7. Patient Transfer. Models.
3.8. Legislation of Medical Transport and Emergencies
Module 4. Life Support.

4.1. General Aspects.
4.2. Basic Life Support and AED in Adults.
4.3. Basic Life Support and AED in Children.
4.4. Basic Electrocardiography and Arrhythmias.
4.5. Advanced Life Support in Adults.
4.6. Advanced Pediatric Life Support.
4.7. Neonatal Resuscitation.
4.8. Resuscitation in Special Cases.
Module 5. Medical-Surgical Emergencies in Adults (I)

5.1. Cardiovascular Emergencies.
5.1.1. Ischemic Heart Disease.
5.1.2. Cardiac Contractility Disorders: CHF, PAD, Cardiogenic Shock
Cardiac Tamponade.
5.1.3. Vascular Emergencies.
5.1.4. Inflammatory-Infectious Disorders: Pericarditis, Myocarditis, Endocarditis.
5.1.5. Aortic Dissection and Aneurism.
5.1.6. Deep Vein Thrombosis.
5.1.7. Pulmonary Embolism.
5.1.8. Pulmonary Hypertension.
5.1.9. Acute Peripheral Vascular Disease.
5.1.10. Hypertensive Crisis.
5.2. Respiratory Emergencies.
5.2.1. Anatomophysiologic Review of the Respiratory System.
5.2.2. Acute Respiratory Failure.
5.2.3. ARDS.
5.2.4. Asthma and Status Asthmaticus.
5.2.5. Bronchitis, Bronchiolitis, Pneumonia.
5.2.6. Exacerbation of Chronic Obstructive Pulmonary Disease.
5.2.7. Pleuritis and Pleural Effusion.
5.3. Neurological Emergencies.
5.3.1. Anatomophysiologic Review of the Nervous System.
5.3.2. Neurological Assessment of a Critically Ill Patient. Most Common Scales.
5.3.3. Vascular Disorders: stroke, transient ischemic attack, subarachnoid hemorrhage, subdural and extradural hematoma, venous thrombosis of the sinuses.
5.3.4. Inflammatory-Infectious Disorders: meningitis, encephalitis, meningococcal sepsis, peripheral facial paralysis, trigeminal neuralgia.
5.3.5. Syncope, Coma, Headache, Acute Confusional Syndrome, Dizziness, Vertigo.
5.3.6. Vertigo.
5.3.7. Seizures and Status Epilepticus.
5.3.8. Intracraneal Hypertension.
5.4. Digestive Emergencies.
5.4.1. Anatomophysiologic Review of the Digestive System.
5.4.2. Acute Abdominal Pain.
5.4.3. Vascular Disorders: esophageal varices, ischemic colitis, hemorrhage.
gastrointestinal, mesenteric ischemia.
5.4.4. Inflammatory-Infectious Disorders: reflux esophagitis. Caustic Injuries. Appendicitis, cholecystitis, cholangitis, diverticulitis, exacerbations and complications of inflammatory bowel diseases, gastritis, gastroenteritis, peptic ulcer, hepatitis, pancreatitis, peritonitis. Acute Complications of Cirrhosis. Fulminant Liver Failure and Hepatorenal Syndrome.
5.4.5. Trauma and Mechanical Problems: foreign bodies, esophageal rupture and tear, hernia strangulation, intestinal obstruction and occlusion. Gastric Volvulus.
5.4.6. Acute Anal Disease.
Module 6. Medical-Surgical Emergencies in Adults (II)

6.1. Nephrourological Emergencies.
6.1.1. Anatomophysiologic Review of the Genitourinary System.
6.1.2. Renal and Excretory System Lithiasis.
6.1.3. Uriniary Retention.
6.1.4. Inflammatory/ Infectious Disorders.
6.1.5. Acute Renal Failure.
6.1.6. Hematuria.
6.1.7. Acute Scrotal Syndrome: Testicular Torsion.
6.1.8. Acute Urethral Disease.
6.2. Endocrinometabolic and Hydroelectrolytic Emergencies.
6.2.1. Thyroid Diseases.
6.2.2. Acid-base Balance Disorders.
6.3. Hematological, Immunilogical and Infectious Emergencies.
6.3.1. Allergies and Anaphylactic Reactions. 
6.3.2. Neonatal Sepsis and Septic Shock.
6.3.3. Fever Syndrome.
6.4. Intoxication
6.4.1. General Aspects of an Intoxicated Patient. 
6.4.2. Actions Towards the Most Common Intoxications: alcohol, sedatives and hypnotics, hallucinogens and designer drugs, antidepressants, AAS and paracetamol, corrosives and others.
6.5. Obstetrical-Gynecological Emergencies.
6.5.1. Inflammatory-Infectious Disorders: mastitis, pelvic inflammatory disease, vulvovaginitis.
6.5.2. Haemorrhages.
6.5.3. Pregnancy and Postpartum Emergencies.
6.5.4. Emergency Delivery Assistance.
6.5.5. Sexual Abuse.
6.6. Psychiatric Emergencies.
6.6.1. Psychopathology.
6.6.2. Psychomotor Agitation.
6.6.3. Acute Alcoholic Disease.
6.6.4. Self-Harm Attempt.
6.6.5. Anxiety Attack.
6.6.6. Neuroleptic Malignant Syndrome.
Module 7. Other Emergencies.

7.1. Pediatric Emergencies.
7.1.1. Infantile Colic.
7.1.2. Fever Syndrome in Children.
7.1.3. Febrile Seizures.
7.1.4. Abdominal Pain, Vomiting, Diarrhoea.
7.1.5. Child Abuse.
7.1.6. Transport of Critical Pediatric Patient.
7.2. Otolaryngologic Emergencies.
7.2.1. Angioedema, Epiglottitis, Laryngitis, Paratonsillar Abscess.
7.2.2. Foreign Bodies in ENT.
7.2.3. Epistaxis.
7.2.4. Angiedema.
7.2.5. Acute Hearing Loss.
7.3. Ophthalmologic Emergencies.
7.3.1. Anatomy Recap of the Eye.
7.3.2. Non-painful Red Eye.
7.3.3. Painful Red Eye.
7.3.4. Extraocular Foreign Body.
7.3.5. Intraocular Foreign Bodies.
7.4. Skin Emergencies.
7.5. Terminal Patient in Emergencies.
7.5.1. Emergency Complications of a Terminal Patient.
7.5.2. Attention to the Situation in the Last Few Days of a Terminal Patient's Life.
7.6. Encephalic Death and Organ and Tissue Donation Process.
Module 8. Adult and Pediatric Severe Trauma Care.

8.1. General Aspects.
8.2. Biomechanics of Accidents.
8.3. Primary and Secondary Assessment.
8.4. TBI.
8.5. Thoracic Trauma.
8.6. Abdominal Trauma.
8.7. Vertebral Trauma and Spinal Cord Injury.
8.8. Trauma of the Locomotor System.
8.9. Injuries.
8.10. Hypovolemic Shock.
8.11. Pediatric Trauma.
8.12. Trauma During Pregnancy.
8.13. Special Traumas.
8.13.1. Crush Syndrome.
8.13.2. Shock or Blast Wave Injuries.
8.14. Injuries due to Physical, Chemical and Environmental Agents.
8.14.1. Bites and Stings.
8.14.2. Dysbarism.
8.15. Analgesia and Sedation.
8.16. Mobilization and Immobilization. Materials and Techniques.
8.17. Rescue and Medical Care in Confined and Remote Places.
Module 9. Multiple Victim Incidents and Disasters.

9.1. General Concepts.
9.2. IMV Management and Disasters.
9.3. Sectorization.
9.4. Deployment and Logistics.
9.5. Triage.
9.6. Multiple Victim Care.
9.7. Evacuation.
9.8. IMV Management in a Hospital.
9.9. CBRN Incidents.
9.9.1. Individual Protection Teams.
9.10. Emergency Planning.
Module 10. Pharmacology of Accidents and Emergencies.

10.1. Basic Concepts.
10.2. Drug Administration Routes in Accidents and Emergencies.
10.3. Drug Administration Security.
10.4. Fluid Therapy.
10.5. Most Common Drugs Used in Accident and Emergency Care.
10.6. Formulas and Dosis Calculation.
Module 11. Diagnostic and Therapeutic Techniques in Accident and Emergency Care.

11.1. Probes.
11.2. Peripheral and Central Vein Cannulation.
11.3. Intraosseous Route.
11.4. Orotracheal Intubation (OTI).
11.5. Management of Difficult VA.
11.6. Mechanical Ventilation.
11.7. Use of Non-invasive Mechanical Ventilation.
11.8. Pericardiocentesis.
11.9. Thoracentesis.
11.10. Ultrasound for Nurses. Self-guided Techniques.
11.11. Terapia eléctrica (MMP, CV).
11.12. Monitoring of Neurological Status.
11.13. Monitoring of Sedoanalgesia.
11.14. Collecting Analytical Samples.
11.15. Frequently Used Scales in Accident and Emergency Medicine.
11.16. Physiological Parameters in Adults and Children.
Module 12. Other important Aspects in Caring for a Critically Ill Patient.

12.1. Patient Security.
12.2. Team work. Communication and Leadership.
12.3. New Professional Skills in Accident and Emergency Care.
12.4. New Technologies in Accident and Emergency Care.
Module 13. Latest Information on Coronavirus Infections.

13.1.  Discovery and Evolution of Coronaviruses. 
13.1.1.    Discovery of Coronaviruses.
13.1.2.    Global Trends in Coronavirus Infections.
13.2.    Main Microbiological characteristics and Members of the Coronavirus Family. 
13.2.1.    General Microbiological Characteristics of Coronaviruses.
13.2.2.    Viral Genome.
13.2.3.    Principal Virulence Factors.
13.3.    Epidemiological Changes in Coronavirus Infections from its Discovery to the Present.
13.3.1.    Morbidity and Mortality of Coronavirus Infections from their Emergence to the Present.
13.4.    The Immune System and Coronavirus Infections. 
13.4.1.    Immunological Mechanisms Involved in the Immune Response to Coronaviruses.
13.4.2.    Cytokine Storm in Coronavirus Infections and Immunopathology.
13.4.3.    Modulation of the Immune System in Coronavirus Infections.
13.5.    Pathogenesis and Pathophysiology of Coronavirus Infections. 
13.5.1.    Pathophysiological and Pathogenic Alterations in Coronavirus Infections.
13.5.2.    Clinical Implications of the Main Pathophysiological Alterations.
13.6.    Risk Groups and Transmission Mechanisms of Coronaviruses. 
13.6.1.    Main Sociodemographic and Epidemiological Characteristics of Risk Groups Affected by Coronavirus.
13.6.2.    Coronavirus Mechanisms of Transmission.
13.7.    Natural History of Coronavirus Infections. 
13.7.1.    Stages of Coronavirus Infection.
13.8.    Latest Information on Microbiological Diagnosis of Coronavirus Infections. 
13.8.1.    Sample Collection and Shipment.
13.8.2.    PCR and Sequencing.
13.8.3.    Serology Testing.
13.8.4.    Virus Isolation.
13.9.    Current Biosafety Measures in Microbiology Laboratories for Coronavirus Sample Handling. 
13.9.1.    Biosafety Measures for Coronavirus Sample Handling.
13.10.    Up-to-Date Management of Coronavirus Infections. 
13.10.1.    Prevention Measures.
13.10.2.    Symptomatic Treatment.
13.10.3.    Antiviral and Antimicrobial Treatment in Coronavirus Infections.
13.10.4.    Treatment of Severe Clinical Forms.
13.11.    Future Challenges in the Prevention, Diagnosis, and Treatment of Coronavirus. 
13.11.1.    Global Challenges for the Development of Prevention, Diagnostic, and Treatment Strategies for Coronavirus Infections.
A unique, key, and decisive training experience to boost your professional development"