Study of Personality in the Elderly for Nursing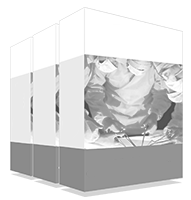 Studying the personality in the elderly is fundamental to understand our elders and, therefore, to make the most appropriate care for each case. Nurses play a fundamental role here, as they are the professionals who have the first contact with patients, so it is essential that they are able to make effective initial assessments.
The world's largest faculty of nursing"
Increase your skills in the management of elderly patients, with this Postgraduate Diploma in which you will be able to delve into the study of their personality"
Nurses are people who must have extensive knowledge in different areas. Although their work as nurses may be considered to be the same, regardless of the field in which they work, this is not entirely true, since the more specialized the professional is in their area of intervention, the more complete and better they will be able to perform their work.
In the case of Psychogeriatrics, it is essential for the nurse to know the history of the person, since, in old age, it is essential not only as a means of knowledge to be able to intervene, but also as an end of the intervention itself. In this way, we could say that personality is the window through which the person who reaches old age looks and expresses themselves.
By studying this Postgraduate Diploma, you will learn to analyze the current state of old age in society, as well as prepare themselves for the immediate future, since, in the coming decades, when the young people of today are elderly people, new knowledge and tools will be needed to achieve the best possible quality of life.
In addition, as it is a 100% online specialization, nurses can combine the study of this Postgraduate Diploma with the rest of their daily obligations, choosing at all times where and when to study. A high-level qualification that will take the Nursing professional to the highest level in their field of practice.
This program will allow you to make discoveries about the personality of our elders"
This Postgraduate Diploma in Study of Personality in the Elderly for Nursing contains the most complete and up-to-date scientific program on the market. The most important features include:
Practical cases presented by experts in Psychogeriatrics
The graphic, schematic, and practical contents with which they are created, provide scientific and practical information on the disciplines that are essential for professional practice
New developments in personality studies in the elderly
Practical exercises where self-assessment can be used to improve learning
Its special emphasis on innovative methodologies in Study of Personality in the Elderly
Theoretical lessons, questions to the expert, debate forums on controversial topics, and individual reflection assignments
Content that is accessible from any fixed or portable device with an Internet connection
This Postgraduate Diploma is the best investment you can make in the selection of a refresher program for two reasons: in addition to updating your knowledge in the Study of Personality in the Elderly, you will obtain a qualification endorsed by TECH Technological University"
The teaching staff includes professionals from the field of psychogeriatrics, who bring their experience to this educational program, as well as renowned specialists from leading societies and prestigious universities.
Multimedia content, developed with the latest educational technology, will allow professionals to learn in a contextual and situated learning environment, i.e., a simulated environment that will provide immersive learning designed to prepare them for real situations.
The design of this program focuses on Problem-Based Learning, by means of which the nurse must try to solve the different professional practice situations that are presented to them throughout the academic program. For this purpose, professionals will be assisted by an innovative interactive video system developed by renowned and experienced experts in the study of personality in the elderly
Continue your specialization with us and increase your decision-making confidence"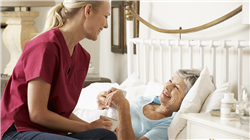 Don't miss the opportunity to improve your professional skills. We offer you the best teaching methodology and the latest educational technology"
The structure of the contents has been designed by the best professionals in the psychogeriatrics sector, with extensive experience and recognized prestige in the profession, backed by the volume of reviewed, studied and diagnosed cases, and with extensive knowledge of new technologies applied to education.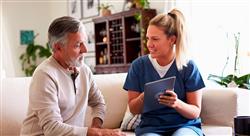 We have the most complete program on the market. We strive for excellence and for you to achieve it too"
Module 1. Aging from the Perspective of Personality Traits
1.1. Personality Studies and Theories on the Process of Aging
1.2. Social Dynamics and Role of the Elderly Person
1.3. Experiences and Current Research in Psychogeriatrics
1.4. Negative Changes in Personality
1.4.1. Egocentrism
1.4.2. Dependency
1.4.3. Dogmatism
1.4.4. Stiffness
1.4.5. Intolerance
1.4.6. Disobedience
1.4.7. Pessimism
1.4.8. Impatience
1.4.9. Disrespectful
1.4.10. Insecure
1.4.11. Gnarly
1.4.12. Associable
1.5. Positive Changes in Personality
1.5.1. Sincerity
1.5.2. Calmness
1.5.3. Unconcerned
1.5.4. Discrete
1.5.5. Straightforward
1.5.6. Generous
1.5.7. Tender
1.5.8. Honest
1.5.9. Humble
1.5.10. Kind
1.5.11. Confident
1.5.12. Understanding
1.6. How Do Personality Disorders Affect the Elderly?
1.7. Research in Personality Disorders in Old Age
1.7.1. Schizoid Personality Disorder
1.7.2. Dependency-Based Personality Disorder
1.7.3. Obsessive Compulsive Personality Disorder
1.7.4. Narcissistic Personality Disorder
1.7.5. Paranoid Personality Disorder
1.8. The Aging Process Improves or Worsens Personality Disorders
1.9. Situation for the Study and Evaluation of Personality Disorders in Old Age
Module 2. Health in Old Age
2.1. Review of the Dimensions of Health
2.2. Mental and Emotional Health
2.2.1. Conserving Time and Space Relationship
2.2.2. Maintaining Short-Term Memory
2.3. Habits and Cognitive Style
2.4. Emotional Schemes
2.5. Basic Needs Met
2.6. Resilience
2.7. Preservation of the Biography
2.8. Mental Flexibility and Sense of Humor
2.9. Physical Health
2.9.1. Addiction
2.9.2. Chronic Diseases
2.9.3. History of Disease/Illness
2.10. Past Assisted Care
2.11. Stress Level
2.12. Social Health
Module 3. Aging and the Family
3.1. What is Family?
3.1.1. Family Life Cycle
3.1.2. Family Sociability
3.1.3. New Intergenerational Conflicts
3.1.4. Nuclear Family
3.1.5. Modern Family
3.1.6. Social Organization of Sexual Relationships
3.2. Regulatory Processes of Family Life
3.2.1. Family Temperament
3.2.2. Family Identity
3.3. The Family Development and Growth Process
3.3.1. Sandwich Generation
3.3.2. Tupac Amaru Syndrome
3.3.3. Family Aging
3.4. Functional Family in Old Age
3.4.1. Support of Demands and Needs
3.4.2. Parentage
3.4.3. Subsidiary Responsibility
3.5. Stability of Change and Placement of Authority
3.6. Aging Within the Family
3.6.1. The Family and the Importance of Contributing and Being Productive
3.6.2. Psychosocial Aspects of the Family
3.6.3. Structure
3.6.4. Mechanisms of action
3.6.5. Family as a Health and Social Network in Old Age
3.6.6. Current Role of Old Age in 21st Century Families
3.7. The 70s Crisis
3.7.1. Retirement
3.7.2. Dependency
3.7.3. Depression
3.8. The Family of Today and of the Future
3.9. Quality of Life, Family and Modifications that Occur in Old Age
3.9.1. Society and Aging
3.9.2. How Does Our Body Transform with Old Age?
3.9.3. Psychology and Old Age Metapsychology
3.10. Aging with Satisfaction
3.11. Fulfilling Basic Needs in Old Age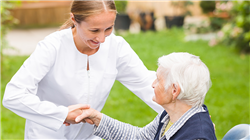 A unique, key, and decisive educational experience to boost your professional development"