Severe Trauma Care for Nurses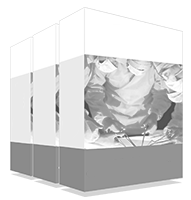 Traumatisms are a common occurrence in our professional and domestic environment, and are also frequent in traffic accidents. In cases where the trauma is severe, the patient's life is endangered, and urgent medical assistance is essential. Adequate updating allows the nursing professional to be prepared to provide comprehensive care to the severe trauma patient with guarantees.
The world's largest faculty of nursing"
Increase your knowledge in the management of severe trauma patients through this program, where you will find the best didactic material, high definition images and real clinical cases. Learn here about the latest advances in polytraumatized patient care for quality nursing interventions"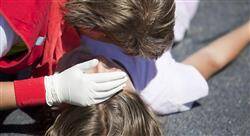 Every year, a large number of deaths occur in our country as a result of traffic, occupational or domestic accidents. If we take into account that almost half of the mortality occurs in the first two hours after the trauma, the need for a process focused on emergency care for the severely traumatized patient and for professionals trained to meet this demand in order to reduce mortality is evident.
The Postgraduate Diploma in Severe Trauma Care for Nurses is designed to facilitate the updating of nursing professionals. At the end of this course, the graduate will be able to make an initial assessment of the severity of the trauma to guide the selection of the most appropriate health care resource in the shortest possible time, stratify the risk of death and severely disabling sequelae in order to identify which patients require referral to a hospital and describe the specialized nursing care and attention these patients need.
Through this Postgraduate Diploma you will be able to update your knowledge in the care of patients with severe trauma, improve the prognosis and reduce the sequelae and complications"
This Postgraduate Diploma in Severe Trauma Care for Nurses contains the most complete and up-to-date scientific program on the market. The most important features of the program include:
Clinical cases presented by experts in advanced life support and polytraumatized patient care. The graphic, schematic and eminently practical contents of the course are designed to provide all the essential specialization required for professional practice.
It contains exercises where the self-assessment process can be carried out to improve learning.
Diagnostic and therapeutic novelties in pathologies associated with severe trauma.
Algorithm-based Interactive Learning system for decision-making for patients with severe trauma.
All of this will be complemented by theoretical lessons, questions to the expert, debate forums on controversial topics, and individual reflection assignments.
Content that is accessible from any fixed or portable device with an Internet connection.
This Postgraduate Diploma may be the best investment you can make in the selection of a refresher program for two reasons: in addition to updating your knowledge in severe trauma patient care, you will obtain a diploma from TECH Technological University"
Its teaching staff includes leading nursing professionals, who bring to this specialization the experience of their work, as well as other professionals who specialize in the various fields of emergency medical care.
The multimedia content developed with the latest educational technology will provide the professional with situated and contextual learning, i.e., a simulated environment that will provide immersive training program to train in real situations.
The design of the program is based on Problem-Based Learning, by means of which the nursing professional must try to solve the different professional practice situations that arise throughout the program. For this reason, you will be assisted by an innovative, interactive video system created by renowned and experienced experts in emergencies and with extensive teaching experience.
This program offers training in simulated environments, which provides an immersive learning experience designed to train for real-life situations"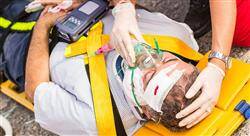 It includes clinical cases to bring the program's degree as close as possible to the reality of care in Nursing"
The structure of the contents has been designed by a team of professionals who recognise the implications of specialization in nursing in emergency care, aware of the relevance of current training to treat the patient with severe conditions and are committed to teaching new educational technologies.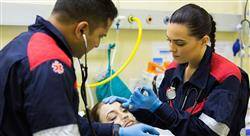 This Postgraduate Diploma in Severe Trauma Care for Nurses contains the most complete and up-to-date scientific program on the market"
Module 1. General aspects
1.1. Definitions and Concepts.
1.2. Comprehensive Study of Health Emergencies.
1.3. Functions of an Emergency Nurse.
1.4. Bioethics in Accidents, Emergencies and Disasters.
Module 2. Adult and Pediatric Severe Trauma Care
2.1. General Aspects.
2.2. Biomechanics of Accidents.
2.3. Primary and Secondary Assessment.
2.4. TBI.
2.5. Thoracic Trauma.
2.6. Abdominal Trauma.
2.7. Vertebral Trauma and Spinal Cord Injury.
2.8. Trauma of the Locomotor System.
2.9. Injuries.
2.10. Hypovolemic Shock.
2.11. Pediatric Trauma.
2.12. Trauma During Pregnancy.
2.13. Special Traumas.
2.13.1. Crush Syndrome.
2.13.2. Shock or Blast Wave Injuries.
2.14. Injuries due to Physical, Chemical and Environmental Agents.
2.14.1. Bites and Stings.
2.14.2. Dysbarism.
2.15. Analgesia and Sedation.
2.16. Mobilization and Immobilization. Materials and Techniques.
2.17. Rescue and Medical Care in Confined and Remote Places.
Module 3. Diagnostic and Therapeutic Techniques in Accident and Emergency Care
3.1. Probes.
3.2. Peripheral and Central Vein Cannulation.
3.3. Intraosseous Route.
3.4. Orotracheal Intubation (OTI).
3.5. Management of Difficult VA.
3.6. Mechanical Ventilation.
3.7. Use of Non-invasive Mechanical Ventilation.
3.8. Pericardiocentesis.
3.9. Thoracentesis.
3.10. Ultrasound for Nurses. Self-guided Techniques.
3.11. Terapia eléctrica (MMP, CV).
3.12. Monitoring of Neurological Status.
3.13. Monitoring of Sedoanalgesia.
3.14. Collecting Analytical Samples.
3.15. Frequently Used Scales in Accident and Emergency Medicine.
3.16. Physiological Parameters in Adults and Children.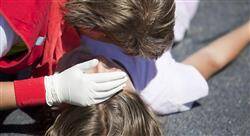 A unique, key, and decisive master's degree experience to boost your professional development"