Respiratory and Pediatric Ostomy. Research and Innovation in Nursing Care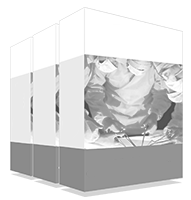 Respiratory ostomies and those treated in the pediatric setting are a challenge for the nursing professional in terms of the comprehensive approach they require. This Postgraduate Diploma is a complete tour through the advances and specific ways of working in these ostomies, with the latest developments in this area and a high-level training program, which will boost you in your profession, with the endorsement and prestige of the largest online university in the world in Spanish.
completion date
09/21/2023
The world's largest faculty of nursing"
A complete immersion in the most updated and successful ways of working in the areas of pediatrics and respiratory ostomy"
Nursing research is defined as a scientific process that validates and improves existing knowledge and generates new knowledge that influences nursing practice, directly or indirectly. The professional competencies of nursing have evolved into an autonomous, responsible position with its own field of expertise. The importance of research for the development of the profession and the benefits it brings must be recognized.  
The profile of the healthcare-patient relationship has changed in recent years, moving from a paternalistic model to a model in which patient autonomy has acquired fundamental importance. The patient is becoming an active character, with clear rights, such as the right to be duly informed about his or her disease or to participate in decisions affecting his or her pathology, but also with the duty to be responsible for his or her disease and state of health. Chronic diseases are the main health problem; the patient must be an active collaborating agent in the process.  
The expert patient provides health education, with communication skills and empathy, to chronic patients who are able to understand their disease, take responsibility for their health and correctly manage the therapeutic options set by their health care providers.
In the respiratory area, an exhaustive classification of the types of respiratory ostomies, their functionalities and temporality, as well as the characteristics that identify them, will be carried out.
Nursing care must be planned, so, thanks to this, we will know what care is required by patients with respiratory ostomies at all times since complications can appear, so knowing them, identifying them, preventing them and treating them
The prevention of respiratory infections is another key point in healthcare, due to the morbimortality that this entails, so taking measures to prevent them and carrying out health education for the patient about them is a basic point in our day-to-day work.
Respiratory physiotherapy and phonetic and swallowing rehabilitation will help tracheostomized patients to adapt to their new life situation, as well as to avoid complications.
As for pediatric ostomy, given its importance and peculiarities, this module has been developed to develop all the knowledge and skills required for the care of these patients.
Although an ostomy, whether in an adult or a child, is still an ostomy, those performed in the pediatric age require more specific knowledge from nurses, without them, their care and treatment will not be performed in an optimal way.
Parents will play a fundamental role in this process, they will be the caregivers and companions of the children in this process, so not only the children are cared for, but also the parents.
The skin of pediatric patients can be greatly affected if the necessary resources are not available, so knowing the characteristics of children and all the devices available will be key to patient care.
For some children their ostomy will be with them for many years or the rest of their lives, so knowing the social impact it can have and addressing the psychosocial aspect is critical with these patients. 
This Postgraduate Diploma in Respiratory and Pediatric Ostomy. Research and Innovation in Nursing Care contains the most complete and up to date scientific program on the market. The most important features of the Specialist Diploma program are: 
Clinical cases presented by experts. Its graphic, schematic and eminently practical contents, with which they are conceived, gather scientific and assistance information on those medical disciplines that are essential for professional practice. 
Diagnostic and therapeutic novelties on the care of patients with digestive pathologies. 
Presentation of practical workshops on procedures, diagnosis, and treatment techniques. 
Algorithm-based interactive learning system for decision-making in the presented clinical situations. 
It includes theoretical lessons, questions to the expert, discussion forums on controversial topics and individual reflection papers. 
Content that is accessible from any fixed or portable device with an Internet connection.  
An exceptional opportunity to give your CV a boost with intensive and efficient training, but fully compatible with your professional and personal life "
Its teaching staff includes reference professionals, who contribute their work experience to this refresher program, in addition to other professionals specializing in the digestive system service. 
The multimedia content developed with the latest educational technology will provide the professional with situated and contextual learning, i.e., a simulated environment that will provide an immersive training program to train in real situations. 
The design of this program is based on Problem-Based Learning, by means of which the nursing professional must try to solve the different professional practice situations that arise throughout the program. This will be done with the help of an innovative interactive video system developed by recognized experts in nursing care in internal digestive pathology care and with extensive teaching experience.  
During the course you will acquire practical experience through simulated learning environments based on real situations and cases."
The contents of this course have been created to provide the most efficient route through the essential knowledge of this area of work. A complete, intensive, clear and useful syllabus that will allow you to use the new skills and knowledge you acquire almost immediately.  
A complete training program created by experts in the field that will take you through the most comprehensive and effective compendium of knowledge in the online teaching market"
Module 1. Respiratory Ostomies
1.1. Anatomical and Physiological Aspects of the Respiratory System
1.2. Diseases and Pathologies of the Respiratory System
1.3. Types of Respiratory Ostomies
1.4. Own Characteristics
1.5. Early Complications
1.6. Late Complications
1.7. Nursing Care
1.8. Types of Devices and their Characteristics
1.9. Respiratory Physiotherapy
1.10. Swallowing and Phonation Rehabilitation
Module 2. Infantile Ostomy
2.1. Indications for Ostomies in Pediatrics
2.1.1. Congenital Malformations
2.1.2. Acquired Pathologies
2.2. Types of Ostomies
2.3. Duration of Ostomies in Childhood
2.4. Characteristics of Ostomies in Infancy
2.5. Pediatric Stoma Care
2.6. Feeding of the Ostomized Child
2.7. Complications of Pediatric Ostomies
2.8. Role of Parents in the Face of Pediatric Ostomy. Role of the Caregiver
2.9. Social Impact. Future Problems
2.10. Model of Care in Pediatric Ostomies
Module 3. Research and Innovation Applied to Care
3.1. Nursing Research
3.2. Research Applied to Care
3.3. Ethical and Legal Aspects.
3.4. Communication of Nursing Care. How to Generate Knowledge
3.5. How to Make a Scientific Poster
3.6. How to Communicate Verbally
3.7. New Communication Spaces
3.8. Expert Patient
3.9. Social Networks
3.10. Nurse Prescription
A unique, key, and decisive Training experience to boost your professional development"