Pediatric Patients in Home Hospitalization for Nursing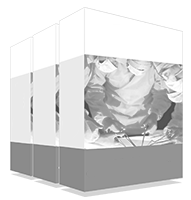 Pediatric patients are probably one of the groups that benefit most from home hospitalization. The affectionate and safe environment at home has a very beneficial effect on their evolution and becomes a contributor to their recovery or improvement. Nursing professionals must possess the most advanced strategies and knowledge in this area to ensure that this benefit is balanced with the best care. This program will prove to be a first level growth and professionalization process that will train you for the best nursing care in home hospitalization.
The world's largest faculty of nursing"
Pediatric patients are one of the most benefited by home hospitalization, but very specific knowledge is required for their care in this context"
Home hospitalization for pediatric patients promotes the well-being of sick children and their recovery at home, improving their quality of life and that of their families. Moreover, this type of hospitalization reduces the risk of contracting infections that are more frequent in hospital centers. 
In order for sick children to receive this type of treatment, it is essential that they be in a stable clinical condition, without having to receive treatments that require specific hospital equipment. In these cases, it must be taken into account that each patient is different, so professionals must be aware of the latest and best procedures for each case. 
This program is designed to delve deeper into all the aspects that make pediatric home hospitalization unique and different from other medical specialties, but also to show the weaknesses and opportunities for the future that still lie ahead, while taking advantage of new educational technologies.
The syllabus includes the latest scientific evidence and clinical cases in which to advance our knowledge, in order to share experiences and innovative techniques already performed by fellow nurses in the field of pediatric patient care in home hospitalization, especially in children with cancer, infections or congenital diseases.
Acquire the skills and strategies necessary for pediatric patients to recover at home with the most appropriate treatments and care"
This Postgraduate Certificate in Pediatric Patients in Home Hospitalization for Nursing contains the most complete and up-to-date scientific program on the market. The most important features of the program include:
More than 100 case studies presented by experts in Nursing Pediatric Patients in Home Hospitalization
The graphic, schematic, and eminently practical contents with which they are created provide scientific and practical information on the disciplines that are essential for professional
Latest information on the role of nurses in home hospitalization
Practical exercises where self-assessment can be used to improve learning
Algorithm-based interactive learning system for decision-making in the situations that are presented to the student
With special emphasis on evidence-based Medicine. and research methodologies in home hospitalization
Theoretical lessons, questions to the expert, debate forums on controversial topics, and individual reflection assignments
The availability of content from any fixed or portable device with an Internet connection
This type of teaching-learning encourages curiosity and skill development, and allows students to feel an active part of the process"
The teaching staff is made up of prestigious and renowned Spanish professionals, with long careers in health care, teaching and research, who have worked in different hospitals throughout the country, garnering professional and teaching experience that is delivered in an extraordinary way in this Postgraduate Certificate.
The methodological design of this Postgraduate Certificate has been developed by a multidisciplinary team of e-learning experts, integrating the latest advances in educational technology for the creation of numerous multimedia educational tools that allow the professional, based primarily on the problem-based learning method, to address real problems in their daily clinical practice. This will allow them to advance by acquiring knowledge and developing skills that will impact their future professional work.
It should be noted that each of the contents generated for this TECH Technological University, as well as the videos, self-evaluations, clinical cases and exams, have been thoroughly reviewed, updated, and integrated by the professors and the team of experts that make up the working group. This will facilitate the learning process with a step-by-step approach in order to achieve the program teaching objectives.
A unique, key, and decisive training experience to boost your professional development"
Train with the most complete and up-to-date scientific program on the market"
The teaching program has been created by a group of professors and professionals with medical La nursing backgrounds. They have extensive clinical, research and teaching experience, and are interested in integrating the latest and most current scientific knowledge of home hospitalization to guarantee professional training and improvement. This will allow them to improve the daily clinical practice of the professionals who care for patients or populations in the community.
Learn from the best professionals in medicine and nursing, and complement your training in the field of pediatric patient care in Home Hospitalization for Nursing"
Module 1. Pediatric Patient in Home Hospitalization
1.1. Introduction
1.1.1. Pediatric Patient Particularities
1.2. Specific Pediatric Assessment at Home
1.2.1. Considerations
1.3. Pediatric Oncology
1.3.1. Considerations
1.4. Infections in Pediatrics
1.4.1. Classification
1.4.2. Procedures
1.5. Congenital Diseases
1.5.1. Classification
1.5.2. Considerations
1.6. Legality in Pediatric Patient Care
1.6.1. Spanish Legal Framework
1.6.2. Considerations
A unique, key, and decisive training experience to boost your professional development"