Nursing Methodology in Vaccines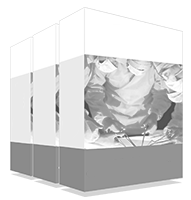 Following the nursing methodology allows professionals to use common criteria for patient care that allows them to have a fluid and effective communication among colleagues, guided by the same protocols. In the field of vaccination, having a standardized criterion will allow a higher quality and more efficient work to be carried out. If you want to know this field in depth, TECH has designed this very complete course.
completion date
05/09/2023
The world's largest faculty of nursing"
Increase your training in the field of nursing with this course that will allow you to develop at a higher level and offer more personalized care" 
The basis of nursing science is a methodology and a standardized language that allows communication among its members. The nursing methodology allows, therefore, to establish a standard communication channel between nurses, which provides a high quality of care and makes it possible to improve patient safety.  
This course will help the student to learn more about how to integrate the vaccination process within the nursing care process, or PAE, what nursing diagnoses can be more effective according to the different situations that may arise, what interventions can be considered by the nurse with patients who undergo a vaccination process or what results they expect to achieve from them, among other issues.   
In order to offer this very complete information to nurses, in this course we offer an important theoretical training, accompanied by numerous practical exercises. In this way, the student will be able, after understanding the texts, to practice with simulated practical cases as if they were facing real cases, which will allow them to carry out a more immersive and complete study, facilitating their understanding of the subject.  
In this course we have proposed to offer you the most complete training on vaccination in a simple and easy to learn way. Also, being a 100% online training, you will have the opportunity to combine your study hours with the rest of your daily obligations, so that you can increase your training in a comfortable way. 
Increase your training in the field of vaccination and improve thanks to this highly academic training"
This Postgraduate Certificate in Nursing Methodology in Vaccines ontains the most complete and updated scientific program on the market. The most important features of the program include:
Clinical cases presented by experts in vaccines
The graphic, schematic, and eminently practical contents with which they are created provide scientific and practical information on the disciplines that are essential for professional.
News on Vaccination
Practical exercises where self-assessment can be used to improve learning
An algorithm-based interactive learning system for decision-making in the clinical situations presented throughout the course.
Theoretical lessons, questions to the expert, debate forums on controversial topics, and individual reflection assignments
Content that is accessible from any fixed or portable device with an Internet connection
This Postgraduate Certificate is the best investment you can make to training to acquire the best and most up-to-date specialization in vaccines"
Its teaching staff includes a professionals from the field of vaccines in nursing, who bring the experience of their work to this training, as well as recognised specialists from leading scientific societies.
The multimedia content, developed with the latest educational technology, will provide the professional with situated and contextual learning, i.e., a simulated environment that will provide an immersive training program designed to train in real situations.
This program is designed around Problem Based Learning, whereby the Nurse must try to solve different professional practice situations that arise during the program. For this purpose, the professional will be assisted by an innovative interactive video system created by renowned and experienced experts in vaccination and extensive experience Teachers.
Our trainings have the best teaching methodology and the latest didactic tools, which will allow you to study from home, but without losing the possibilities offered by on-site classes"
The structure of the contents has been designed by a team of professionals from the best educational hospital and universities in the country, who are aware of the relevance of up-to-date, training, and are committed to quality teaching using new educational technologies. 
We have the most complete and up-to-date academic program in the market. We strive for educational excellence and we want you to achieve it too" 
Module 1. Nursing Methodology in Vaccines
1.1.    History of Nursing in Immunization
1.2.    The Nursing Care Process
1.2.1.     Stages Within the Nursing Care Process
1.3.    Vaccination Within the Eap
1.4.    Most Commonly Used Nursing Diagnoses in Vaccination
1.4.1.     Diagnósticos de Enfermería Más Utilizados en la Vacunación
1.5.    Nursing Interventions in the Vaccination Process
1.5.1.    Most Frequent CINs Used in the Vaccination Process
1.6.    Existing Types of Prevention and Application in the Vaccination Process
1.6.1.    Primary Prevention in the Vaccination Process
1.6.2.    Secondary Prevention in the Vaccination Process
1.6.3.    Tertiary Prevention in the Vaccination Process
1.6.4.    Quaternary Prevention in the Vaccination Process
1.7.    Immunization in Nursing Specialization
1.8.    Nursing News on Immunization
A unique, key, and decisive training experience to boost your professional development"