Movement Disorders for Nursing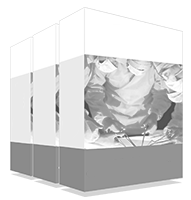 Nursing care of neurological patients with movement disorders is one of the most common types of care encountered by nurses in their daily practice, making a program such as this one essential for professionals in this area. Thus, this curriculum proposes theoretical and practical knowledge on pathophysiology, medical-surgical care and training on nursing methodology for neurological patients, specific care that favors the quality of the nursing professional's work and improves satisfaction in people who require specialized care due to cognitive impairment, which results in greater dependence.
The world's largest faculty of nursing"
Master the specific care required by neurological patients with movement disorders and employ the most innovative tactics with safety and rigor thanks to this TECH qualification"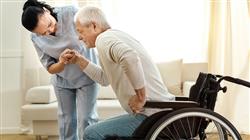 Parkinson's disease is the second most common degenerative disease of the nervous system: in Spain alone it affects about 80,000 inhabitants. Patients have great dependence as they present tremors and serious problems to ambulate, causing falls with the complications they entail and reaching the end of the disease with almost total immobility of the patient, hence the importance of a specialized and trained nursing for their specific care. 
The latest advances in treatments, both pharmacological and surgical, which have led to an improvement in the quality of life of these patients and the importance of nursing in the application of this care and in the follow-up of patients will be discussed. 
Finally, this course defines the specific nursing care in movement disorders, in such a way that this knowledge is integrated to be able to perform a specific assessment by functional patterns and diagnose according to NANDA taxonomy, planning outcome criteria based on NOC taxonomy and nursing interventions in accordance with NIC taxonomy. 
In addition, as it is a 100% onlinePostgraduate Certificate, it provides the student with the ease of being able to take it comfortably, wherever and whenever the student chooses All you need is a device with internet access to take your career one step further. A modality according to the current times with all the guarantees to position the nurse in a highly demanded area.
You will delve into the most up-to-date treatments and specific nursing care used for the different types of Parkinson's that increasingly affect more and more of the population"
This Postgraduate Certificate in Movement Disorders for Nursing contains the most complete and up-to-date scientific program on the market. The most important features of the program include:
Development of more than 100 case studies presented by experts in neurological nursing. Its graphic, schematic and eminently practical contents, which are designed to provide essential scientific and assistance information for professional practice
Latest developments in neurological nursing
Contains practical exercises
Theoretical lessons, questions to the expert and clinical cases for individual reflection
Content that is accessible from any fixed or portable device with an Internet connection
Multimedia content developed with the latest educational technology, which will allow the professional a situated and contextual learning, i.e. a simulated environment that will provide an immersive learning programmed to train in real situations
Among movement disorders, Parkinson's disease is the most common. Master it and specialize in atypical Parkinsonisms with this TECH Postgraduate Certificate" 
The program's teaching staff includes professionals from the sector who contribute their work experience to this training program, as well as renowned specialists from leading societies and prestigious universities. 
The multimedia content, developed with the latest educational technology, will provide the professional with situated and contextual learning, i.e., a simulated environment that will provide immersive training programmed to train in real situations. 
This program is designed around Problem-Based Learning, whereby the professional must try to solve the different professional practice situations that arise during the academic year. For this purpose, the professional will be assisted by an innovative interactive video system created by renowned and experienced experts.
With this course you will learn the differences between tremors and myoclonias or ataxias and paraparesis, positioning you as an advanced nurse"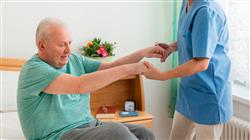 Specialize with this course and stand out in the health sector with the guarantee provided by TECH Universidad Digital"
The structure of the contents of this Postgraduate Certificate has been designed by a team of nursing professionals from a leading hospital in neurological care at all levels, aware of the relevance of the current relevance of specialization in movement disorders caused by neurological diseases. Thus, they warn of the need to have nurses qualified in the treatment of these pathologies, which is why they have designed this program. 
Committed to quality teaching through new educational technologies, they have established a curriculum whose syllabus offers a broad perspective of the performance of the functions of the nurse in this area of health, with which you will expand your knowledge and acquire full competence for your day-to-day work, knowing that you also have the support of a team of experts and the quality assurance of TECH, a prestigious university.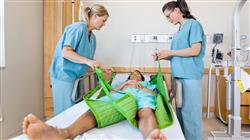 This program stresses the importance of having highly trained nurses specialized in the management of movement disorders, given the dependency of affected patients" 
Module 1. Movement Disorders
1.1. Movement Disorders
1.1.1. Classification
1.2. Parkinson's Disease
1.3. Atypical Parkinsonisms
1.4. Distonias 
1.5. Huntington's Disease
1.6. Tremor and Myoclonus
1.7. Tourette Syndrome
1.8. Ataxias and Paraparesis
1.9. Treatment of Movement Disorders
1.9.1. Pharmacological Treatments and Side Effects
1.9.2. Non-Pharmacological Treatment
1.10. Nursing Care in Movement Disorders
1.10.1. Specific Care in Parkinson's Disease
1.10.2. Specific Care in Dystonia's Disease
1.10.3. Specific Care in Parkinson's Disease
1.10.4. Specific Care for Tremor and Myoclonus
1.10.5. Specific Care in Tourette's Syndromes
1.10.6. Specific Care for Ataxia and Myoclonus
1.11. Standardized NANDA-NIC-NOC Care Plans
1.11.1. Nursing Assessment by Gordon Functional Patterns
1.11.2. Nursing Diagnoses NANDA Taxonomy
1.11.3. Care Planning According to NIC-NOC Taxonomy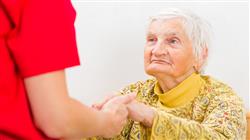 Specialize with this course and learn the specific care required for diseases such as Parkinson's, Huntington's or Tourette's Syndrome"