Emergency Nursing in Adult and Pediatric Patients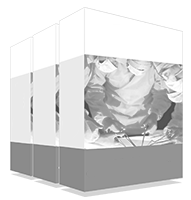 Nurses are multidisciplinary professionals, as they participate in all healthcare areas and, therefore, their knowledge must be specialized to the field in which they work.. They are the first health professionals on the scene and in contact with patients and this allows them to create a bond, but, in emergency situations, this can be complicated. Through this TECH program, nurses will be able to obtain a higher qualification in emergency department work, both for adult and pediatric patients, achieving a specific qualification that will enable them to successfully develop in the field. Furthermore, these studies open the door to work in emergency and disaster situations, so students will acquire the specialized knowledge that will allow them to work in emergency teams, NGOs, hospital and outpatient centers or emergency services, among others.
completion date
03/26/2025
The world's largest faculty of nursing"
Knowing the peculiarities of the emergency department will be fundamental for your professional development in this area, but, above all, for adult and pediatric patient specialized care"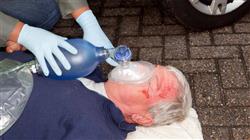 Healthcare in emergency situations is more complex than in other areas, since, given each patient's situation, the first intervention and diagnosis may be complicated. The sick or injured person in need of urgent or emergency care presents acute symptoms, in various forms, which change and evolve in a short period of time. They could be fighting for their lives, depending on which organs are affected, and they may need rapid response care to be saved.  
Moreover, the organization of services for patient care in urgent and emergency situations often differentiates between adults and children, which explains why students can find different programs to specialize in emergency nursing. However, this has also created a need for those professionals who are looking for comprehensive, useful and relevant specialization to be able to intervene in all types of patients.  
To this end, this program compiles the best of emergency nursing studies, urgent response and catastrophes, as well as the most relevant aspects of pediatric emergencies for nurses, so that they acquire a global and specialized knowledge of the factors that can affect all patients. Specifically, it presents the means and equipment available for urgent interventions, their applications and complications so that they can be used appropriately in each emergency situation, including basic and advanced life support, which is essential for critical patients. Furthermore, taking into account the current COVID-19 pandemic, the program includes a specific syllabus to explain its microbiological characteristics, diagnostic tests and treatments, as well as ways of intervening in coronavirus patients.   
It should be noted that this program is totally different from others that can be found on the market, since it places experience as the foundation of the theory, providing global and sufficient knowledge to practice.
When pediatric patients get to the emergency room, they require specialized care that you will learn about by studying this Advanced Master's Degree" 
This Advanced Master's Degree in Emergency Nursing in Adult and Pediatric Patients is the most complete and up-to-date program on the market. The most important features include:  
Practical cases presented by experts in Emergency Nursing 
The graphic, schematic, and eminently practical contents with which they are created, provide scientific and practical information on the disciplines that are essential for professional practice 
Practical exercises where self-assessment can be used to improve learning 
Special emphasis on innovative methodologies in Emergency Nursing 
Theoretical lessons, questions to the expert, debate forums on controversial topics, and individual reflection assignments 
Content that is accessible from any fixed or portable device with an Internet connection  
TECH is a 21st century university and is committed to online teaching as its main method of learning"  
The teaching staff includes nursing professionals who bring their experience to this training program, as well as renowned specialists from leading societies and prestigious universities. 
The multimedia content, developed using the latest educational technology, will provide the professional with situated and contextual learning, i.e., a simulated environment that will provide an immersive training experience designed to train for real-life situations. 
This program is designed around Problem-Based Learning, whereby the student must try to solve the different professional practice situations that arise during the course. For this purpose, the professional will be assisted by an innovative interactive video system created by renowned and experienced experts.  
Specialize in emergency nursing and learn to care for adult and pediatric patients with different conditions"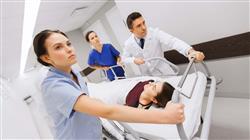 A 100% online update that will allow you to balance your studies with the rest of your daily obligations"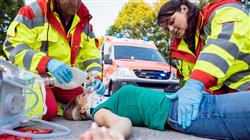 A complete syllabus that will guide you through the main techniques and procedures used in nursing emergencies" 
Module 1. General aspects 
1.1. Definitions and Concepts
1.2. Comprehensive Study of Health Emergencies 
1.3. Functions of Emergency and Disaster Nursing
1.4. Bioethics in Emergencies and Disasters 
Module 2. Hospital Emergency Services
2.1. Organization of Hospital Emergency Services 
2.2. Nursing Records in the Emergency Department
2.3. Triaje Systems in Hospitals
Module 3. Emergency Services and Healthcare Transport 
3.1. SEM Organization 
3.2. Coordination and Health Regulation 
3.3. Information and Record Systems 
3.4. Types of Medical Transport 
3.4.1. Intrahospital Transport 
3.4.2. Interhospital Transport 
3.4.3. Ground Medical Transport 
3.4.4. Air Medical Transport 
3.5. Types of Out-of-Hospital Health Resources
3.6. Pathophysiology of Medical Transport and Transfer Positions 
3.7. Patient Transfer Models 
3.8. Transport and Emergencies Legislation 
Module 4. Life Support 
4.1. General aspects
4.2. Basic Life Support and AED in Adults
4.3. Basic Life Support and AED in Children 
4.4. Basic Electrocardiography and Arrhythmias 
4.5. Advanced Life Support in Adults 
4.6. Advanced Pediatric Life Support 
4.7. Neonatal Resuscitation 
4.8. Resuscitation in Special Cases 
Module 5. Medical-Surgical Emergencies in Adults (I)
5.1. Cardiovascular Emergencies 
5.1.1. Ischemic Heart Disease 
5.1.2. Cardiac Contractility Disorders: CHF, PAD, Cardiogenic Shock, Cardiac Tamponade 
5.1.3. Vascular Emergencies
5.1.4. Inflammatory-Infectious Disorders: Pericarditis, Myocarditis, Endocarditis 
5.1.5. Aortic Dissection and Aneurism 
5.1.6. Deep Vein Thrombosis 
5.1.7. Pulmonary Embolism 
5.1.8. Pulmonary Hypertension 
5.1.9. Acute Peripheral Vascular Disease
5.1.10. Hypertensive Crisis
5.2. Respiratory Emergencies 
5.2.1. Anatomophysiological Review of the Respiratory System 
5.2.2. Acute Respiratory Failure 
5.2.3. ARDS 
5.2.4. Asthma and Asthmatic Status 
5.2.5. Bronchitis, Bronchiolitis, Pneumonia 
5.2.6. Exacerbation of Chronic Obstructive Pulmonary Disease 
5.2.7. Pleuritis and Pleural Effusion 
5.3. Neurological Emergencies 
5.3.1. Anatomophysiological Review of the Nervous System 
5.3.2. Neurological Evaluation for Critically Ill Patients Most Common Scales 
5.3.3. Vascular Disorders: Stroke, Transient Ischemic Attack, Subarachnoid Hemorrhage, Subdural and Extradural Hematoma, Venous Thrombosis of the Sinuses 
5.3.4. Inflammatory-Infectious Disorders: Meningitis, Encephalitis, Meningococcal Sepsis, Peripheral Facial Paralysis, Trigeminal Neuralgia 
5.3.5. Syncope, Coma, Headache, Acute Confusional Syndrome, Dizziness, Vertigo 
5.3.6. Vertigo 
5.3.7. Seizures and Status Epilepticus 
5.3.8. Intracranial Hypertension 
5.4. Digestive Emergencies 
5.4.1. Anatomophysiological Review of the Digestive System 
5.4.2. Acute Abdomen and Abdominal Pain 
5.4.3. Vascular Disorders: Esophageal Varices, Ischemic Colitis, Hemorrhage, Mesenteric Ischemia 
5.4.4. Inflammatory-Infectious Disorders: Reflux Esophagitis Caustic Injuries Appendicitis, Cholecystitis, Cholangitis, Diverticulitis, Exacerbations and Complications of Inflammatory Bowel Diseases, Gastritis, Gastroenteritis, Peptic Ulcer, Hepatitis, Pancreatitis, Peritonitis Acute Complications of Cirrhosis Fulminant Liver Failure and Hepatorenal Syndrome 
5.4.5. Trauma and Mechanical Problems: Foreign Bodies, Esophageal Rupture and Tear, Hernia Strangulation, Intestinal Obstruction and Occlusion Gastric Volvulus 
5.4.6. Acute Anal Disease 
Module 6. Medical-Surgical Emergencies in Adults (II) 
6.1. Nephrourological Emergencies 
6.1.1. Anatomophysiological Review of the Genitourinary System 
6.1.2. Renal and Excretory System Lithiasis 
6.1.3. Urinary Retention 
6.1.4. Inflammatory/ Infectious Disorders 
6.1.5. Acute Renal Failure 
6.1.6. Hematuria 
6.1.7. Acute Scrotal Syndrome: Testicular Torsion 
6.1.8. Acute Urethral Disease 
6.2. Endocrinometabolic and Hydroelectrolytic Emergencies 
6.2.1. Thyroid Diseases 
6.2.2. Acid-base Balance Disorders 
6.3. Hematological, Immunological and Infectious Emergencies 
6.3.1. Allergies and Anaphylactic Reactions
6.3.2. Sepsis and Septic Shock 
6.3.3. Febrile Syndrome 
6.4. Intoxications 
6.4.1. General Aspects of an Intoxicated Patient 
6.4.2. Attitude toward the Most Common Intoxications: Alcohol, Sedatives and Hypnotics, Hallucinogens and Designer Drugs, Antidepressants, AAS and Paracetamol, Corrosive Drugs and Others 
6.5. Obstetrical-Gynecological Emergencies
6.5.1. Inflammatory-Infectious Disorders: Mastitis, Pelvic Inflammatory Disease, Vulvovaginitis 
6.5.2. Hemorrhages 
6.5.3. Pregnancy and Postpartum Emergencies 
6.5.4. Emergency Delivery Assistance 
6.5.5. Sexual Abuse 
6.6. Psychiatric Emergencies
6.6.1. Psychopathology 
6.6.2. Psychomotor Agitation 
6.6.3. Acute Alcoholic Disease
6.6.4. Self-Harm Attempt 
6.6.5. Anxiety Attack
6.6.6. Neuroleptic Malignant Syndrome 
Module 7. Other Emergencies 
7.1. Pediatric Emergencies 
7.1.1. Infantile Colic 
7.1.2. Fever Syndrome in Children 
7.1.3. Febrile Seizures 
7.1.4. Abdominal Pain, Vomiting, Diarrhea 
7.1.5. Child Abuse
7.1.6. Transport of Critical Pediatric Patients 
7.2. Otolaryngologic Emergencies 
7.2.1. Angioedema, Epiglottitis, Laryngitis, Paratonsillar Abscess 
7.2.2. Foreign Bodies in ENT 
7.2.3. Epistaxis
7.2.4. Angioedema
7.2.5. Acute Hearing Loss 
7.3. Ophthalmologic Emergencies 
7.3.1. Anatomy Recap of the Eye 
7.3.2. Non-painful Red Eye
7.3.3. Painful Red Eye 
7.3.4. Extraocular Foreign Body 
7.3.5. Intraocular Foreign Bodies 
7.4. Skin Emergencies 
7.5. Terminal Patient in Emergencies 
7.5.1. Emergency Complications in Terminal Patients
7.5.2. Attention to the Situation in the Last Few Days of a Terminal Patient's Life 
7.6. Encephalic Death and Organ and Tissue Donation Process 
Module 8. Adult and Pediatric Severe Trauma Care
8.1. General aspects 
8.2. Biomechanics of Accidents 
8.3. Primary and Secondary Evaluation 
8.4. TBI 
8.5. Thoracic Trauma
8.6. Abdominal Trauma 
8.7. Vertebral Trauma and Spinal Cord Injury 
8.8. Trauma of the Locomotor System 
8.9. Injuries 
8.10. Hypovolemic Shock 
8.11. Pediatric Trauma 
8.12. Trauma During Pregnancy 
8.13. Special Traumas 
8.13.1. Crush Syndrome 
8.13.2. Shock or Blast Wave Injuries 
8.14. Injuries due to Physical, Chemical and Environmental Agents
8.14.1. Bites and Stings 
8.14.2. Dysbarism 
8.15. Analgesia and Sedation 
8.16. Mobilization and Immobilization Materials and Techniques 
8.17. Rescue and Medical Care in Confined and Remote Places 
Module 9. Multiple Victim Incidents and Disasters 
9.1. General Concepts 
9.2. IMV Management and Disasters 
9.3. Sectorization 
9.4. Deployment and Logistics 
9.5. Triage 
9.6. Multiple Victim Care 
9.7. Evacuation 
9.8. MCI Management in a Hospital 
9.9. CBRN Incidents 
9.9.1. Individual Protection Equipment
9.10. Emergency Planning 
Module 10. Pharmacology of Accidents and Emergencies
10.1. Basic Concepts 
10.2. Drug Administration Routes in Accidents and Emergencies 
10.3. Drug Administration Safety 
10.4. Fluid Therapy 
10.5. Most Common Drugs Used in Accident and Emergency Care 
10.6. Formulas and Dose Calculation 
Module 11. Diagnostic and Therapeutic Techniques in Accident and Emergency Care 
11.1. Probes 
11.2. Peripheral and Central Vein Cannulation 
11.3. Intraosseous Route 
11.4. Orotracheal Intubation (OTI)
11.5. Management of Difficult VA 
11.6. Mechanical Ventilation 
11.7. Use of Non-invasive Mechanical Ventilation 
11.8. Pericardiocentesis 
11.9. Thoracentesis 
11.10. Ultrasound for Nurses Eco-guided Techniques 
11.11. Electrical Therapy (MMP, CV, DF) 
11.12. Monitoring of Neurological Status 
11.13. Monitoring of Sedoanalgesia 
11.14. Collecting Analytical Samples 
11.15. Frequently Used Scales in Accident and Emergency Medicine 
11.16. Physiological Parameters in Adults and Children 
Module 12. Other important Aspects in Caring for a Critically Ill Patient
12.1. Patient Security 
12.2. Teamwork. Communication and Leadership 
12.3. New Professional Skills in Accident and Emergency Care 
12.4. New Technologies in Accident and Emergency Care 
Module 13. Health Care Organization for Pediatric Emergencies 
13.1. Equipment in the Pediatric Emergency Department (PED) 
13.1.1. Differential Characteristics of PEDs
13.1.2. Infrastructure, Staffing
13.1.3. Material 
13.2. Triage in Pediatrics 
13.2.1. Definition 
13.2.2. Classification Systems 
13.3. Transport of Critical Pediatric Patients
13.3.1. Intrahospital Transfer 
13.3.2. Neonatal and Pediatric Transportation
Module 14. Advanced Pediatric and Neonatal Cardiovascular Support 
14.1. Apparently Lethal Syndromes 
14.1.1. Muerte súbita del lactante 
14.1.2. Treatment 
14.1.3. Home Monitoring 
14.2. Recognition and Management of Critically Ill Children 
14.2.1. Epidemiology, Etiology and Prevention of CRP in Childhood 
14.2.2. Pediatric Assessment Triangle (PAT) and its Utility 
14.2.3. Pediatric ABCDE Evaluation 
14.3. Basic Pediatric Cardiopulmonary Resuscitation 
14.4. Advanced Pediatric Cardiopulmonary Resuscitation Advanced Airway Management 
14.5. Basic Concepts of Mechanical Ventilation 
14.6. Infusion Routes and Drugs 
14.7. Pediatric AVS Algorithms and Treatment of Arrhythmias 
14.8. Neonatal Resuscitation 
14.9. Post-resuscitation Stabilization and Neonatal Transport 
Module 15. Invasive Techniques in Critically Ill Pediatric Patients 
15.1. Peripheral and Central Vein Access 
15.1.1. Peripheral Route 
15.1.2. Central Route 
15.2. Intraosseous Puncture 
15.3. Capnography, Pulse Oximetry 
15.4. Oxygen Therapy 
15.5. Rapid Intubation Sequence 
15.6. Analgesia and Sedation 
15.6.1. Approaching Pain 
15.6.2. Procedure 
15.6.3. Reference Drugs in Analgesia and Sedation 
15.7. Protocol for Child Death
Module 16. Pediatric Nursing Care in Cardiology Emergencies 
16.1. Arrhythmias and Syncope
16.1.1. Bradyarrhythmias Diagnosis and Treatment 
16.1.2. Tachyarrhythmias Diagnosis and Treatment 
16.2. Congenital Heart Disease 
16.2.1. Cyanotic Congenital Heart Disease 
16.2.2. Non-Cyanotic Congenital Heart Disease 
16.2.3. Diagnostic Approach
16.2.4. Treatment 
16.3. Hypertensive Crisis
16.3.1. Diagnostic Guidance for Hypertension in Children and Adolescents 
16.3.2. Therapeutic Guidance for Hypertension in Children and Adolescents 
16.4. Heart Failure 
16.4.1. Etiology
16.4.2. Diagnosis 
16.4.3. Treatment Mechanical Ventricular Assistance Techniques Extracorporeal Membrane Oxygenation (ECMO) 
16.5. Techniques and Procedures 
16.5.1. Quick Reading of an ECG 
16.5.2. Defibrillation 
16.5.3. Cardioversion and Temporary Pacemaker
Module 17. Nursing Care in Respiratory Emergencies 
17.1. Respiratory Pathology in Recent Newborns 
17.1.1. Incomplete Pulmonary Fluid Reabsorption Syndrome 
17.1.2. Meconium Aspiration Syndrome
17.1.3. Hyaline Membrane Disease 
17.1.4. Pneumothorax 
17.1.5. Pneumonia
17.1.6. Apnea in Newborns 
17.2. Airway Diseases 
17.2.1. Acute Pharyngotonsillitis 
17.2.2. Laryngitis or Croup 
17.2.3. Spasmodic Croup 
17.2.4. Otitis 
17.2.5. Sinusitis
17.3. Community-Acquired Pneumonia (CAP) 
17.3.1. Diagnosis 
17.3.2. Hospital Admission Criteria
17.3.3. Latest Advances in Treatment 
17.4. Managing a Child with a Persistent Cough. Chronic Cough 
17.4.1. Etiology 
17.4.1.1. Persistent Bacterial Bronchitis
17.4.1.2. Asthma 
17.4.1.3. Gastroesophageal Reflux, etc 
17.4.2. Treatment 
17.5. Caring for Asthmatic Children 
17.5.1. Clinical Diagnosis. Functional Diagnosis
17.5.2. Pharmacological Treatment. Non-Pharmacological Treatment 
17.5.3. Education of Health 
17.6. Techniques and Procedures 
17.6.1. Inhalation Techniques Oxygen Therapy 
17.6.2. Thoracentesis and Chest Tube Placement
17.6.3. Forced Spirometry Bronchodynamic Tests PEF (Peak Expiratory Flow Meter Management) 
Module 18. Nursing Care for Unintentional Injuries Child Accidents
18.1. Burns and Wounds 
18.2. Drowning 
18.3. Stings and Bites
18.4. Drug and Non-drug Intoxications 
18.5. Anaphylaxis 
18.5.1. Classification of Severity 
18.5.2. Diagnostic Procedures 
18.5.3. Treatment and Discharge Recommendations
18.6. Techniques and Procedures 
18.6.1. Extraction of Foreign Body from the Ear 
18.6.2. Extraction of Foreign Bodies from the Nose 
18.6.3. Incarcerated Inguinal Hernia Reduction 
18.6.4. Freeing of Trapped Penis or Scrotum 
Module 19. Nursing Care in Pediatric Trauma and Osteoarticular Injuries 
19.1. Initial Pediatric Trauma Care 
19.1.1. Types and Patterns of Injury in Pediatrics 
19.1.2. Primary and Secondary Assessment 
19.1.3. Spinal Cord Injuries 
19.2. Head Trauma in Children 
19.3. Limping
19.3.1. Types of Lameness 
19.3.2. Treatment 
19.3.3. Referral Criteria 
19.4. Upper Extremity Trauma 
19.5. Lower Extremity Trauma
19.6. Thoracic Trauma Rib Fractures and Contusions 
19.7. Techniques and Procedures 
19.7.1. Mobilization and Immobilization Workshop 
19.7.2. Painful Pronation Reduction 
19.7.3. Hyperpronation 
19.7.4. Supination-Flexion
19.7.5. Active Mobilization Stimulation 
19.7.6. Classification of Pediatric Fractures 
Module 20.  Nursing Care in Neurological Emergencies 
20.1. Alterations of Consciousness 
20.2. Bacterial and Viral Meningitis 
20.3. Febrile Seizures 
20.4. Acute Headache 
20.4.1. Migraine 
20.4.2. Tension Headache
20.4.3. Periodic Syndromes of Childhood 
20.5. Epilepsies and Non-Epileptic Seizure Disorders in Childhood 
20.5.1. Epileptic Syndromes in Childhood and Adolescence 
20.5.2. General Treatment of Epilepsies 
20.6. Acute Ataxia 
20.7. Techniques and Procedures
20.7.1. Ventriculoperitoneal Shunt Puncture
20.7.2. Lumbar Puncture
Module 21. Nursing Care in Digestive Emergencies
21.1. Acute Abdominal Pain 
21.2. Gastrointestinal Disorders 
21.3. Acute Dehydration 
21.3.1. Isonatremic Dehydration 
21.3.2. Hyponatremic Dehydration 
21.3.3. Hypernatremic Dehydration 
21.4. Acid-base Balance Disorders
21.4.1. Metabolic Acidosis. Respiratory Acidosis 
21.4.2. Metabolic Alkalosis. Respiratory Alkalosis 
21.5. Coeliac Disease 
21.5.1. Diagnostic Algorithm 
21.5.2. Treatment 
21.6. Gastroesophageal Reflux (GER) 
21.7. Constipation 
21.8. Hepatitis 
21.8.1. HAV, HBV, HCV, HDV, HEV 
21.8.2. Autoimmune hepatitis 
21.9. Gastrointestinal Bleeding 
21.10. The Infant with Food Refusal 
21.11. Jaundice 
21.12. Techniques and Procedures 
21.12.1. Inguinal Hernia Reduction 
21.12.2. Gastric Explorations 
21.12.3. Managing Children Suffering from Ostomy 
Module 22. Nursing care in Endocrinometabolic Emergencies 
22.1. Emergencies in the Diabetic Patient 
22.2. Hydroelectrolytic Alterations
22.3. Adrenal Insufficiency
Module 23. Nursing Care in Infectious Emergencies 
23.1. Exanthematous Diseases 
23.2. Whooping Cough and Pertussis Syndrome 
23.2.1. Medical treatment 
23.2.2. Control Measures 
23.3. Febrile Syndrome without Focus 
23.4. Sepsis. Septic Shock 
23.5. Osteoarticular Infections 
23.6. Fever and Neutropenia 
Module 24. Nursing Care in Ophthalmological and Otorhinolaryngology Emergencies 
24.1. Conjunctivitis and Blepharitis Pink Eye
24.1.1. Most Frequent Infectious Pathology 
24.1.2. Non-Infectious Pathology 
24.1.3. Protocol for Pediatric Ophthalmologic Emergencies 
24.2. Eyelids and Lacrimal System
24.2.1. Palpebral Alterations and Malformations 
24.2.2. Inflammatory Pathology 
24.2.3. Cysts and Tumors 
24.2.4. Lacrimal Pathology in Children 
24.2.5. Palpebral Traumatology in Infancy 
24.3. Acute Pharyngotonsillitis Acute Otitis Media Sinusitis 
24.4. Techniques and Procedures 
24.4.1. Managing Children Suffering from Tracheostomy 
24.4.2. Fluorescein and Eversion Inspection 
24.4.3. Extraction of Foreign Bodies from the Eye 
24.4.4. Ophthalmologic Examination with Fluorescein 
24.4.5. Eversion of the Upper Eyelid 
Module 25. Nursing Care in Nephrourologic Emergencies 
25.1. Urinary Infections 
25.1.1. Diagnostic Criteria 
25.1.2. Referral Indications
25.2. Hematuria 
25.3. Renal Lithiasis and Renal Colic
25.4. Acute Scrotum 
25.4.1. Frequency in the Pediatric Age Group 
25.5. Techniques and Procedures 
25.5.1. Suprapubic Puncture 
25.5.2. Bladder Catheterization 
25.5.3. Reduction of Paraphimosis 
Module 26. Nursing Care in Critically Ill Pediatric Patients 
26.1. Communication with the Pediatric Intensive Care Patient 
26.2. Most Common Alterations
26.3. Evaluating Critical Pediatric Patients 
26.3.1. Needs Assessment
26.3.2. Most Common Pediatric Rating Scales 
26.4. Pediatric Assessment Triangle 
26.5. Critical Pediatric Patient Care 
26.5.1. Airway and Ventilatory Management for Critically Ill Pediatric Patients 
26.5.2. Nursing Techniques in Critically Ill Pediatric Patients: Monitoring, Venous Access, Safety and Comfort
26.5.3. Administrating Medication for Pediatric Patients  
26.5.4. Interhospital Transport for Critically Ill Pediatric Patients 
26.6. Administering Drugs 
26.6.1. Peripheral Vein Routes 
26.6.2. Intraosseous Route  
26.6.3. Intratracheal Route  
26.6.4. Central Routes 
26.6.5. Most Used Drugs and Fluids 
Module 27. Nursing Care in Special Emergency Situations 
27.1. Children with Special Needs
27.1.1. Tracheostomy and Home Mechanical Ventilation 
27.1.2. Gastrostomies and Feeding Tubes 
27.1.3. Peritoneal Ventriculo-Peritoneal Shunt Valves 
27.1.4. Central Catheters and Prosthetic Vascular Accesses 
27.2. Medication in Pediatrics 
27.3. Psychiatry in the Emergency Department 
27.3.1. Assessment and Initial Treatment
27.3.2. Psychomotor Agitation and Violence 
27.3.3. Suicidal Behavior 
27.3.4. Psychotic Disorders 
27.4. Child Abuse 
27.4.1. Attitude in the Emergency Room 
27.4.2. Assistance in the Case of Abuse 
27.5. Techniques and Procedures
27.5.1. Mechanical Restraint of the Agitated or Aggressive Child 
Module 28. Update on Coronavirus Infections 
28.1. Discovery and Evolution of Coronaviruses  
28.1.1. Discovery of Coronaviruses 
28.1.2. Global Trends in Coronavirus Infections 
28.2. Main Microbiological characteristics and Members of the Coronavirus Family
28.2.1. General Microbiological Characteristics of Coronaviruses 
28.2.2. Viral Genome 
28.2.3. Principal Virulence Factors 
28.3. Epidemiological Changes in Coronavirus Infections from its Discovery to the Present 
28.3.1. Morbidity and Mortality of Coronavirus Infections from their Emergence to the Present
28.4. The Immune System and Coronavirus Infections  
28.4.1. Immunological Mechanisms Involved in the Immune Response to Coronaviruses 
28.4.2. Cytokine Storm in Coronavirus Infections and Immunopathology 
28.4.3. Modulation of the Immune System in Coronavirus Infections
28.5. Pathogenesis and Pathophysiology of Coronavirus Infections  
28.5.1. Pathophysiological and Pathogenic Alterations in Coronavirus Infections 
28.5.2. Clinical Implications of the Main Pathophysiological Alterations 
28.6. Risk Groups and Transmission Mechanisms of Coronaviruses  
28.6.1. Main Sociodemographic and Epidemiological Characteristics of Risk Groups Affected by Coronavirus 
28.6.2. Coronavirus Mechanisms of Transmission 
28.7. Natural History of Coronavirus Infections  
28.7.1. Stages of Coronavirus Infection 
28.8. Latest Information on Microbiological Diagnosis of Coronavirus Infections  
28.8.1. Sample Collection and Shipment 
28.8.2. PCR and Sequencing 
28.8.3. Serology Testing 
28.8.4. Virus Isolation 
28.9. Current Biosafety Measures in Microbiology Laboratories for Coronavirus Sample Handling  
28.9.1. Biosafety Measures for Coronavirus Sample Handling 
28.10. Up-to-Date Management of Coronavirus Infections  
28.10.1. Prevention Measures 
28.10.2. Symptomatic Treatment 
28.10.3. Antiviral and Antimicrobial Treatment in Coronavirus Infections 
28.10.4. Treatment of Severe Clinical Forms 
28.11. Future Challenges in the Prevention, Diagnosis, and Treatment of Coronavirus  
28.11.1. Global Challenges for the Development of Prevention, Diagnostic, and Treatment Strategies for Coronavirus Infections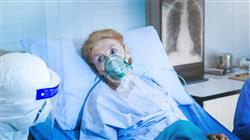 A specific syllabus on nursing emergencies that will be fundamental for your professional development"