Professional Master's Degree
Digital Product Design (UX/UI)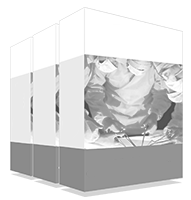 Digitalization has transformed the way shopping is done and entertainment is consumed. The Internet and electronic devices have made it easier to carry out all kinds of activities, which can now be conveniently activities, which can now be carried out comfortably in one's own home. For this reason, digital products must be designed with these circumstances in mind. Thus, this program delves into these mechanisms, providing the professional with the best design tools applied to this area, stopping to analyze the operation of the user experience and the creation of attractive interfaces. All of this is based on a 100% online teaching methodology with which students can easily combine their work with their studies, since it adapts to their personal circumstances.
The world's largest faculty of design"
This program will make you a great specialist in Digital Product Design by providing you with all the tools to deepen the user experience and the creation of attractive interfaces"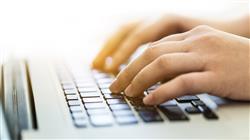 With the popularization of the digital environment, there have been numerous changes in consumer habits and in the performance of basic daily tasks. Online shopping, administrative procedures, consultation of bank receipts and invoices, videogames, etc. A whole series of tasks and activities that years ago were performed offline are now processed and carried out on an electronic device. As a result, Digital Designs now potentially reaches hundreds of millions of people. 
Thus, the professional in this field needs to incorporate to their work the best design tools focused on Digital Products. And this Professional Master's Degree offers them, delving into issues such as the Internet of Things (IoT), agile design methodologies, emerging technologies, web design or user experience, essential for today's companies. 
In this way, this program responds to the needs of the market, which is increasingly requesting designers specialized in the creation of interfaces and user experience. And it does so through an online learning system that is eminently practice-oriented, providing students with the best techniques in this area using the best multimedia teaching resources: interactive summaries, activities, videos, case studies or master classes, among many others.
TECH's 100% online methodology will allow you to incorporate Digital Product Design Techniques into your professional profile while you can easily combine your studies with your work" 
This Professional Master's Degree in Digital Product Design (UX/UI) is the most complete and up-to-date scientific program on the market. The most important features include: 
The development of case studies presented by experts in Digital Product Design
The graphic, schematic, and eminently practical contents with which they are created, provide scientific and practical information on the disciplines that are essential for professional practice
Practical exercises where self-assessment can be used to improve learning. 
Its special emphasis on innovative methodologies  
Theoretical lessons, questions to the expert, debate forums on controversial topics, and individual reflection assignments 
Content that is accessible from any fixed or portable device with an Internet connection
User experience is a fundamental issue for digital products. and with this program you will learn all the the keys to become an up-to-date designer in this complex discipline" 
The program's teaching staff includes professionals from the sector who contribute their work experience to this training program, as well as renowned specialists from leading societies and prestigious universities.
The multimedia content, developed with the latest educational technology, will provide the professional with situated and contextual learning, i.e., a simulated environment that will provide immersive training programmed to train in real situations.
This program is designed around Problem-Based Learning, whereby the professional must try to solve the different professional practice situations that arise during the academic year. For this purpose, the student will be assisted by an innovative interactive video system created by renowned and experienced experts.
In correspondence with the innovative contents offered, this program has the most cutting-edge teaching materials to bring you the latest advances in this area of Design"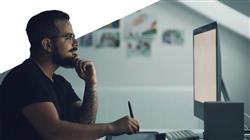 With this Professional Master's Degree, you will be able to delve into issues such as the fundamentals of creativity applied to user experience"
This Professional Master's Degree in Digital Product Design (UX/UI) is structured in 10 modules and has been developed by leading experts in this area of User Experience. Thus, the program will allow the professional to delve into issues such as digital technology in relation to design, design applied to the Internet of Things, agile methodologies and even the creation of the professional portfolio. With this knowledge you will be ready to position yourself as a designer focused on the future of the discipline, becoming a highly sought-after figure by the best companies in the sector.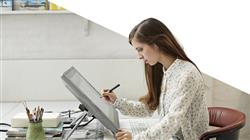 You won't find a more complete and up-to-date curriculum than this one to master the field of User Experience Design"
Module 1. Design Fundamentals
1.1. The History of Design
1.1.1. The Industrial Revolution
1.1.2. The Stages of Design
1.1.3. Architecture
1.1.4. The Chicago School
1.2. Design Styles and Movements
1.2.1. Decorative Design
1.2.2. Modernist Movement
1.2.3. Art Deco
1.2.4. Industrial Design
1.2.5. The Bauhaus
1.2.6. World War II
1.2.7. Transvanguardias
1.2.8. Contemporary Design
1.3. Designers and Tendencies
1.3.1. Interior Designers
1.3.2. Graphic Designers
1.3.3. Industrial or Product Designers
1.3.4. Fashion Designers
1.4. Design Methodology
1.4.1. Bruno Munari
1.4.2. Gui Bonsiepe
1.4.3. J. Christopher Jones
1.4.4. L. Bruce Archer
1.4.5. Guillermo González Ruiz
1.4.6. Jorge Frascara
1.4.7. Bernd Löbach
1.4.8. Joan Costa
1.4.9. Norberto Cháves
1.5. The Language of Design
1.5.1. Objects and the Subject
1.5.2. Semiotics of Objects
1.5.3. The Object Layout and its Connotation
1.5.4. Globalization of Signs
1.5.5. Proposal
1.6. Design and its Aesthetic-Formal Dimension
1.6.1. Visual Elements
1.6.1.1. The Shape
1.6.1.2. The Measure
1.6.1.3. The Color
1.6.1.4. The Texture
1.6.2. Relationship Elements
1.6.2.1. Management
1.6.2.2. Position
1.6.2.3. Spatial
1.6.2.4. Severity
1.6.3. Practical Elements
1.6.3.1. Representation
1.6.3.2. Meaning
1.6.3.3. Function
1.6.4. Frame of Reference
1.7. Analytical Design Methods
1.7.1. The Pragmatic Design
1.7.2. Analogical Design
1.7.3. Iconic Design
1.7.4. Canonical Design
1.7.5. Main Authors and Their Methodology
1.8. Design and Semantics
1.8.1. Semantics
1.8.2. Meaning
1.8.3. Denotative Meaning and Connotative Meaning
1.8.4. Lexicon
1.8.5. Lexical Field and Lexical Family
1.8.6. Semantic Relationships
1.8.7. Semantic Change
1.8.8. Causes of Semantic Changes
1.9. Design and Pragmatics
1.9.1. Practical Implications, Abduction and Semiotics
1.9.2. Mediation, Body and Emotions
1.9.3. Learning, Experience and Closure
1.9.4. Identity, Social Relations and Objects
1.10. Current Design Context
1.10.1. Current Design Problems
1.10.2. Current Design Issues
1.10.3. Contributions on Methodology
Module 2. Fundamentals of Creativity
2.1. Creative Introduction
2.1.1. Style in Art
2.1.2. Educate your Eyes
2.1.3. Can Anyone Be Creative?
2.1.4. Pictorial Languages
2.1.5. What Do I Need? Materials
2.2. Perception as the First Creative Act
2.2.1. What Do You See? What Do You Hear? What Do You Feel?
2.2.2. Perceive, Observe, Examine Attentively
2.2.3. Portrait and Self-Portrait: Cristina Núñez
2.2.4. Case Study Photodialogue. Diving into Oneself
2.3. Facing the Blank Paper
2.3.1. Drawing without Fear
2.3.2. The Notebook as a Tool
2.3.3. The Artist's Book, What Is It?
2.3.4. References
2.4. Creating Our Artist's Book
2.4.1. Analysis and Gaming: Pencils and Markers
2.4.2. Tricks to Release the Hand
2.4.3. First Lines
2.4.4. The Nib
2.5. Creating Our Artist's Book II
2.5.1. The Stain
2.5.2. Crayons Experimentation
2.5.3. Natural Pigments
2.6. Creating Our Artist's Book III
2.6.1. Collage and Photomontage
2.6.2. Traditional Tools
2.6.3. Online Tools: Pinterest
2.6.4. Experimentation with Image Composition
2.7. Doing without Thinking
2.7.1. What Do We Achieve by Doing Without Thinking?
2.7.2. Improvise Henri Michaux
2.7.3. Action Painting
2.8. The Critic as an Artist
2.8.1. Constructive Criticism
2.8.2. Manifesto on Creative Criticism
2.9. The Creative Block
2.9.1. What Is a Block?
2.9.2. Extend Your Limits
2.9.3. Case Study: Getting Your Hands Dirty
2.10. Study of Our Artist's Book
2.10.1. Emotions and Their Management in the Creative Sphere
2.10.2. Your Own World in a Notebook
2.10.3. What Did I feel? Self-Analysis
2.10.4. Case Study: Criticizing Myself
Module 3. Digital Technology
3.1. Introduction to Digital Image
3.1.1. ICT
3.1.2. Technology Description
3.1.3. Commands
3.2. Vectorial Image Working with Objects
3.2.1. Selection Tools
3.2.2. Grouping
3.2.3. Align and Distribute
3.2.4. Intelligent Guides
3.2.5. Symbolism
3.2.6. Transform
3.2.7. Distortion
3.2.8. Enclosures
3.2.9. Streak Hunter
3.2.10. Compound Forms
3.2.11. Compound Traces
3.2.12. Cut, Divide and Separate
3.3. Vectorial Image Color
3.3.1. Color Modes
3.3.2. Dropper Tool
3.3.3. Samples
3.3.4. Gradients
3.3.5. Motif Filling
3.3.6. Appearance Panel
3.3.7. Attributes
3.4. Vectorial Image Advanced Editing
3.4.1. Gradient Mesh
3.4.2. Transparency Panel
3.4.3. Fusion Modes
3.4.4. Interactive Tracing
3.4.5. Clipping Masks
3.4.6. Text:
3.5. ImageBitmap The Layers
3.5.1. Creation
3.5.2. Liaison
3.5.3. Transformation
3.5.4. Grouping
3.5.5. Adjustment Layers
3.6. ImageBitmap Selections, Masks and Channels
3.6.1. Frame Selection Tool
3.6.2. Lasso Selection Tool
3.6.3. Magic Wand Tool
3.6.4. Selection Menu Color Range
3.6.5. Channels
3.6.6. Mask Retouching
3.6.7. Clipping Masks
3.6.8. Vectorial Masks
3.7. ImageBitmap Blending Modes and Layer Styles
3.7.1. Layer Styles
3.7.2. Lens opacity
3.7.3. Options of Layer Styles
3.7.4. Fusion Modes
3.7.5. Examples of Fusion Modes
3.8. The Editorial Project Types and Forms
3.8.1. The Editorial Project
3.8.2. Typologies of the Editorial Project
3.8.3. Document Creation and Configuration
3.9. Compositional Elements of the Editorial Project
3.9.1. Master Pages
3.9.2. Reticulation
3.9.3. Integration and Composition of the Text
3.9.4. Image Integration
3.10. Layout, Export and Printing
3.10.1. Layout
3.10.1.1. Selection and Photographic Editing
3.10.1.2. Preliminary Check
3.10.1.3. Packaging
3.10.2. Exporting
3.10.2.1. Exporting for the Digital Media
3.10.2.2. Exporting for the Physical Media
3.10.3. Printing
3.10.3.1. Traditional Printing
3.10.3.1.1. Binding
3.10.3.2. The Digital Printer
Module 4. Internet of Things (IoT)
4.1. Cyber-Physical Systems (CPS) in the Industry 4.0 Vision
4.1.1. Internet of Things (IoT)
4.1.2. Components Involved in IoT
4.1.3. Cases and Applications of IoT
4.2. Internet of Things and Cyber-Physical Systems
4.2.1. Computing and Communication Capabilities to Physical Objects
4.2.2. Sensors, Data and Elements in Cyber-Physical Systems
4.3. Device Ecosystem
4.3.1. Typologies, Examples and Uses
4.3.2. Applications of the Different Devices
4.4. IoT Platforms and Their Architecture
4.4.1. IoT Market Typologies and Platforms
4.4.2. Operation of an IoT Platform
4.5. Digital Twins
4.5.1. Digital Twin
4.5.2. Uses and Applications the Digital Twin
4.6. Indoor & outdoor Geolocation (Real Time Geospatial)
4.6.1. Indoor and Outdoor Geolocation Platforms
4.6.2. Implications and Challenges of Geolocation in an IoT Project
4.7. Security Intelligence Systems
4.7.1. Typologies and Platforms for Security Systems Implementation
4.7.2. Components and Architectures in Intelligent Safety Systems
4.8. IoT and IIoT Platform Security
4.8.1. Security Components in an IoT System
4.8.2. IoT Security Implementation Strategies
4.9. Wearables at Work
4.9.1. Types of Wearables in Industrial Environments
4.9.2. Lessons Learned and Challenges in Implementing Wearables in the Workplace
4.10. Implementing an API to Interact with a Platform
4.10.1. Types of APIs Involved in an IoT Platform
4.10.2. API Market
4.10.3. Strategies and Systems to Implement API Integrations
Module 5. Usability in Information Systems and Interfaces
5.1. Approach to Usability
5.1.1. Concept of Usability
5.1.2. Usability in the Last Decades
5.1.3. The Context of Use
5.1.4. Efficiency and Ease of Use Engelbart's Dilema
5.2. Objectives and Principles of Usability
5.2.1. The Importance of the Usability
5.2.2. Objectives
5.2.3. Principles
5.2.4. Readability Guidelines
5.3. Perspectives and Usability Rules
5.3.1. Usability Standards According to Jakob Nielsen
5.3.2. Usability Standards According to Steve Krug
5.3.3. Comparative Summary Table
5.3.4. Practice I: in Search of Good Visual References
5.4. Analysis of the Most Common Usability Errors I
5.4.1. Making Error is Human
5.4.2. Coherence and Consistency Errors
5.4.3. Not Having a Responsive Design
5.4.4. Deficient Organization in Structure and Content
5.4.5. Poorly Readable or Poorly Structured Information
5.5. Analysis of the Most Common Usability Errors II
5.5.1. Incorrect Management and Control of Internal Links
5.5.2. Form and Contact Errors
5.5.3. Lack of Search Mechanisms or Inefficiency
5.5.4. Page Names and Favicon
5.5.5. Other Common Errors of Usability
5.6. Usability Evaluation
5.6.1. Usability Metrics
5.6.2. Return on Investment
5.6.3. Phases and Methods of Usability Evaluation
5.6.4. Practice II: Evaluating Usability
5.7. User-Centered Design
5.7.1. Definition
5.7.2. User-Centered Design and Usability
5.7.3. Usability Evaluation
5.7.4. Reflections
5.8. Child-Oriented Interface Design
5.8.1. Considerations of These Users
5.8.2. Usability
5.8.3. Differences Between Genders
5.8.4. Content Design
5.8.5. Visual Design
5.8.6. Usability Evaluation
5.9. Adolescent Oriented Interface Design
5.9.1. General Characteristics
5.9.2. Considerations of These Users
5.9.3. Differences Between Genders
5.9.4. Visual References
5.10. Design of Interfaces Oriented to Senior Audience
5.10.1. Visual Design
5.10.2. Content Design
5.10.3. Option Designs
5.10.4. Usability
Module 6. Portfolio Creation
6.1. The Portfolio
6.1.1. The Portfolio as Your Letter of Introduction
6.1.2. The Importance of a Good Portfolio
6.1.3. Orientation and Motivation
6.1.4. Practical Advice
6.2. Characteristics and Elements
6.2.1. The Physical Format
6.2.2. The Digital Format
6.2.3. The Use of Mock-ups
6.2.4. Common Errors
6.3. Digital Platforms
6.3.1. Continuous Learning Communities
6.3.2. Social Networks: Twitter, Facebook, Instagram
6.3.3. Professional Networks: LinkedIn, Infojobs
6.3.4. Portfolios in the Cloud Behance
6.4. The Designer in the Labor Scheme
6.4.1. Career Opportunities for a Designer
6.4.2. Design Agencies
6.4.3. Corporate Graphic Design
6.4.4. Success Stories
6.5. How Do I Show Myself Professionally?
6.5.1. Keeping up to Date, in Constant Recycling
6.5.2. The Curriculum Vitae  and Its Importance
6.5.3. Common Errors in a Curriculum Vitae 
6.5.4. How to Create a Good Curriculum Vitae ?
6.6. The New Consumers
6.6.1. Value Perception
6.6.2. Defining the Target Audience
6.6.3. Empathy Map
6.6.4. Personal Relationships
6.7. My Personal Branding
6.7.1. Entrepreneurship: The Search for Meaning
6.7.2. Turn Your Passion into a Job
6.7.3. The Ecosystem around Your Activity
6.7.4. The Canvas Model
6.8. Visual Identity
6.8.1. Naming
6.8.2. The Values of a Brand
6.8.3. Major Topics
6.8.4. Moodboard. The Use of Pinterest
6.8.5. Analysis of Visual Factors
6.8.6. Analysis of Temporary Factors
6.9. Ethics and Responsibility
6.9.1. Ethical Decalogue for the Practice of Design
6.9.2. Author Rights
6.9.3. Design and Conscientious Objection
6.9.4. The "Good" Design
6.10. The Price of My Work
6.10.1. Do You Need Money to Live?
6.10.2. Basic Accounting for Entrepreneurs
6.10.3. Types of Expenses
6.10.4. Your Hourly Rate Retail Price
Module 7. Agile Methodologies
7.1  Agile Management of Projects Base for the Development of Web Applications
7.1.1. The Agile Approach
7.1.2. Values and Agile Principles
7.1.3. Project Management Traditional and Agile 
7.1.4. The Agile Model for Project Management
7.1.5. Agile Methodologies
7.2. Adopting an Agile Approach to Web Application Development
7.2.1. Myths and Realities About Agility
7.2.2. Agile Practices
7.2.3. Choosing Agile Practices for a Project
7.2.4. Development of an Agile Mentality
7.2.5. Implementing and Communicating the Adoption of Agile Principles
7.3. Agile Methodologies for Web Application Development
7.3.1. Lean Development
7.3.2. Extreme Programming (XP)
7.3.3. Crystal Methods
7.3.4. Feature Driven Development (FDD)
7.3.5. DSDM and Agile Unified Process
7.4. Agile Methodologies for Advanced Web Application Development 
7.4.1. Kanban Method
7.4.2. Scrum and Scrumban
7.4.3. DA Disciplined Agile
7.4.4. Hybrid  Methodologies
7.4.5. Comparison of Agile Methodologies
7.5. Web Development Project Planning Process
7.5.1. Starting an Agile Project
7.5.2. Process of Agile Planning
7.5.3. Requirements Gathering and User Stories
7.5.4. Project Scoping Using Agile Methods Product Backlog
7.5.5. Agile Tools to Prioritize Requirements
7.6. Stakeholders of Agile Projects for Web Application Development
7.6.1. Stakeholders in Agile Projects
7.6.2. Encouraging Effective Stakeholder Engagement
7.6.3. Participatory Decision Making
7.6.4. Agile Knowledge Sharing and Agile Knowledge Gathering
7.7. Launching Plan and Creation of Estimates
7.7.1. Launching Plan
7.7.2. Estimating the Size of the User Story
7.7.3. Speed Estimation
7.7.4. Agile Estimation Techniques
7.7.5. Prioritization of User Stories
7.8. Planning and Monitoring Iterations
7.8.1. Iteration and Progressive Development
7.8.2. Iteration Planning Process
7.8.3. Creating the Iteration Backlog 
7.8.4. The Agile Schedule and Buffers
7.8.5. Iteration Progress Tracking
7.8.6. Release Progress Tracking and Reporting
7.9. Leading a Web Application Development Team
7.9.1. Agile Teams
7.9.2. The Leader of an Agile Project
7.9.3. The Agile Team
7.9.4. Virtual Agile Team Management 
7.9.5. Coaching for Team Performance Improvement
7.10. Managing and Delivering Value in Web Development Projects
7.10.1. Processes for Value-Centered Delivery
7.10.2. The Quality of the Product
7.10.3. Agile Practices of Quality
7.10.4. Risk Management
7.10.5. Agile Contracts
7.10.6. Earned Value Management in Agile Projects
Module 8. Emerging Technologies
8.1. Mobile Technology
8.1.1. Mobile Devices
8.1.2. Mobile Communications
8.2. Mobiles Services
8.2.1. Types of Applications
8.2.2. Decision on the Type of Mobile Application
8.2.3. Mobile Interaction Design
8.3. Services Based on Localization
8.3.1. Services Based on Localization
8.3.2. Technologies for Mobile Localization
8.3.3. GNSS-Based Localization
8.3.4. Precision and Accuracy in Localization Technologies
8.3.5. Beacons: Location by Proximity
8.4. Design of User Experience (UX)
8.4.1. Introduction to User Experience (UX)
8.4.2. Technologies for Mobile Localization
8.4.3. Methodology for UX Design
8.4.4. Best Practices in the Prototyping Process
8.5. Extended Reality
8.5.1. Concepts of Extended Reality
8.5.2. Technologies for Mobile Localization
8.5.3. AR and VR Application and Services
8.6. Internet of Things (IoT) (I)
8.6.1. Fundamentals of IoT
8.6.2. IoT Devices and Communications 
8.7. Internet of Things (IoT) (II)
8.7.1. Beyond Cloud Computing
8.7.2. Smart Cities
8.7.3. Digital Twins
8.7.4. IoT Projects
8.8. Blockchain
8.8.1. Fundamentals of Blocks Chain
8.8.2. Applications and Services Based on Blockchain
8.9. Autonomous Driving
8.9.1. Technology for Autonomous Driving
8.9.2. V2X Communication
8.10. Innovative Technology and Research
8.10.1. Fundamentals of Quantum Computing
8.10.2. Applications of Quantum Computing
8.10.3. Introduction to Research
Module 9. Web Design
9.1. Introduction to the Digital Environment
9.1.1. What Is Internet?
9.1.2. Brief History of Internet
9.1.3. Physical Network Infrastructure
9.1.4. Most Used Web Browsers
9.2. Intranet
9.2.1. What Is Intranet?
9.2.2. Intranet Design
9.2.3. Usability of Intranet
9.2.4. Intranet Design
9.3. Web Pages
9.3.1. What Is a Web Page?
9.3.2. Differences between Web Page and Web Site
9.3.3. Elements that Make up a Web Page
9.3.4. Types of Web Pages According to Their Construction
9.3.5. Types of Web Pages According to the Used Technology
9.4. Other Types Websites
9.4.1. Online Stores
9.4.2. Blogs
9.4.3. Institutional and Corporate Websites
9.4.4. New and Magazine Websites
9.4.5. Multimedia and Streaming
9.4.6. Wikis
9.4.7. Forums
9.4.8. Portfolios
9.4.9. Landing Pages.
9.4.10. Forums
9.4.11. Download Sites
9.4.12. Web Applications
9.4.13. Image Banks
9.4.14. Online Games
9.4.15. Search Engines
9.4.16. Educational Sites
9.4.17. Comparators
9.5. Other Digital Products
9.5.1. Transactional Email and Mailing
9.5.2. Social Networks
9.5.3. Banners
9.5.4. Mobile Apps
9.6. User-Centered Design and User Experience
9.6.1. Usability and User
9.6.2. Human-Computer Interaction (IPO-HCI)
9.6.3. User Focused Design Process
9.6.4. Why Implement User-Centered Design?
9.7. E-Commerce
9.7.1. The Importance of E-Commerce
9.7.2. Confidence in E-Commerce
9.7.3. E-Commerce Web Design
9.7.4. E-Commerce Web Structure 
9.8. Responsive  and Adaptive Design
9.8.1. What Is Responsive  Design?
9.8.2. Differences between Responsive Web Design and Mobile First Web
9.8.3. Advantages of Responsive Design
9.8.4. Factors to Consider for a Responsive Website
9.9. Experience Design
9.9.1. Where Is Web Design headed?
9.9.2. Types of Experiences 
9.9.3. Phases of an Experience
9.9.4. Emotion Design
9.9.5. Corporate Image Experience Design
9.10. Web Design Project
9.10.1. Presentation and Explanation of the Project
9.10.2. In Search of Ideas: People, Scenarios, Stories, etc.
9.10.3. Information Architecture
9.10.4. Prototyping and Evaluation
9.10.5. Project Presentation
Module 10. User-Centered Design
10.1. Towards a User-Based Model
10.1.1. Definition of Anthropology
10.1.2. Anthropometric Data
10.1.3. Use and Consumption Dynamics
10.2. Human Behavior
10.2.1. Psychology and Design
10.2.2. Anthropology and Design
10.2.3. Sociology and Design
10.3. User Experience
10.3.1. Usability
10.3.2. UX/UI
10.3.3. Emotions
10.4. User-Centered Design
10.4.1. Experience Study
10.4.2. Product Testing
10.4.3. User Orientation
10.5. Analysing Users
10.5.1. In Depth Interviews
10.5.2. People and Scenarios
10.5.3. Socioeconomic and Cultural Factors
10.5.4. Geographic and User Habits Analysis
10.5.5. Psychological and Behavioral Studies
10.5.6. Microenvironment and Macroenvironment Analysis
10.6. Complex Systems
10.6.1. Moving in Complexity
10.6.2. Correlations
10.6.3. Simplification
10.7. Conclusions and Insights
10.7.1. Conceptualization
10.7.2. Hidden Patterns
10.8. Design for Users
10.8.1. Creative Concept Generation Methods
10.8.2. Analysis and Ev