Marketing in Veterinary Centers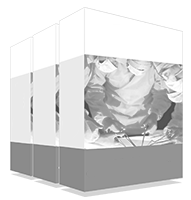 Marketing techniques are essential to achieve success in any business, and in veterinary centers they also play a fundamental role. Therefore, it is necessary to have professionals who know all the aspects related to business management in order to increase the competitiveness of the business and achieve better results.
The world's largest faculty of veterinary medicine"
We offer you the most comprehensive training on the market to bring the business management side of your veterinary center to the same level as the clinical and sanitary practice, offering your clients the highest quality in both services"
Marketing is the process of identifying market needs and designing products and services to satisfy them. Therefore, it is essential for any business to invest in this area, the objective of which is to achieve the greatest benefits for the company.

This Postgraduate Diploma in Marketing in Veterinary Centers offers a complete training in this sector, with a special emphasis on communication with customers, developing skills and abilities to carry out active listening, so that they are fully satisfied after their interaction with the professionals of the veterinary center. 

At the same time, we address the concepts of Customer Experience (CX) and User Experience (UX), fundamental to the success and survival of service provider companies in the 21st century.

Likewise, it is extremely important that veterinary professionals who are dedicated to business management have extensive knowledge in leadership and management skills, to provide proper treatment to both customers and other employees. For this reason, this Postgraduate Diploma develops complete training on the subject.

It should be taken into account that the lack of university training on business management in the veterinary degree has a great influence on the lack of awareness of the future entrepreneur when it comes to professionally managing their veterinary center, prioritizing, in reality, the medical and surgical practice aspects instead.

At present, one of the main problems affecting continuing postgraduate specialization is its compatibility with work and personal life. Current professional demands make it difficult to achieve quality, specialized training in person, so the online format will allow students to combine this specialized training with their daily professional practice, without losing their connection to training and specialization.
Immerse yourself in this high quality educational training, which will enable you to face the future challenges within the management of veterinary centers"
This Postgraduate Diploma in Marketing in Veterinary Centers is the most complete and up to date educational program on the market. The most important features of the program include:
The development of case studies presented by experts in the Marketing in Veterinary Centers
The graphic, schematic, and practical contents with which they are created, provide scientific and practical information on the disciplines that are essential for professional development
Latest innovations in Marketing in Veterinary Centers
Practical exercises where the self assessment process can be carried out to improve learning
Special emphasis on innovative methodologies for Marketing in Veterinary Centers
Theoretical lessons, questions to the expert, debate forums on controversial topics, and individual reflection work
Content that is accessible from any fixed or portable device with an Internet connection
This Postgraduate Diploma is the best investment you can make when choosing a refresher program to update your knowledge in Marketing in Veterinary Centers''
Its teaching staff includes professionals belonging to the field of Business Strategies in Veterinary Centers, who bring to this training the experience of their work, as well as renowned specialists from reference societies and prestigious universities.

The multimedia content, developed with the latest educational technology, will provide the professional with situated and contextual learning, i.e., a simulated environment that will provide immersive training programmed to train in real situations.

This program is designed around Problem Based Learning, whereby the specialist must try to solve the different professional practice situations that arise throughout the program. For this purpose, the professional will be assisted by an innovative system of interactive videos made by renowned and experienced experts in Marketing in Veterinary Centers.
This training comes with the best didactic material, providing you with a contextual approach that will facilitate your learning"
This 100% online Postgraduate Diploma will allow you to combine your studies with your professional work while expanding your knowledge in this field"
The structure of the contents has been designed by the best professionals in the Veterinary Center Management and Administration sector, with extensive experience and recognized prestige in the profession, backed by the volume of cases reviewed and studied, and with a broad command of new technologies.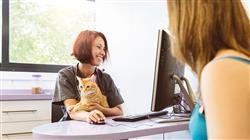 We have the most complete and up to date academic program in the market. We strive for excellence and for you to achieve it too"
 
Module 1. The Client/User of Veterinary Centers
1.1. Customer Service in Veterinary Centers
1.1.1. Excellence in Customer Service
1.1.2. Customer Service Management
1.1.3. Compliance in Veterinary Centers as a Loyalty Tool
1.2. Face-to-Face Communication in Veterinary Centers
1.2.1. Practical Advantages of Communication With Customers
1.2.2. Current Paradigm
1.2.3. Customer Needs
1.2.4. Customer Service Quality Management
1.2.4.1. Communication Channels With Customers
1.2.4.2. Computer Systems/Databases (CRM)
1.2.4.3. Quality Assessment Surveys
1.3. Essential Communication Skills for Veterinary Facility Professionals
1.3.1. The Question in Professional Communication
1.3.2. Listening in Professional Communication
1.3.3. Non-Verbal Communication
1.3.4. Verbal Communication
1.3.5. Proxemia in Veterinary Centers
1.4. Empathy as a Fundamental Skill in the 21st Century in the Relationship with Clients in Veterinary Centers
1.4.1. Definition and Description
1.4.2. Expressions of Empathy
1.4.3. Tools for Working on Empathy with Clients of Veterinary Centers
1.5. Methodology for Successfully Dealing with Difficult Situations with Clients in a Veterinary Center
1.5.1. The Four Essential Habits of Highly Effective Clinicians
1.5.2. Characteristics of Conflict between Professionals and Their Clients
1.5.3. Methodology for Dealing with Difficult Situations with Clients of Veterinary Centers
1.5.3.1. Identify the Problem
1.5.3.2. Discovering the Meaning
1.5.3.3. Seizing Opportunities
1.5.3.4. Establish the Limits of the Relationship
1.5.3.5. Extend Help to Solve the Problem
1.5.4. Tool for the Improvement of Professional Communication Skills
1.6. Communication within the Veterinary Practice
1.6.1. Introduction
1.6.2. The Calgary-Cambridge Model Applied to the Veterinary Practice
1.6.2.1. Preparation Phase
1.6.2.2. Start of Consultation
1.6.2.3. Collection of Information
1.6.2.4. Results and Planning
1.6.2.5. Providing Adequate Information
1.6.2.6. Mutual Understanding
1.6.2.7. Completion of the Consultation
1.6.3. The Giving of Bad News to Customers of the Veterinary Center
1.7. Strategies for Client Relations in a Veterinary Practice
1.7.1. Relationship Marketing
1.7.2. Key Expectations of Clients and Users of Veterinary Centers
1.7.3. Long-term Customer Relationship Management
1.7.3.1. MSMC Model (Best Service for the Best Customers)
1.7.3.2. The New CRM Paradigm
1.8. Customer Segmentation and Portfolio Segmentation in a Veterinary Practice
1.8.1. Customer Segments and Portfolios
1.8.1.1. Carterization Process in Veterinary Centers
1.8.2. Strategic Advantages of Carterization
1.8.3. Most Valuable Customers (MVC)
1.9. Customer Experience (CX) and User Experience (UX) in Veterinary Centers
1.9.1. The Moment of Truth
1.9.2. Elements that Make up Customer Experience
1.9.3. User Experience
1.10. Practical Application of Customer and User Experience in Veterinary Centers
1.10.1. Phases
1.10.1.1. Study and Analysis of User Experiences
1.10.1.2. Definition of the Experiential Platform
1.10.1.3. Design and Planning of Experiences
1.10.1.4. Structuring the Contact or Meeting with Customers
1.10.1.5. Practical Methodology
Module 2. Marketing Applied in Veterinary Centers
2.1. Marketing in Veterinary Centers
2.1.1. Definitions
2.1.2. Needs-Motives for Purchase
2.1.3. Supply and Demand
2.1.4. Evolution of Marketing
2.1.5. Today's Companies
2.1.6. Today's Customer
2.1.7. Loyalty: 21st Century Marketing
2.2. What is Sold in Veterinary Centers?
2.2.1. Products
2.2.2. Services
2.2.3. Differences between Products and Services
2.2.4. The 4Ps of Products
2.2.5. The 7 Ps of Services
2.3. Services - Products in Veterinary Centers
2.3.1. Portfolio of services
2.3.2. Product Portfolio
2.3.3. How to Sell Products
2.3.4. How to Sell Services
2.3.5. Differentiation - Added Value
2.3.6. CABE Technique
2.3.7. Neuromarketing and Its Application to Sales
2.4. The Price of Services and Products in Veterinary Centers
2.4.1. The Importance of Price in a Company
2.4.2. The Relativity of Price in Services
2.4.3. How to Price a Service?
2.4.4. How to Price a Product?
2.4.5. Price List
2.4.6. How to Price a Service to Customers
2.4.7. How to Refute High Price Comments
2.4.8. Demand-Price Elasticity Curve
2.4.9. Pricing Business Models in Veterinary Centers
2.4.10. How to Charge for Everything and What to Do Otherwise
2.5. Communication with the Customer in Veterinary Centers
2.5.1. Communication with the Internal Customer: Employees
2.5.2. Need: Message Coordination
2.5.3. Multichannel and Omni-Channel
2.5.4. In the Waiting Room
2.5.5. Telephone Service
2.5.6. In the Office
2.5.7. Reminders
2.5.8. Preventive Health Campaigns
2.5.9. Dr. Google Vet. and Its Management by the Veterinarian
2.5.10. Reasons for a Client to Change Veterinarian
2.5.11. Satisfaction Surveys
2.5.12. Complaints in a Veterinary Center
2.6. Advertising in Veterinary Centers
2.6.1. What Kind of Customers do I Want to Reach?
2.6.2. Waiting Room
2.6.3. Promotional Items
2.6.4. Written Media
2.6.5. Digital Media
2.6.6. Others
2.7. Cross-Selling in Veterinary Centers
2.7.1. What is It and What Is It For?
2.7.2. Types of Cross-Selling
2.7.3. How to Carry it Out?
2.7.4. Service + Service
2.7.5. Service + Product
2.7.6. Product + Product
2.7.7. Teamwork
2.8. Merchandising
2.8.1. Definitions
2.8.2. Pillars
2.8.3. Objectives
2.8.4. The Purchase Decision Process and Types of Purchases
2.8.5. Outside
2.8.5.1. Facade
2.8.5.2. Identity
2.8.5.3. Door
2.8.5.4. Showcase
2.8.6. Inside
2.8.6.1. Assortment
2.8.6.2. Space Layout
2.8.7. Inventory Management
2.8.8. Animation at the Point of Sale
2.8.8.1. External
2.8.8.2. Internal
2.8.8.3. PLV
2.8.8.4. Promotions
2.9. Digital Marketing in Veterinary Centers
2.9.1. General Aspects
2.9.2. ROPO Effect
2.9.3. Blending Marketing: Offline and Online
2.9.4. Web Pages for a Veterinary Center
2.9.5. Social Networks Applied to Veterinary Centers
2.9.5.1. Facebook
2.9.5.2. Twitter
2.9.5.3. Instagram
2.9.5.4. YouTube Channel
2.9.6. E-mail Marketing
2.9.7. Instant Messaging Tools
2.10. Loyalty Tools for Veterinary Center Customers
2.10.1. Not All Customers Have the Same Value
2.10.2. Health Plan
2.10.3. Preventive Health Campaigns
2.10.4. Veterinary Insurance
2.10.5. Point Accumulation Systems
2.10.6. Discount Coupons
2.10.7. Others
Module 3. Leadership and Management Skills Applied in Veterinary Centers
3.1. Essential Management Skills in a Veterinary Center Manager and/or Owner
3.1.1. Direction
3.1.2. Decision Making
3.1.3. Resolving Capacity
3.1.4. Flexibility
3.1.5. Self-knowledge
3.1.6. Assertiveness
3.1.7. Communication
3.1.8. Emotional Intelligence
3.2. Leadership Applied to Veterinary Centers
3.2.1. Characteristics of the Leader
3.2.2. Benefits of leadership
3.2.3. Leader Exercises
3.2.4. Delegation
3.2.4.1. Delegation Strategy
3.2.4.2. Task Selection
3.2.4.3. Qualification Process
3.2.5. Motivational Interviews with Employees
3.2.5.1. GROW/MAPA Method
3.3. Negotiation for the Veterinary Center Manager
3.3.1. Negotiator Skills
3.3.2. Types and Styles of Negotiation
3.3.3. Negotiation Stages
3.3.3.1. Preparation
3.3.3.2. Discussion and Argumentation
3.3.3.3. Proposal
3.3.3.4. Exchange
3.3.3.5. Closure
3.3.3.6. Monitoring
3.3.4. Negotiation Tactics and Techniques
3.3.5. Strategies
3.4. The Time Management of a Veterinary Center Manager
3.4.1. Slow Down, Reflect, Analyze and Decide
3.4.2. Inner Knowledge
3.4.3. How to Prioritize
3.4.4. Act
3.4.5. Planning and Organizing
3.4.6. Time Thieves
3.5. How to Build Trust in the Staff of a Veterinary Center
3.5.1. Self-Confidence
3.5.2. Trusting Others
3.5.3. Constructive Self-Criticism
3.5.4. Respect and Responsibility
3.5.5. Honesty
3.5.6. Trial and Error
3.6. Productivity Management for Veterinary Center Managers
3.6.1. Productivity Thieves
3.6.2. The Getting Things Done® Method (GTD)
3.6.2.1. Fundamentals
3.6.2.2. Collect or Capture
3.6.2.3. Process or Clarify
3.6.2.4. Organize
3.6.2.5. Check
3.6.2.6. Do
3.7. High-Performance Professional Teams in Veterinary Centers
3.7.1. Working Groups
3.7.2. Characteristics of Professional Equipment
3.7.3. Benefits of High Performance Professional Teams
3.7.4. Practical Examples
3.8. Identification and Resolution of Internal Conflicts in Veterinary Centers
3.8.1. The Method of the Five Dysfunctions of Professional Teams
3.8.1.1. Lack of Trust
3.8.1.2. Fear of Conflict
3.8.1.3. Lack of Commitment
3.8.1.4. Avoidance of Liability
3.8.1.5. Disinterest in Results
3.8.2. Causes of Failure in Professional Teams
3.9. Prevention of Internal Toxicity in Veterinary Centers
3.9.1. Organizational Health
3.9.2. Preventive Measures
3.9.2.1. Creating a Cohesive Leadership Team
3.9.2.2. Creating Clarity Within the Organization
3.9.2.3. Overcommunicating Clarity
3.9.2.4. Reinforcing Clarity
3.10. Change Management in the Management of Veterinary Centers
3.10.1. Belief Audit
3.10.2. Character Development
3.10.3. Actions for Change
This training will allow you to advance in your career comfortably"