Medical Pathologies and Hospitalization in Foals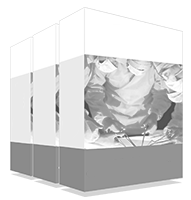 Neonatology is one of the most challenging fields of internal medicine to diagnose and treat in hospital. In this module, you will learn all the differences that exist in neonates with respect to adult horses, analyzing each organic system, and how these systems evolve as the foal's age progresses until they resemble adults. Given all these differences, hospitalization is recommended in all cases of neonatal pathology due to the immaturity of these organ systems and the need for continuous supportive therapy. This program will cover all relevant aspects of this type of procedure and the basics of equine hospitalization. A high-quality program that will drive you to the highest levels of competence in the industry.
The world's largest faculty of veterinary medicine"
The most complete and up-to-date program in Medical Pathologies and Hospitalization in Foals on the online educational market"
This Postgraduate Certificate lays the foundations for a specialization in Equine Hospital Medicine. It defines the logistics and clinical strategy required in a hospital for horses. It addresses various topics, extremely necessary in order to acquire a global idea of how an equine hospital works and to consider the hospitalization of any patient regardless of their main pathology.
It describes the layout of the different facilities and establishes the necessary guidelines for the cleaning and disinfection of different areas in relation to their degree of contamination by the patients treated in each one. Develop specialized knowledge on advanced pharmacology for hospitalized patients. This program establishes the ideal pharmacological guidelines, antibiotherapy and multimodal analgesia applicable to each patient depending on their severity, which differs greatly from the approach used in field clinics.
Due to the severity of the clinical symptoms presented by most hospitalized patients, it is necessary to establish specific guidelines for fluid therapy and nutrition according to the stabilization requirements and metabolic needs of each patient.
Finally, in the first section of the program, the interpretation of blood count, serum biochemistry and blood gas analysis are discussed as it is very important to establish the severity of hospitalized patients. These diagnostic methods will also be key to monitoring the patients during the hospitalization period. 
In the second section, we will study how a foal's gestational age influences the development of different types of pathologies and how this is a determining factor in establishing a prognosis for its development in adulthood. We will also learn how and when to perform cardiopulmonary resuscitation in the neonate and the vital importance of correct performance and monitoring once carried out. 
In the final section of the module, all types of supportive therapy including fluid therapy, antibiotherapy, analgesia and nutritional maintenance will also be studied. As well as this, the expendable materials in neonatology to perform these therapies will be analyzed. The correct use of these materials, the application of the correct supportive therapy, as well as the precise diagnosis and specific, prompt treatment of each pathology will guarantee a higher survival rate in neonatal medicine.
Join the elite, with this highly effective program and open new paths to help you advance in your professional progress"
This Postgraduate Certificate in Medical Pathologies and Hospitalization in Foals contains the most complete and up-to-date educational program on the market. The most important features include: 
The latest technology in online teaching software
A highly visual teaching system, supported by graphic and schematic contents that are easy to assimilate and understand
Practical cases presented by practising experts
State-of-the-art interactive video systems
Teaching supported by telepractice
Continuous updating and recycling systems
Autonomous learning: full compatibility with other occupations
Practical exercises for self-evaluation and learning verification
Support groups and educational synergies: questions to the expert, debate and knowledge forums
Communication with the teacher and individual reflection work
Content that is accessible from any fixed or portable device with an Internet connection
Supplementary documentation databases are permanently available, even after the course
A complete educational program that will allow you to acquire the most advanced knowledge in all the areas of intervention of the equine veterinarian"
TECH's teaching staff is made up of professionals from different fields related to this specialty. In this way TECH ensures that it delivers the educational up-to-date objectives that it aims for. A multidisciplinary team of professionals, experienced in different fields, will develop the theoretical knowledge in an efficient manner, but, above all, will provide students with practical knowledge based on their own experience: one of the differential qualities of this program.
This mastery of the subject matter is complemented by the effectiveness of the methodological design. Developed by a multidisciplinary team of e-Learning experts, it integrates the latest advances in educational technology. This way, you will be able to study with a range of comfortable and versatile multimedia tools that will give you the operability you need during the program. 
The design of this scientific program is based on Problem-Based Learning: an approach that views learning as a highly practical process. To achieve this remotely, telepractice will be used: with the help of an innovative interactive video system and Learning from an Expert, students will be able to acquire knowledge and skills as if they were facing the scenario they are learning at that moment. A concept that will make it possible to integrate and fix learning in a more realistic and permanent way.
With the experience of working professionals and the analysis of real cases of success, in a high-impact preparatory approach"
With a methodological design based on proven teaching techniques, this innovative course will take you through different teaching approaches to allow you to learn in a dynamic and effective way"
The contents have been developed by different experts, with a clear purpose: to ensure that our students acquire each and every one of the skills necessary to become true experts in this field. 
A complete and well-structured program that will take you to the highest standards of quality and success.
A comprehensive teaching program, structured in well-developed teaching units, oriented towards learning that is compatible with your personal and professional life"
Module 1. Introduction to Hospital Medicine
1.1. Organization of an Equine Hospital
1.1.1. Facilities
 1.1.1.1. Examination Rooms. Diagnostic Rooms. Operating Rooms Induction and Recovery Rooms
 1.1.1.2. Types of Hospitalization Rooms Depending on the Pathology
 1.1.1.3. Equipment Required in Each Examination Room
1.1.2. Hospital Action and Disinfection Protocols
1.2. Pharmacological Principles in Hospital Clinics
1.2.1. Design of Administration Guidelines
1.2.2. Plasma Concentration Monitoring
1.2.3. Dosage in Renal Failure
1.3. Rational Use of Antibiotics in Hospitals
1.3.1. Prophylactic Use of Antibiotics
1.3.2. Therapeutic Use of Antibiotics
1.3.3. Frequent Bacterial Resistance in Hospitals and Action Protocols
1.4. Pain Relief in Equidae
1.4.1. Detection of Pain in Hospitalized Patients
1.4.2. Multimodal Analgesia
 1.4.2.1. NSAIDs
 1.4.2.2. Opioids
 1.4.2.3. Alpha-2 Agonists
 1.4.2.4. Local Anesthetics
 1.4.2.5. Ketamine
 1.4.2.6. Others
1.4.3. Pain Treatment with Epidural and Perineural Catheters
1.4.4. Complementary Therapies
 1.4.4.1. Acupuncture
 1.4.4.2. Extracorporeal Shockwave Therapy
 1.4.4.3. Chiropractics
 1.4.4.4. Laser Therapy
1.5. Clinical Approach to Hospital Patients
1.5.1. Classification of the Patient Based on the Severity of Clinical Symptoms
1.5.2. Hospitalization Protocol Based on the Severity of Clinical Symptoms
1.5.3. Types of Intravenous Catheter and Uses in Hospitalization
1.5.4. Monitoring Techniques
 1.5.4.1. Clinical Review of ICUs, TPRs
 1.5.4.2. Hematocrit Proteins
 1.5.4.3. Urine Density
1.6. Fundamentals of Fluid Therapy in Hospitalization
1.6.1. Parenteral Fluid Therapy
 1.6.1.1. Types of Fluid
 1.6.1.2. Infusion Rate
1.6.2. Enteral Rehydration
1.6.3. Synthetic and Natural Colloids
1.6.4. Hemotherapy
1.7. Enteral and Parenteral Nutrition in Hospitalized Patients
1.7.1. Types of Animal Feed
1.7.2. Types of Fodder
1.7.3. Dietary Supplements
1.7.4. Guidelines for Administration in Hospitalized Patients
1.7.5. Total and Partial Parenteral Nutrition
1.8. Hematopoietic System Pathologies
1.8.1. Hemolytic Anemia
 1.8.1.1. Immune-Mediated Hemolytic Anemia
 1.8.1.2. Equine Infectious Anemia
 1.8.1.3. Piroplasmosis
 1.8.1.4. Other Causes
1.8.2. Hemorrhagic Anemia
 1.8.2.1. Hemoperitoneum and Hemothorax
 1.8.2.2. Gastrointestinal Losses
 1.8.2.3. Losses From Other Origin
1.8.3. Non-Regenerative Anemias
 1.8.3.1. Iron Deficiency Anemia
 1.8.3.2. Anemia due to Chronic Inflammation/Infection
 1.8.3.3. Aplastic Anemia
1.8.4. Coagulation Disorders
 1.8.4.1. Platelet Disorders
  1.8.4.1.1. Thrombocytopenia
  1.8.4.1.2. Platelet Functional Disorders
 1.8.4.2. Disorders of Secondary Hemostasis
  1.8.4.2.1. Hereditary
  1.8.4.2.2. Acquired
 1.8.4.3. Thrombocytosis
 1.8.4.4. Lymphoproliferative Disorders
 1.8.4.5. Disseminated Intravascular Coagulation. Disseminated Intravascular Coagulation (DIC)
1.9. Blood Hemogram and Serum Biochemistry of the Hospitalized Patient. Gasometry
1.9.1. Red Blood Cells
1.9.2. White Blood Cells
1.9.3. Serum Biochemistry
1.9.4. Arterial Blood Gases
1.10. Immune System Pathologies in Hospitalized Patients
1.10.1. Hypersensitivity Types
1.10.2. Pathologies Associated with Hypersensitivity
 1.10.2.1 Anaphylactic Shock
 1.10.2.2 Purpura Haemorrhagica
1.10.3. Autoimmunity
1.10.4. Most Important Immunodeficiencies in Equines
 1.10.4.1. Diagnostic Tests
 1.10.4.2. Primary Immunodeficiencies
 1.10.4.3. Secondary Immunodeficiencies
1.10.5. Immunomodulators
 1.10.5.1. Immunostimulants
 1.10.5.2. Immunosuppressants
Module 2. Medical Pathologies and Hospitalization in Foals
2.1. Neonatal Examination and Monitoring
2.1.1. Neonatal Foal Care and Hospitalization
2.1.2. Normal Clinical Parameters in the Foal during the First Days of Life
2.1.3. Onset of Organ Systems Functioning at Birth and During the First Months of Life
 2.1.3.1. Gastric System
 2.1.3.2. Respiratory System
 2.1.3.3. Endocrine System
 2.1.3.4. Muscular and Neurological System
 2.1.3.5. Ophthalmic System
2.2. Gestational Age Disorders in Foals
2.2.1. Premature, Dysmature and Stunted Foals
2.2.2. Cardiopulmonary Resuscitation
2.3. Failure of Immune Transfer and Sepsis
2.3.1. Failure to Transfer Passive Immunity. Causes
2.3.2. Neonatal Sepsis
2.3.3. Treatment, Management and Hospitalization of Septic Foals
2.4. Neurological Pathologies and Hospitalization of Neurological Foals
2.4.1 Hypoxic-Ischemic Encephalopathy
2.4.2. Septic Encephalitis, Meningitis and Metabolic Encephalopathies
2.4.3. Congenital Neurological Pathologies
2.4.4. Hospitalization and Management of Foals with Neurological Pathology
2.5. Respiratory Pathologies and Hospitalization of Neonatal Foals
2.5.1. Bacterial and Viral Pathologies
2.5.2. Rib Fractures
2.5.3. Acute Respiratory Distress
2.5.4. Diagnostic Imaging: Ultrasound and Radiology
2.5.5. Hospitalization and Monitoring of Foals with Respiratory Pathology
2.6. Gastrointestinal and Hepatic Pathologies. Diagnostics and Monitoring
2.6.1. Bacterial and Viral Diarrhea
2.6.2. Meconium Impaction
2.6.3. Congenital Gastrointestinal Pathologies
2.6.4. Gastric Ulcers
2.6.5. Tyzzer's Disease
2.6.6. Equine Herpesvirus
2.6.7. Neonatal Isoerythrolysis
2.7. Respiratory Pathologies and Hospitalization of Neonatal Foals
2.7.1. Vitamin E and Selenium Deficiency
2.7.2. Congenital Muscular Pathologies
2.8. Urinary and Endocrine Pathology and Monitoring
2.8.1. Omphalophlebitis, Omphaloarteritis and Patent Urachus
2.8.2. Bladder Rupture
2.8.3. Monitoring of Neonates with Urinary Pathologies
2.8.4. Thyroid Disorders
 2.8.4.1. Hypothyroidism
 2.8.4.2. Systemic Disease Associated with Hypothyroidism
 2.8.4.3. Monitoring of Neonates with Thyroid Pathologies
2.8.5. Alterations of the Somatotropic Axis
 2.8.5.1. Hypoglycemia
 2.8.5.2. Hyperglycemia
 2.8.5.3. Monitoring of Neonates with Lack of Maturation of the Endocrine System
2.9. Fluid Therapy and Nutrition for the Neonatal Foal
2.9.1. Types of Intravenous Catheters and Infusion Sets
2.9.2. Types of Fluid
2.9.3. Types of Colloids
2.9.4. Plasmotherapy and Hemotherapy
2.9.5. Total and Partial Parenteral Feeding
2.10. Pharmacology in Neonatology
2.10.1. Antibiotic Therapy in Foals
2.10.2. Analgesia in Foals
2.10.3. Other Important Medications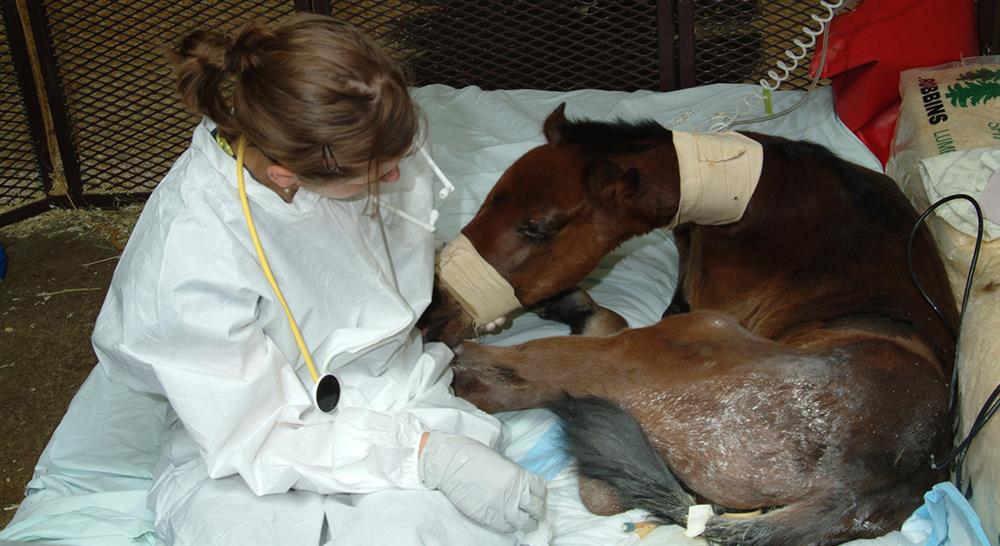 Make the most of the opportunity and take the step to get up to date on the latest developments in Medical Pathologies and Hospitalization in Foals"