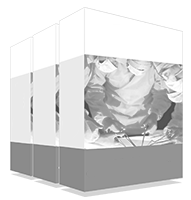 The field of Functional Anatomy has experienced enormous growth in recent years, currently representing a clinical specialty widely demanded by owners, riders and other equestrian professionals. One of its main pillars is an exhaustive and meticulous knowledge of the horse's anatomy, both from a functional point of view as well as its biomechanical behavior. Joining this community of learners will allow students to develop the professional skills needed to deal with these animals.
The world's largest faculty of veterinary medicine"
Society demands veterinary professionals who are experienced in working with equines and with extensive knowledge of Functional Anatomy. Don't think twice and study with us"
The movement of the horse is developed fundamentally in three gaits: walk, trot and canter. However, as in human sport, each equestrian discipline requires specific biomechanics and therefore has specific locomotor requirements. Understanding this, professionals can facilitate appropriate movement patterns or, on the contrary, identify possible limiters of sports performance. All this has a very important implications for the clinical interpretation of numerous pathologies of the musculoskeletal apparatus of the horse.
Consequently, this Postgraduate Certificate studies the most significant aspects of Functional Anatomy and biomechanical features in the main locomotor units of the horse: thoracic limb, pelvic limb and dorsal line. On the other hand, natural movements are analyzed, as well as the technical demands of specific exercises in the disciplines of jumping and dressage, fundamentally. The possible locomotive modifications caused by the frame, type of track and sports equipment are also detailed.
In short, detailed knowledge of the Functional Anatomy of the horse facilitates the clinical recognition of multiple skeletal pathologies that must be addressed with different forms of treatment through physiotherapy and rehabilitation.
This Postgraduate Certificate provides students with specialist tools and skills to enhance their professional practice, and key competencies such as knowledge of the day-to-day work of the veterinary professional, and responsibility in the monitoring and supervision of their work, as well as communication skills for effective teamwork.
In addition, as it is an online course, the student is not conditioned by fixed schedules or the need to move to another physical location, but can access the contents at any time of the day, balancing their work or personal life with their academic life.
Don't miss the opportunity to study this Postgraduate Certificate in Functional Anatomy. It's the perfect opportunity to advance your career"
This Postgraduate Certificate in Functional Anatomy contains the most complete and up-to-date scientific program on the market. The most important features include:
Practical cases presented by experts in Functional Anatomy 
Graphic, schematic, and practical contents which provide scientific and practical information on the disciplines that are essential for professional practice
Practical exercises where self-assessment can be used to improve learning
Special emphasis on innovative methodologies in functional anatomy
Theoretical lessons, questions to the expert, debate forums on controversial topics, and individual reflection assignments
Content that is accessible from any fixed or portable device with an Internet connection
This Postgraduate Certificate is the best investment you can make when choosing a refresher program to expand your existing knowledge of Functional Anatomy"
Its teaching staff includes veterinary professionals who contribute their expertise to this program, as well as renowned specialists from leading societies and prestigious universities.
The multimedia content, developed with the latest educational technology, will provide the professional with situated and contextual learning, i.e., a simulated environment that will provide immersive education programmed to learn in real situations.
This program is designed around Problem-Based Learning, whereby the professional must try to solve the different professional practice situations that arise throughout the program. For this purpose, the professional will be assisted by an innovative interactive video system developed by renowned and experienced experts in Functional Anatomy. 
This program comes with the best educational material, providing you with a contextual approach that will facilitate your learning"
This 100% online Postgraduate Certificate will allow you to balance your studies with your professional work while increasing your knowledge in this field"
The content has been structured and designed by leading professionals in Functional Anatomy, who have extensive experience and excellent standing within the profession, backed by a large volume of cases reviewed, studied, and diagnosed, and extensive knowledge of new technologies applied to veterinary medicine.
We have the most complete and up-to-date academic program in the market. We strive for excellence and for you to achieve it too" 
Module 1. Applied Anatomy and Biomechanics of Horses
1.1. Introduction to the Biomechanics of Horses
1.1.1. Kinematic Analysis
1.1.2. Kinetic Analysis
1.1.3. Other Methods of Analysis
1.2. Biomechanics of Natural Gaits
1.2.1. Step
1.2.2. Trot
1.2.3. Gallop
1.3. Thoracic Limb
1.3.1. Functional Anatomy
1.3.2. Biomechanics of the Proximal Third
1.3.3. Biomechanics of the Distal Third and the Digit
1.4. Pelvic Limb
1.4.1. Functional Anatomy 
1.4.2. Reciprocal Apparatus 
1.4.3. Biomechanical Considerations
1.5. Head, Neck, Dorsum and Pelvis
1.5.1. Functional Anatomy of the Head and Neck
1.5.2. Functional Anatomy of the Dorsum and Pelvis
1.5.3. Position of the Neck and Influence on the Mobility of the Dorsum
1.6. Variations of the Locomotor Pattern I
1.6.1. Age
1.6.2. Speed
1.6.3. Training
1.6.4. Genetics 
1.7. Variations of the Locomotor Pattern II
1.7.1. Thoracic Limb Claudication
1.7.2. Pelvic Limb Claudication
1.7.3. Compensatory Clauses
1.7.4. Modifications Associated With Neck and Dorsal Pathologies
1.8. Variations of the Locomotor Pattern III
1.8.1. Trimming and Rebalancing of the Hoof 
1.8.2. Horseshoeing
1.9. Biomechanical Considerations Associated With Equestrian Disciplines
1.9.1. Jumping
1.9.2. Dressage
1.9.3. Races and Speed
1.10. Applied Biomechanics
1.10.1. Rider Influence
1.10.2. Effect of the Frame
1.10.3. Working Tracks and Floors
1.10.4. Auxiliary Aids: Mouthpieces and Yields
This program will allow you to comfortably advance in your career"