Theories, Approaches and Methods in the Teaching of Second Languages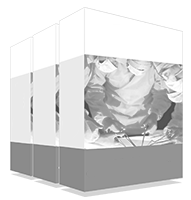 This program is based on knowledge of the theories, approaches and methods of teaching second languages. In order to teach Spanish as a foreign language, it is essential to know all the skills that students must develop and their different learning stages, in order to develop different methodologies, adapted to their educational needs. This training will provide teachers with the necessary tools and knowledge to practice the profession with confidence and efficiency, enabling them to help their students to understand and analyze messages effectively, and to develop non-verbal communication skills.
The world's largest school of languages"
With a methodological design based on proven teaching techniques, this Postgraduate Certificate will take you through different teaching approaches, to allow you to learn in a dynamic and effective way"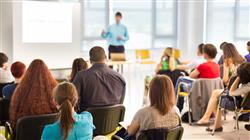 This program will delve into the most methodological part, from the view of analysis and analyzing the SFL teaching models, in a critical and detailed way.

The teaching/learning process is influenced by a multidisciplinary approach by definition, which means that the future Spanish language teacher has to consider various educational aspects when complementing his or her education. Consequently, relevant subjects from disciplines such as Pedagogy, Psychology or Educational Technology will be included in their studies. This knowledge will lead the student in this subject to develop a broader idea of linguistics and how it is influenced by other aspects, which in turn will guide his or her professional work.

Throughout the presentation of the subject, the student will delve into various realities of applied linguistics, ranging from the situation in the classroom, to the moments of preparation by the teacher.

The teacher will be able to explain and resolve confusing questions regarding grammar or the evaluation process of their students. It will have a complete vocabulary teaching methodology and different techniques and didactic materials, taught by distinguished experts in the field, with extensive experience in the educational sector. 
At the end of this Postgraduate Certificate you will have the knowledge and strategies necessary to teach in a second language" 
This Postgraduate Certificate in Theories, Approaches and Methods in the Teaching of Second Languages offers you the characteristics of a high-level teaching and technological program. These are some of its most notable features:
The latest technology in online teaching software
Highly visual teaching system, supported by graphic and schematic contents that are easy, to assimilate and understand
Practical cases, presented by practising experts
State-of-the-art interactive video systems
Teaching supported by telepractice
Continuous updating and recycling systems
Autonomous learning: full compatibility with other occupations
Practical exercises for self-assessment and learning verification 
Support groups and educational synergies: questions to the expert, debate and knowledge forums
Communication with the teacher and individual reflection work
Content that is available from any fixed or portable device with an Internet connection
Supplementary documentation databases are permanently available, even after the program
Expert teachers in the field have meticulously designed this program, applying all their experience and knowledge in the elaboration of this program"
The teaching staff includes teaching professionals, who bring their experience to this training program, as well as renowned specialists belonging to leading societies and prestigious universities.
 
The multimedia content, developed with the latest educational technology will provide the professional with situated and contextual learning, i.e., a simulated environment that will provide immersive training, programmed for training in real situations. 

This program is designed around Problem-Based Learning, whereby the educator must try to solve the different professional practice situations that arise throughout the program. For this purpose, the student will be assisted by an innovative interactive video system created by, renowned specialists  experienced in the field of education.
Our innovative telepractice approach will give you the opportunity to learn through a hands-on experience, which will provide you with a faster integration and a much more realistic view of the content"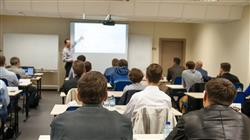 Master, with this program, the most effective methodology and ways of working in the teaching of in a second language"
The contents of this Postgraduate Certificate have been developed by different experts with a clear purpose: to ensure that our students acquire each and every one of the skills necessary to become true experts in this field. A complete and well-structured program, that will take you to the highest standards of quality and success.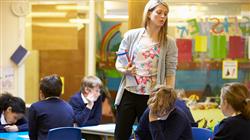 A structured syllabus based on the optimization of effort, which will lead you to learn all the aspects you need to become a Spanish teacher, with the confidence of a real training" 
Module 1. Theories, Approaches and Methodology in the Teaching of Foreign Languages 
1.1.     How to Develop Learning of L2 in the Historical Framework of Teaching Foreign Languages
1.1.1.     Contribution to the Integral Development of People
1.1.2.     Language as an Instrument of Social Insertion, Expression of Feelings 
1.1.3.     Development of the Ability to Express and Communicate in the Society
1.1.4.     Difference Between Learning in a Formal Context and a Natural
1.1.5.     Cognitive Relationships and Physiological and Psychological Skills 
1.2.     Linguistics and the Knowledge of Other Languages 
1.2.1. Suppressions and Overlaps During the Learning Process
1.2.2. The Importance of Context in Assuming Linguistics
1.2.3. Neurolinguistic Studies and the Benefit of Bilingualism
1.3.     Types of Methods for Foreign Language Teaching
1.3.1.     The Historical Precedence of " living " Languages over " Dead " Languages in the Classroom  
1.3.2.     Conceptual Ambiguity of the Method
1.3.3.     Traditional Method
1.3.4.     Natural Method
1.3.5.     Audio-Oral Method
1.3.6.     Conciliatory Method
1.3.7.     Audiovisual Method
1.3.8.     Communicative Method
1.3.9.     Alternative Method
1.3.10.     Global Method
1.4.     Comparison between Direct and Traditional Methods for Foreign Language Teaching 
1.4.1.     Approximation of Presumed Method-Dependent Performance Outcomes
1.5.     Approach and Selection: Cognitive and Humanistic Perspective
1.5.1.     Relevance of the Role of the Person in the Teaching– Learning Process according to the Approach.
1.5.2.     Complexity in the Educational Level of Spanish Language Teaching 
1.5.3.     Meaningful Teaching: The Student at the Center of Teaching 
1.6.     Functional Programs in Relation to Communicative Methods
1.6.1.     The Student as an Active Element in the Learning Process
1.6.2.     Towards a New Perspective: Language and Communication
1.6.3.     Balance Between Pedagogical and Linguistic Functions
1.7.     Technological Specificities for the Spanish as a Foreign Language Classroom as a Function of the Method
1.7.1.     The Promotion of Cooperation Through the Use of Information and Communication Technologies (ICT) in Spanish as a Foreign Language Classes
1.7.2.     Diversification of Learning Styles and Levels with the Use of ICTs
1.7.3.     Blogging and Other Tools Involved in the Development of Self-Expression
1.7.4.     Shared virtual learning platforms 
1.8.      Curriculum Development Based on MCE Requirements
1.8.1.     Design of Assignments with the Same Input and Different Output
1.8.2.     Adaptation of Familiarity and Difficulty in Relation to Tasks
1.8.3.     Key Issues to Consider: Implicit Learner Skills, External Support
1.9.     What is Interlanguage and How to Develop it in the Classroom: An Approach in the Current Context
1.9.1.     Learner's Language as a System
1.9.2.     Interlingua and Fossilization
1.9.3.     Observation of Learners' Background and Desire to Communicate in Spanish as a Foreign Language
1.9.4.     Handling of Common Errors in the Interlingua Process
1.10.     Contrast Analysis and Data for Information Purposes
1.10.1.     Innovative Teaching Practices
1.10.2.    Data Reduction: Unit Separation
1.10.3.    Descriptive Coding/Axial Coding
1.10.4. Descriptive and Explanatory Charts
1.11.    Teaching Children: The Use of Teaching for a Specific Purpose
1.11.1.     Promotion of Autonomous Learning
1.11.2.     Difference Between Adult and Early Childhood Learning
1.11.3.     Theoretical Bases of Experiential Learning
1.11.4.     Gamification 
1.11.5.     Theory of Multiple Intelligences 
1.12.    Teaching Immigrants: The Use of Teaching for a Specific Purpose
1.12.1.     Promote Social Integration Through Knowledge of the Language 
1.13.    Common European Framework in Foreign Language Teaching in Accordance with Institutional Designs
1.13.1.     Skills We Need to Learn and Use When Learning a New Language
1.13.2.     Inclusiveness of Foreign Language Teaching
1.13.3.     Methods and Objectives not Specified by the Common European Framework
1.13.4.     Considering "Multilingualism"
1.14.    Syllabus Design
1.14.1.     Essential Questions: To Who? How? When?
1.14.2.     Analysis of the Learner's Characteristics and of the Learning Context
1.14.3.     Theoretical Basis
1.14.4.     Evaluation Processes. Scales and Other Tools for Assessing Basic Competencies
1.14.5.     Design of Activities that Promote Evaluative, Summative and Formative Activities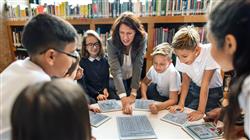 Update your knowledge and skills in the teaching area, and specialize in a high demand sector"