Teaching Spanish as a Foreign Language to Children, Adolescents, and Immigrants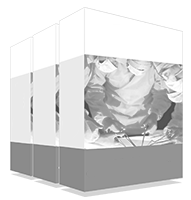 This intensive course will develop the characteristics that mark the child's learning, and the guidelines to know in order to teach Immigrants and Adolescents in the same line of work that is taught in the infant stage. Over 6 weeks, there will be an analysis of the characteristics of the methodology for the learning process, behavioral patterns, and even the acculturation processes to which immigrants are exposed.
The world's largest school of languages"
Specialize and stand out from other teachers with this Postgraduate Certificate in Teaching Spanish as a Foreign Language to Children, Adolescents, and Immigrants"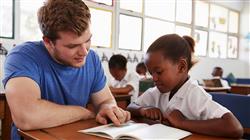 Any act of communication requires the speaker to have a complete command of their communicative abilities. Any child, native or immigrant, will have the same capacity for development; it will be the environment and the means that welcome them that will enhance or diminish the child's capacity. That is why the child, whatever their origin, will be the reflection of the context in which they are cared for and of the support and attention they receive.
This course will provide teachers with the tools and knowledge necessary to practice the profession with confidence and efficiency, enabling them to help their students to understand and analyze messages effectively, and to develop non-verbal communication. It is essential, for the teaching of Spanish as a Foreign Language, to know all of the skills that the student must develop and their different stages of learning, in order to develop different methodologies adapted to their educational needs.
The teacher will be able to explain and resolve confusing questions regarding grammar or the evaluation process of their students. The teacher will have at their disposal a complete vocabulary teaching methodology and different techniques and didactic materials, taught by distinguished experts in the field with extensive experience in the Educational Sector.
This training will allow you to develop and expand your knowledge and skills related to the lexical competence of Spanish in teaching. At the end of the course, you will be able to detect frequent errors in teaching Spanish and you will have acquired the necessary tools for the prevention and treatment of these errors, so that you will have the necessary skills to work as a teacher of Spanish as a Foreign Language.
A unique opportunity to distinguish yourself as a teacher of Spanish as a Second Language to children, teenagers, and immigrants"
This Postgraduate Certificate in Teaching Spanish as a Foreign Language to Children, Adolescents, and Immigrants offers you the characteristics of a high-level teaching and technological course.  These are some of its most notable features:
Latest technology in online teaching software.
Highly visual teaching system, supported by graphic and schematic contents that are easy to assimilate and understand. 
Practical cases presented by practising experts.
State-of-the-art interactive video systems.
Teaching supported by telepractice. 
Continuous updating and recycling systems.
Self-regulating learning: full compatibility with other occupations.
Practical exercises for self-evaluation and learning verification.
Support groups and educational synergies: Questions to the course leaders, discussion and knowledge forums.
Communication with the teacher and individual reflection work.
Availability of content from any fixed or portable device with internet connection.
Supplementary documentation databases are permanently available, even after the course.
This Postgraduate Certificate will allow you to apply what you have learned in your daily teaching practice, immediately and with total confidence"
It includes in its teaching staff professionals belonging to the field of education, who pour into this training the experience of their work, as well as recognized specialists belonging to reference societies and prestigious Universities.
Thanks to its multimedia content elaborated with the latest educational technology, they will allow the professional a situated and contextual learning, that is to say, a simulated environment that will provide an immersive learning programmed to train in real situations.
The design of this program is based on Problem-Based Learning, by means of which the educator will have to try to solve the different situations of professional practice that will arise throughout the course. To do so, the educator will be assisted by an innovative interactive video system developed by renowned specialists in the field of teaching.
You will be provided with didactic material carefully developed by experts in the field"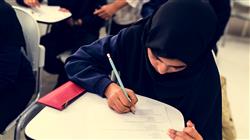 Thanks to the e-learning methodology on which this course is based, you will learn more quickly and easily"
The contents of this Postgraduate Certificate have been developed by different experts with a clear purpose: to ensure that our students acquire each and every one of the skills necessary to become true specialists in this field. 
A complete and well-structured program that will take you to the highest standards of quality and success.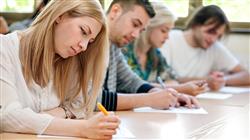 Illustrious experts in the sector have deposited all their experience and knowledge in the elaboration of this program"

 
Module 1. Intercultural Communicative Competence and Mediation in the Spanish as a Foreign Language Classroom
1.1.    Approach and Activities of Curricular Adaptation.
1.1.1.    Types of Approaches According to the Adaptation.
    1.1.1.1. How to Adapt the Curriculum Without Affecting the Variation of the Basic Competences.
1.1.2.    Validation of Content in Curricular Adaptation.
    1.1.2.1. Validation for Improvement.
    1.1.2.2. Close Relationship Between Validation and Social Support.
1.1.3.    Educational Models Adapted to the Mother Tongue.
    1.1.3.1. Psycholinguistics.
1.2.    Creation of Material for the Motivation of Children and Adolescents in the Spanish as a Foreign Language Classroom.
1.2.1.    New Trends of Social and Personal Interest of Children and Adolescents.
    1.2.1.1. Apply Traditional Motivational Techniques.
    1.2.1.2. Comparison of Results Between the Use of Both Techniques.
1.3.    Development of Language Skills in Relation to Multiculturalism in the Classroom.
1.3.1.    Language Seen from Different Perspectives.
    1.3.1.1. The Value of Differences in Learning Skills.
1.3.2.    Dealing with Conflicts in the Classroom: Intercultural Particularities.
    1.3.2.1. Interviews, Assemblies, Mediations.
1.4.    Rules and Routines in the Classroom. Behavioral Guidelines.
1.4.1.    Routine for Conflict Resolution.
    1.4.1.1. Communication and Negotiation Skills.
1.4.2.    Self-Evaluation, Peer Evaluation. 
  1.4.2.1. The Student as the Protagonist.
  1.4.2.2. Realistic Orientation.
1.5.    Social Identity. Self-Concept and Acculturation.
1.5.1.    Developmental Stages in the Learning of a Target Language.
    1.5.1.1. Interlanguage and Socio-Affective Resistance.
1.5.2.    Emotional Intelligence and Empathy.
    1.5.2.1. Approach to the Theory of Feelings.
    1.5.2.2. Empathizing Process: Development and Consolidation.
1.5.3.    Evaluation of the Integrative Content.
    1.5.3.1. To What Extent Does the Change Favor the Integration of Individuals into the Whole?
1.6.    Overview of Diversity: The Influence of Multiculturalism on the Creation of Material.
1.6.1.    Guidelines to Control Congruence in the Overview.
    1.6.1.1. Diversity as a Means of Developing an Overview.
1.6.2.    Reception and Production.
    1.6.2.1. Means of Productivity in the Classroom.
1.6.3.    Content Creation for Heterogeneous Groups.
    1.6.3.1. Differences Among Group Members and their Particular Contribution.
    1.6.3.2. Positive Interdependence.
    1.6.3.3. Simultaneous Face-to-Face Interaction.
    1.6.3.4. Cooperative Learning Dynamics.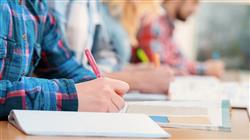 This will provide key training to advance your career"