Language Certification Exam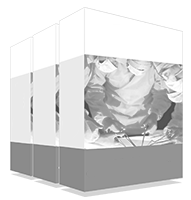 According to recent reports, 89% of job offers require a minimum level of English in order for the candidate to be eligible for selection processes. There has also been an increase in the number of job offers that require knowledge of a foreign language, with English being the preferred language in the majority of them. Therefore, it is important to obtain proof of a minimum level of English through a university exam, and this A1 test from TECH is an excellent option to quickly obtain a certificate from the Common European Framework of Reference for Languages.
The world's largest school of languages"
Since English is the universal language, it is highly important to be able to demonstrate a basic command of it, in order to be able to apply for job vacancies that require at least one second language. In addition, with English you can significantly improve your professional network, getting to know and access higher professional environments.  
Therefore, TECH has created this university exam that allows students to obtain accreditation in A1 English according to the CEFR. It is the ideal option for candidates who are not looking to invest numerous hours in obtaining a certificate, with the frustration or complications that this may entail.
With a basic knowledge of English you can easily obtain your A1 university certification, endorsed by the Common European Framework of Reference for Languages"
TECH will provide you with a personal examiner, so that you can ask any questions you may have about the exam beforehand"
Globalization has meant that more and more jobs, even those that are not related to tourism or international business, depend on the employee's knowledge of a foreign language. In addition, in most selection processes and public employment exchanges, language certification is positively valued.
This is a crucial advantage for people who have a certificate that demonstrates their level of understanding and linguistic proficiency. Therefore, this university exam is an ideal option for obtaining internationally valid accreditation backed by the CEFR. In addition to the A1 level of English, the candidate will be gaining an important advantage by testing their understanding of a universal language without the need to make the great effort required for higher levels.  
English is the dominant language among non-native languages. With this level test and university certification you will give your CV a much-needed boost for today's job market"
It is proven that learning languages increases your intelligence. Learning a foreign language strengthens the brain's neural networks" 
José Antonio Marina. 
Philosopher, writer, and teacher.
| | |
| --- | --- |
| | Flexible and Tailored |
Take your exam wherever you are, 100% online, at the time of your choice. You choose the exam that best suits you.
| | |
| --- | --- |
| | No Stress |
Are you nervous about waiting in long lines to register for the exam and take the different tests? You will be able to register online and take your test with an examiner just for you, with no external pressure. 
| | |
| --- | --- |
| | No Waiting |
Receive your certificate in record time and in digital format so you can always carry it with you. 
Structure, duration and weighting of the 4 parts of the examination
The A1 exam is the most basic and, therefore, the shortest in duration.
Below is a table with the sections, features and duration of the different parts of the test. 
Knowing the nature of the test before you take it will facilitate optimal preparation"
Structure of the Level A1 English exam
It consists of 4 parts: 
Listening, Speaking, Reading and Writing
The total duration of the exam is 90 to 135 minutes, with the first three parts taking place one after the other (1st Listening, 2nd Writing, 3rd Reading). There will be a minimum of 20 minutes of rest between the first three parts and the 4th part (Speaking), which can be done on the same day, or on a different day, with a maximum limit of 7 days after the other block has been completed.
Listening (Duration 30-40 minutes)
It consists of 2-4 exercises, each of which is based on an audio recording that can be a monologue or a conversation between 2 or more people. Exercises include: multiple choice, sentence completion, completion of charts, graphs or diagrams, and short answer in one or two sentences.
Example reading comprehension task
Identify the situation and/or main idea. Text type: series of five monologues or short independent dialogues, e.g., advertisements, messages, short conversations, etc. Task type: students must choose the correct graphic from the three options presented.
Reading (Duration: 30-40 minutes)
It consists of 40 questions grouped in 3 sections. Each text is 100-150 words long and several questions are asked about it. The texts are basic and fictional, and have been specially designed for the test. The type of questions, as in the oral part, vary widely: multiple choice, completing tables, graphs or diagrams, or locating information in the text.
Example of reading comprehension
Find predictable factual information in texts such as signs, advertisements, schedules, menus with some visual support. Type of text: signs, advertisements, etc., on an everyday topic with visual support. Type of task: multiple choice based on short texts that focus on certain information. The correct answer must be chosen.
Writing (Duration: 30-40 minutes)
This part consists of two short essay exercises between 30-60 words. Usually a piece of information is presented very briefly (a couple of lines), followed by a statement about it, and then the candidate is asked to explain whether they agree or disagree with the statement, briefly stating the necessary arguments. 
Speaking (Duration: 10-15 minutes)
In this last part, a conversation is held with an examiner, and it is designed to be as realistic as possible. It is divided into 2 subsections. In the first, the candidate responds to personal, family and/or everyday questions.  In the second, the examiner and the candidate hold a basic conversation on a specific topic, where oral interaction and discussion skills are assessed. The entire part is recorded for later review purposes.