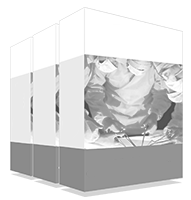 The program in Psychoneuroimmunology is a truly unique educational program for the acquisition of competence in emotion-based psychotherapy
completion date
09/21/2023
The world's largest faculty of psychology"
This program is unique because offers a complete vision and comprehensive education, both for therapeutic and preventive treatment and personal growth, from an integral and multifactorial vision of the human being. Supported by the latest scientific research, it gives emotion the value it really has in psychological distress and illness and in the functioning of the person in general"
Today we know, thanks to scientific research, that information coming from a stimulus reaches the limbic structures of the brain before it reaches the neocortex. It is precisely these limbic structures that are responsible for functions such as emotional processing, memory creation or learning processes

Moreover, unlike the cerebral cortex, which completes its maturation process around the age of 21, the limbic system is fully functioning from before birth, so we start to know and learn what the world is from subcortical structures within a brain that is mainly emotional. It is for all these reasons that, in the words of psychologist Roberto Aguado: "Emotion decides and reason justifies"
The professional who completes this program will acquire the necessary knowledge to offer their patients a more effective and quality treatment, through numerous techniques that work precisely from the place where the conflict is generated, the emotion. You will also be able to conduct preventive and personal growth therapies, since the program is not only oriented towards the clinical area, but also at being able to help others to grow emotionally and lead a more fulfilling life
For thousands of years, emotion has been a topic of interest to human beings, and we can find references to emotional states in early philosophers, but psychology has long underestimated the importance of emotion in human behavior. For a long time, it has been considered that thought, or the most cognitive part of the brain (the cortex) was the part that determined the behaviors and even the emotional states of the human being"
A unique, key, and decisive training experience to boost your professional development"
This Postgraduate Diploma in Psychoneuroimmunology contains the most complete and up-to-date scientific program on the market. The most important features include:
The development of clinical cases presented by experts in the different specialties
The graphic, schematic, and practical contents with which they are created provide scientific and practical information on the disciplines that are essential for professional practice
New diagnostic-therapeutic developments on the neurological basis of behavior
Algorithm-based interactive learning system for decision-making in the presented clinical situations
With special emphasis on evidence-based psychology and evidence-based research methodologies
All this will be complemented by theoretical lessons, questions to the expert, debate forums on controversial topics, and individual reflection assignments
Content that is accessible from any fixed or portable device with an internet connection
This Postgraduate Diploma is the best investment you can make when selecting a refresher program, for two reasons: in addition to updating your knowledge in Psychoneuroimmunology, you will obtain a qualification endorsed by TECH Technological University"
Forming part of the teaching staff is a group of professionals in the world of psychology, who bring to this course their work experience, as well as a group of renowned specialists, recognised by esteemed scientific communities
Thanks to its multimedia content developed with the latest educational technology, it will allow the professional a situated and contextual learning, that is to say, a simulated environment that will provide an immersive learning programmed to train in real situations
This program is designed around Problem-Based Learning, whereby the psychologists must try to solve the different professional practice situations that arise throughout the program. For this purpose, they will be assisted by an innovative, interactive video system created by renowned and experienced experts in the field of psychology with extensive teaching experience
Increase your decision-making confidence by updating your knowledge with this Postgraduate Diploma"
Don't miss out on the opportunity to update your knowledge in Psychoneuroimmunology to improve your patient care"
The structure of the contents has been designed by a team of professionals who recognise the implications of specialization in the daily practice of the psychologist, aware of the relevance of current training to treat the patient with psychological disorders and are committed to quality teaching using new educational technologies
This Postgraduate Diploma in Psychoneuroimmunology contains the most complete and up-to-date scientific program on the market"
Module 1. The Therapist's Role in Emotional Well-Being
1.1. Intrapersonal Intelligence (Gardner)
1.2. Self-Knowledge
1.3. Emotional Self-Management
1.4. Difference Between Empathy, Sympathy and Mirror Neurons
1.5. The Therapist – Patient Bond
1.5.1. Therapist as Escort and Referrer
1.5.2. U Techniques
1.6. Approach to Neuro Linguistic Programming (NLP) 
1.7. Motivational Interview
Module 2. A Multifactorial View of Health. Psychoneuroimmunology
2.1. What is Psychoneuroimmunology?
2.1.1. Definition
2.1.2 Origins
2.2. Communication Routes 
2.3. The Psyche-Nervous System-Endocrine System-Immune System Axis (I) The Nervous System 
2.4. The Psyche-Nervous System-Endocrine System-Immune System Axis (II) Endocrine System 
2.5. The Psyche-Nervous System-Endocrine System-Immune System Axis (III) the Immune System 
2.6. The Psyche-Nervous System-Endocrine System-Immune System Axis (IV) Interaction Between Systems 
2.7. Emotion, Personality and Illness 
2.8. The Process of Getting Sick. Biopsychosocial Model of Health 
2.9. Healthy Living
Module 3. Techniques for Emotional Processing in Therapy
3.1. Emotional Memories
3.1.1. Creation of Memories
3.1.2 Classification and Types of Memory
3.1.3. Difference Between Memories and Reminiscences
3.2. Traumatic Memory
3.3. Bilateral Stimulation Techniques. SHEC, EMDR
3.4. Brainspotting
3.5. Emotional Freedom Technique. EFT
3.6. Writing-Based Techniques. Written Ventilation
3.7. Integrative Meditation from the Big Mind Model. Dialogue of Voices
3.8. Clinical Hypnosis
3.9. Hypnotic Induction Techniques
3.10. Techniques for Children
Take the opportunity to learn about the latest advances in this area in order to apply it to your daily practice"