Professional Master's Degree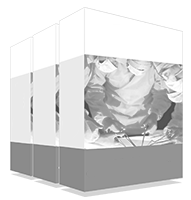 Skin is beauty. The skin represents health, it is also the first physical attribute to be perceived, so it is of great importance on a personal and social level. That is why skin care and the associated dermocosmetic procedures have become a priority for many people, who understand that access to the best treatments can improve their quality of life. This means that aesthetic clinics are increasingly strengthening their commitment to offer the best care and, for this, they need to be aware of the latest tools and skills in this field. In this way, this program offers the most innovative content in this discipline, so that students can update their knowledge to achieve excellence in Dermocosmetics.
The world's largest school of physiotherapy"
As a physiotherapist, knowing the latest developments in dermocosmetic treatments and approaches will help you to increase your personal and professional growth possibilities. Don't let this opportunity slip away"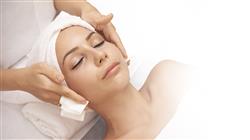 The skin is an organ of great importance not only for health, but also at an aesthetic level. In this sense, social awareness of the importance of skin care is increasing and dermocosmetic treatments are a great ally at the service of people, as they help to counteract the effects of aging, reduce wrinkles, eliminate blemishes or simply improve radiance. This applies not only to the face, but also to the body.
Consequently, as concern for the state of skin health grows among people, so does the need for dermocosmetic centers to have the latest and most innovative skills and tools in the sector. In this way, enjoying an adequate update of knowledge makes the diagnosis and the choice of the most appropriate treatment to be carried out effectively, making your service to live up to what patients expect.
In the specific field of Physiotherapy, Dermocosmetics allows the professional to learn the most appropriate techniques when applying certain types of massages with the aim of eliminating flaccidity, improving muscles or eliminating unwanted cellulite. For this reason, during this Professional Master's Degree, an intensive tour of the different types of massages existing in Dermocosmetics, their means of application and the immediate or long-term results they provide will be carried out.
Therefore, students who complete this excellent program will be able, thanks to the new knowledge they will obtain, to improve their prestige and offer new and innovative services to their patients. All this, due to the eminently practical approach of this degree, its innovative teaching methodology and its complete contents, which will guarantee professional success and better economic and job promotion prospects.
Skin care is essential in today's society. Specialize and contribute to the well-being of your patients"
This Professional Master's Degree in Dermocosmetics contains the most complete and up-to-date scientific program on the market. The most important features include:
The development of practical cases presented by experts in Dermocosmetics and Physiotherapy
The graphic, schematic, and practical contents with which they are created, provide scientific and practical information on the disciplines that are essential for professional practice
Practical exercises where self-assessment can be used to improve learning
Its special emphasis on innovative methodologies
Theoretical lessons, questions to the expert, debate forums on controversial topics, and individual reflection assignments
Content that is accessible from any fixed or portable device with an Internet connection
Dermocosmetics is a booming discipline. Take this degree and improve your salary prospects thanks to the new skills you will learn"
The program's teaching staff includes professionals from the sector who contribute their work experience to this educational program, as well as renowned specialists from leading societies and prestigious universities.
The multimedia content, developed with the latest educational technology, will provide the professional with situated and contextual learning, i.e., a simulated environment that will provide immersive education programmed to learn in real situations.
This program is designed around Problem-Based Learning, whereby the professional must try to solve the different professional practice situations that arise during the course. For this purpose, the student will be assisted by an innovative interactive video system created by renowned and experienced experts. 
Thanks to this degree you will master the best techniques of Physiotherapy to apply dermocosmetic massages"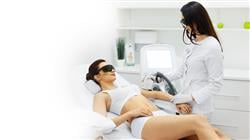 You will be able to offer new and innovative services when you finish this Professional Master's Degree"
This Professional Master's Degree in Dermocosmetics offers students the best and most innovative specialized content in the field. To design this program, the latest developments in the discipline have been taken into account, so that students can enjoy up-to-date and complete contents that will ensure their professional success. As a result, they will be able to learn about issues such as aesthetic massage, skin aging and treatments to counteract it, different hair removal techniques or nutrition applied to Dermocosmetics. All of this is to ensure that they have the 
best career opportunities.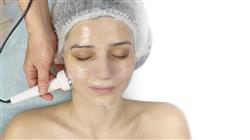 You will not find better academic content to specialize in Physiotherapy applied to Dermocosmetics"
Module 1. Aesthetic Physiotherapy
1.1. Aesthetic Physiotherapy: New Developments in the Profession
1.2. NCP Applied to Aesthetics
1.3. Aesthetic Physiotherapy: New Developments in the Profession
1.4. Hygiene in the Aesthetic Office
1.4.1. Antiseptics
1.4.2. Hand Hygiene
1.4.3. Utensil Hygiene
1.4.4. Sanitary Waste Management
1.5. Organization of the Aesthetic Practice
1.6. Aesthetic Practice Management
1.7. The Ethical-Legal Aspect of Aesthetic Physiotherapy: Code of Ethics and Ethical Problems
1.7.1. Criminal and Civil Liability of Physiotherapy Personnel
1.7.2. Liability Insurance
1.7.3. Informed Patient Consent Forms: Guidelines and Generic Models
1.8. Quality Management in Aesthetic Physiotherapy Practice
1.9. Urgent Care in the Aesthetic Physiotherapy's Office
1.10. Complications in Aesthetic Physiotherapy
Module 2. Aging and Cosmetic Assessment in Aesthetic Physiotherapy
2.1. History of Antiaging Medicine
2.2. Theories of Aging. Pathophysiology
2.3. Species and Longevity
2.4. Mechanisms of Cellular Aging
2.5. Mitochondrias
2.6. Chronobiology I. Suprachiasmatic Pineal Nucleus. Circadian Rhythm
2.7. Chronobiology II Sleep and Sleeplessness
2.8. Immunity. Immunosenescence
2.9. Telomeres and Telomerase
2.10. Exposome and Aging
Module 3. Skin
3.1. Skin Anatomy and Structure of the Skin
3.2. Skin Appendages
3.2.1. Hair
3.2.2. Nails
3.2.3. Sebaceous Glands
3.2.4. Sweat Glands
3.3. Skin Functions and Elementary Lesions
3.3.1. Protection
3.3.2. Metabolism
3.3.3. Temperature Regulation
3.3.4. Sensory
3.3.5. Excretory
3.3.6. Energy Reserve
3.4. Skin Care in the Different Stages of Life: Neonatal, Pediatric, Adolescent, Adult, Geriatric, Pregnancy
3.4.1. Neonatal
3.4.2. Pediatric
3.4.3. Adolescent
3.4.4. Adult
3.4.5. Geriatric
3.4.6. Pregnancy
3.5. Embryology of the Skin and Skin Appendages
3.5.1. Skin Development
3.5.2. Hair Development
3.5.3. Nail Development
3.5.4. Skin Gland Development
3.6. Skin Types
3.6.1. Density
3.6.2. Skin Emulsion
3.6.3. Skin Phototype
3.6.4. Status
3.7. Skin Hygiene
3.8. Skin Hydration
3.8.1. Manual Techniques
3.8.2. Materials and Technical Methods
3.8.3. Specific Cosmetics
3.8.4. Equipment
Module 4. Most Frequent Dermatological Pathologies
4.1. Acne
4.2. Rosacea
4.3. Seborrheic Dermatitis
4.4. Atopic Dermatitis
4.5. Contact Dermatitis
4.6. Pigmentation Disorders: Hyperpigmentation
4.7. Pigmentation Disorders: Hypopigmentation
4.8. Psoriasis
4.9. Skin Infections and Infestations Caused by Pathogenic Agents: Bacteria
4.10. Skin Infections and Infestations Caused by Pathogenic Agents: Viruses
4.11. Ichthyosis
4.12. Urticaria and Angioedema
4.13. Scars
Module 5. Physiotherapy in Hair Removal
5.1. Laser in Hair Removal and Influencing Factors
5.1.1. Factors That Influence Laser Hair Removal
5.2. Intense Pulsed Light Hair Removal and Influence Factors
5.2.1. Factors That Influence Pulsed Light Hair Removal
5.3. Objectives of Laser Hair Removal and IPL (Intense Pulsed Light)
5.4. Procedure for Performing Laser and IPL Hair Removal
5.5. First Visit
5.5.1. Client Information
5.5.2. Technical and Follow-Up Data
5.5.3. Informed Consent
5.6. Technique Procedure
5.6.1. Cleansing, Shaving and Disinfection
5.6.2. Delimitation of the Area
5.6.3. Protection
5.6.4. Application of Cooling Gel
5.6.5. Using Equipment
5.6.6. Removal of Gel and Application of Decongestant Product
5.7. Risks and Side Effects
5.8. Precautions, Post-Laser Hair Removal Care and After-Sessions
5.9. Protection Measures for Professionals and Clients
5.9.1. Clothing
5.9.2. Recommended Postural Hygiene at Work
Module 6. Aesthetic Massage in Aesthetic Physiotherapy
6.1. Application of Aesthetic Massage and the Immediate, Delayed, Local and General Effects of Massage on the Various Organs and Systems
6.2. Classification of Massages According to Their Action and the Different Applicable Techniques
6.3. Effects, Indications, Precautions and Contraindications of Aesthetic Massage Procedures
6.4. Application Parameters of Massage Procedures and Selection Criteria for Aesthetic Massage Procedures
6.5. Techniques for Performing Body Aesthetic Massage Procedures
6.6. Zone Massage: Specific Procedures and Time of Execution
6.7. Aesthetic Massage With Mechanical Effect Equipment
6.8. Aesthetic Massage With Mechanical Effect
6.9. Application Techniques of the Different Equipment
6.10. Indications for Mechanical Aesthetic Massage
6.11. Immediate and Subsequent Results of Mechanical Massage on Different Organs, Devices and Systems
Module 7. Peeling in Dermocosmetics
7.1. General Aspects
7.2. Advance Preparation
7.3. Superficial Peeling
7.4. Medium Peeling
7.5. Deep Peeling
7.6. Post Peeling Care: Adverse Effects and their Treatment
7.7. Introduction to Dermocosmetics
7.8. General Cosmetic Skin Care
7.9. Specific Cosmetic Care
Module 8. Nutrition applied to Aesthetic Physiotherapy: Psychological Aspects of the Patient
8.1. Nursing Care in Anti-Aging Nutricosmetics
8.2. Orthomolecular Dermocosmetics
8.3. Microbiota
8.4. Prebiotics and Probiotics
8.5. Nutrigenetics. Nutrigenomics
8.6. Supplementation
8.7. Food additives
8.8. Most Frequent Nutritional Alterations Related to Aesthetics
8.9. Psychological Aspects of Aging
Module 9. Physical Activity: Sedentary Lifestyle and Obesity
9.1. Physiology of Physical Activity
9.2. Physiological Evaluation and Interpretation I
9.3. Physiological Evaluation and Interpretation II
9.4. Personalized Prescription of Physical Activity in Young Adults
9.5. Personalized Prescription of Physical Activity for the Elderly
9.6. Physical Activity, Longevity and Quality of Life
9.7. Strategies for Rehabilitation and Recovery from Exertion
9.8. Sedentary Lifestyles and Obesity
9.9. Pharmacological Treatment of Obesity. GLP1-Liraglutide
9.10. Dietary Supplementation
Module 10. Care for Other Procedures and Treatments
10.1. Facial Fillers
10.2. Bioplasty
10.3. Botulinum Toxin
10.4. Sustaining Wires
10.5. Chemical Peeling
10.6. Radiofrequency, Technology and Biological Effects
10.7. Facial Rejuvenation
10.8. Rhinomodeling and Mentoplasty
10.9. Facial and Body Carboxitherapy
10.10. PRP (Platelet Rich Plasma)
10.11. Microdermabrasion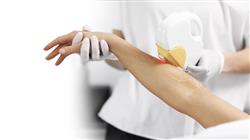 Reach all your professional goals thanks to the complete contents provided by TECH"
Professional Master's Degree in Dermocosmetics
If you want to gain extensive knowledge about cosmetic products and their relationship with the skin, the Professional Master's Degree in Dermocosmetics designed by TECH is your best option. The program addresses the most relevant aspects of dermatology, the physiology of the skin and its treatment with cosmetic products, as well as the most commonly used techniques and technologies in the field of cosmetic dermatology. As a result, you will be able to design personalized treatment plans for each patient, achieving healthy and radiant skin. What are you waiting for to enroll in the world's largest digital university?