A scientific investigation must be carried out in an infinite number of professional processes where accuracy is required. This process allows the elimination of errors in each task, allowing optimal results in any case. This does not exclude the journalistic media, since the capture and classification of information must be transparent and real, according to the facts. In this article we will see the phases of scientific research focused on the media.
One of the main weaknesses diagnosed in the world of communication research is the weak training with which many participants reach the final stages of their studies. They are asked to generate a research project (degree work) without having been properly trained in the area. This module trains the participant in the phases that must be covered in order to generate a feasible and solid research project.
You will learn to discriminate the correct approach depending on the purposes pursued in the project. Likewise, you will learn to discriminate the appropriate tools for the collection of information and its subsequent processing. In this topic you will look closely at each of the phases of an investigation to understand the processes behind each one.
The first topic described research as a methodological process. Hence, the importance of understanding each step, its implications and the tools that can be used to do it as well as possible. As will be seen, each step links to the one that follows and also to the one that preceded it.
Phases of an investigation
The phases of an investigation are as follows:
Choice of Topic.
Problem statement.
Problem Justification.
Research Objectives.
Theoretical Framework.
Methodology.
As can be seen, it is a complex process and each phase is very important.
Choice of Topic
In the previous topic something was anticipated about the complexity of this part of the research. One of the first and most important decisions that the researcher has to make is to select a topic that meets a series of qualities that can later justify its selection. The most suitable approach is to start by selecting a very general one, and then progressively narrow it down.
In the choice of the topic, the object of knowledge is located and the tentative title of the research can be structured according to this topic. It should be answered in a synthetic way:
What will be investigated?
How will the research be conducted?
Why is the research topic important?
The questions are how, why, when and where.
At this point we recall the exercise that was carried out previously, in which we tried to define the topic that dealt with the use that women make of social networks. It is a matter of "questioning the object of study" until one is very clear about what one wants to do. One should imagine that this process is to put within limits, a sort of corral, the subject that one seeks to address.
It should be very clear what is included, i.e., what will be addressed and what will not? It is recommended to make a list, listing those topics that attract attention. It should be verified that they do not repeat or overlap with each other.
Scientific research approach
But how should it be approached? Experts recommend answering questions that help to define it:
What will be studied?
How is it defined, what are its characteristics?
Try to define very clearly, what it is?, and more importantly, what it is not?
Where is it going to be studied? The space of this context, where?: it can be a real space, i.e. a specific place (a country, city, town, village, urbanization, street, company, organization, institute, etc.) It can also be a figurative space (science, discipline, current of thought, field of study, literary movement, etc.).
When is it going to be studied? Time. When?: if it is a recent or long-standing issue.
Why are you going to study?
What are the reasons for your selection?
In this regard, Montes del Castillo* states that it is convenient that the student, when choosing the line and problem or topic of research, takes into account his or her own academic and social interests, his or her abilities and skills in research, or the applied dimension of the topic for social action. The choice should take into account research training and experience.
It is therefore advisable that the research problem should start from what is known, i.e., if the researcher is in the field of communication, the problem should arise from there. While it is true that those who are well trained in research can approach any object of study, it would undoubtedly expose them to certain unknowns – contextual elements, terminology, etc. – that could slow down the research.
What can be investigated? Stage 1
Ideas for research may arise from a vague but persistent intuition, a personal dissatisfaction, or any other issue identified in creative practice. Alternatively, it may be a professional stimulus that must be responded to creatively in order to survive or thrive, for example, new approaches to practice in response to cultural, social, economic, or environmental challenges.
Whatever the initial impulse, the "what" must come from a genuine will to find something, or else the study or enthusiasm is unlikely to be sustained. Note that the idea according to the authors comes from what is known, from what is handled and seen on a daily basis. It arises from a problem in which, generally, researchers feel directly or indirectly affected.
It may originate from the work environment, being a problematic reality that we wish to intervene and solve. In any case, the common denominator to all spaces is the will and personal desire to address the problem.
Why is research necessary? Step 2
Consideration should be given to whether the idea could actually be developed into a viable research topic in need of research. Generally, there is a good personal reason for conducting the research – mostly practice-related issues – but is there a broader need and could it be confirmed? The feasibility discussed earlier.
It does not make sense to undertake an investigation if you can anticipate its failure or the impossibility of completing it. There may be a need to answer this question, but it will be very important to anticipate the viability of the answer.
Stage 3
An initial search should be made for information that supports that intuition (research proposal) and, ideally, suggests that research is necessary. It is important to have some exchange of information with others in professional or research contexts. Gather basic information about the research proposal and its ethical implications.
There is something known as the "reference system". The choice of the research topic/problem starts and should always include a process of familiarization with the topic, its theoretical references, the actors involved. All this will allow a better understanding of the problem and its subsequent approach.
For the authors, all these stages are part of what they call "The planning of the journey", and as it happens in a real journey, they can be overlapped or repeated if necessary. What is not questionable or arguable is that the destination must be fairly clear and the origin as well. To quote Lewis Carrol in Alice in Wonderland: "If you don't know where you are going, any road will take you there. The road map must be clear".
Stage 4
Context study and review is an essential process for several reasons: (a) studying the context in which you are working increases your understanding of it in a general sense, both historically and in contemporary terms; (b) more specifically, it allows you to select which particular pieces of information are directly related to the research area and can critically assess relevance and significance; (c) in the process of critical study and review, you can identify some "gaps" in knowledge that help focus the research question, and confirm that you are not likely to be re-inventing the wheel!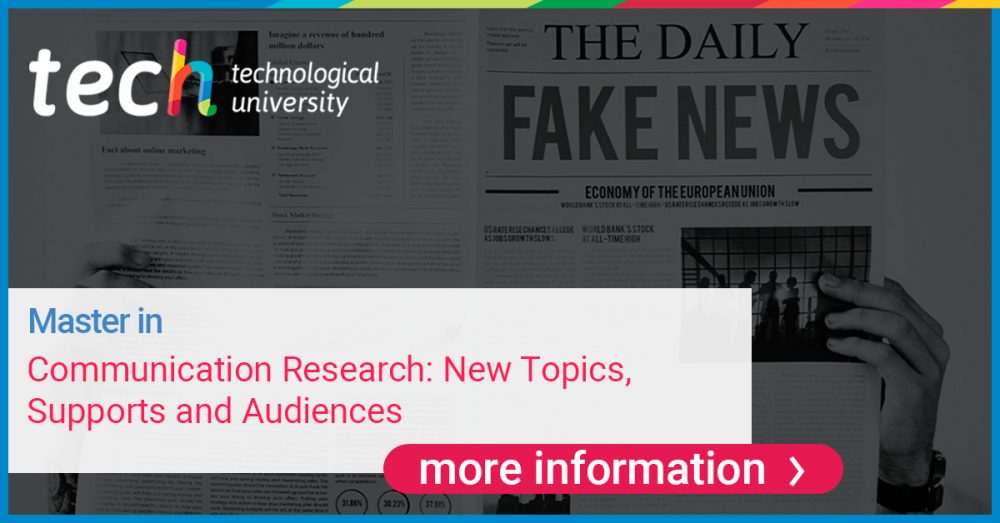 The professional and the scientific process
At TECH Technological University, a large part of the student body is focused on professional success. For this reason there is a diversity of specializations that allow this figure to perform an adequate task in any field of action. A clear example is its Faculty of Communication and Journalism where specializations such as the Master's Degree in Judicial Journalism and the Master's Degree in Political Journalism can be found.
However, none of these specializations is as close to the subject of research processes as the Master's Degree in Research in Communication Science. In this course, the professional will acquire the knowledge to become an expert in the field in just one year, accompanied by specialists in the area.