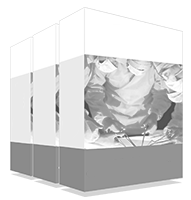 Learn how to design buildings taking into account climatic conditions, taking advantage of available natural resources, in order to reduce environmental impacts and therefore reduce energy consumption. With this complete program, you will develop your skills and knowledge in Electrical Installations, with the help of professionals in the sector.
completion date
05/21/2023
The world's largest faculty of engineering"
Engineering professionals must continue their training during their career to adapt to new developments in the field"
The Postgraduate Certificate in Electrical Installations addresses the complete range of issues involved in this field, both in the residential and tertiary sectors. Its study has a clear advantage over other programs that focus on specific blocks, which prevents the student from knowing the interrelationship with other areas included in the multidisciplinary field of Electrical Installations .
Throughout these months of specialization, you will learn to study those structural components that allow the use of sunlight and other natural resources and their architectural adaptation, you will also be able to detect the relationship of a building with human health.
By completing and passing the assessments of this training program, the student will obtain a solid knowledge of Electrical Installations .
As this is a 100% online course, the student is not constrained by fixed timetables or the need to move to another physical location, but can access the contents at any time of the day, balancing their professional or personal life with their academic life. 
Do not miss the opportunity to take this Postgraduate Certificate in Electrical Installations . It's the perfect opportunity to advance your career"
This Postgraduate Certificate in Electrical Installations contains the most complete and up-to-date academic program on the market. The most important features include: 
The development of practical cases presented by experts in Electrical Installations
The graphic, schematic, and practical contents with which they are created provide scientific and practical information on the disciplines that are essential for professional development
Practical exercises where the self-assessment process can be carried out to improve learning
Its special emphasis on innovative methodologies in Electrical Installations
Theoretical lessons, questions to the expert, debate forums on controversial topics, and individual reflection work
Content that is accessible from any fixed or portable device with an Internet connection
This Postgraduate Certificate is the best investment you can make when selecting a refresher program to update your knowledge in Electrical Installations "
Its teaching staff includes professionals belonging to the field of construction, who bring to this program the experience of their work, as well as recognized specialists from leading companies and prestigious universities. 
The multimedia content, developed with the latest educational technology, will provide the professional with situated and contextual learning, i.e., a simulated environment that will provide immersive learning programmed to train in real situations.
This program is designed around Problem-Based Learning, whereby the professional must try to solve the different professional practice situations that arise throughout the program. For this purpose, the professional will be assisted by an innovative interactive video system created by renowned experts in Electrical Installations with extensive experience.
This program comes with the best teaching material, providing you with a contextual approach that will facilitate your learning"
This 100% online program will allow you to combine your studies with your professional work while increasing your knowledge in this field."
The structure of the contents has been designed by the best professionals in the field of sustainability and energy-saving in building construction, with extensive experience and recognized prestige in the profession.
We have the most complete and up-to-date program on the market. We strive for excellence and for you to achieve it too"
Module 1. Electrical Installations
1.1. Electrical Equipment
1.1.1. Classification
1.1.2. Appliance Consumption
1.1.3. Usage Profiles
1.2. Energy Labels
1.2.1. Labeled Products
1.2.2. Label Interpretation
1.2.3. Ecolabels
1.2.4. EPREL Database Product Registration
1.2.5. Estimated Savings
1.3. Individual Measurement Systems
1.3.1. Measuring Power Consumption
1.3.2. Individual Meters
1.3.3. Switchboard Meters
1.3.4. Choosing Devices
1.4. Filters and Capacitor Banks
1.4.1. Differences between Power Factor and Cosine PHI
1.4.2. Harmonics and Distortion Rate
1.4.3. Reactive Energy Compensation
1.4.4. Filter Selection
1.4.5. Capacitor Bank Selection
1.5. Stand-By Consumption
1.5.1. Stand-By Study
1.5.2. Code of Conduct
1.5.3. Estimating Stand-By Consumption
1.5.4. Anti-Stand-By Devices
1.6. Electric Vehicle Recharging
1.6.1. Types of Recharging Points
1.6.2. Potential ITC-BT 52 Diagrams
1.6.3. Provision of Regulatory Infrastructures in Building Construction
1.6.4. Horizontal Property and Installation of Recharging Points
1.7. Uninterruptible Power Supply (UPS) Systems
1.7.1. UPS Infrastructure
1.7.2. Types of UPS
1.7.3. Features
1.7.4. Applications
1.7.5. UPS Selection
1.8. Electric Meter
1.8.1. Types of Meters
1.8.2. Digital Meter Operation
1.8.3. Use as an Analyzer
1.8.4. Telemetry and Data Mining
1.9. Electric Billing Optimization
1.9.1. Electricity Rates
1.9.2. Types of Low Voltage Consumers
1.9.3. Types of Low Voltage Rates
1.9.4. Power Term and Penalties
1.9.5. Reactive Power Term and Penalties
1.10. Efficient Usage of Energy
1.10.1. Energy Saving Habits
1.10.2. Appliance Energy Saving
1.10.3. Energy Culture in Facility Management
This program will allow you to advance in your career comfortably"