Clinical Manifestations and Oncology Nursing Research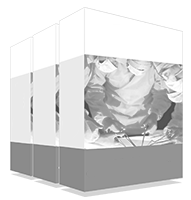 Nursing professionals are undoubtedly a key player in the development of preventive activities in the oncology setting. Their knowledge of vaccination and early detection programs is essential both for the patient and for the health system as a whole and one of the most demanded professional competences in oncology care teams. This Postgraduate Diploma aims to train the professional through a complete, global and practical learning.
completion date
09/28/2023
The world's largest faculty of nursing"
A complete specialization that will help you learn the main techniques and therapies to care for cancer patients in a comprehensive and professional manner"
The Postgraduate Diploma in Clinical Manifestations and Oncology Nursing Research has been designed to meet the nurses' need for knowledge of genetics, cell biology or tumor markers, including advanced histological and biological concepts that will allow the student to understand the mechanisms that cause cancer and the factors involved in its appearance.
The student will also become familiar with the risk factors involved in cancer occurrence and epidemiology. Cancer prevention, as well as the strategies to be implemented at each of its levels will be a fundamental topic in this Postgraduate Diploma.  
It should be taken into account that oncology patients can present a wide variety of symptoms due to the evolution and pathophysiology of their disease. Their coexistence with adverse effects attributable to antineoplastic treatments is frequent, so it is essential to perform an exhaustive, methodical and correct evaluation of the manifestations presented by the oncologic patient. To ensure a good control of the patient, it is essential that the student learns to determine the causes and factors related to the appearance of their symptomatology.  
Finally, another of the fundamental aspects on which this training program focuses is research, a basic pillar in the development of any discipline. The specialization of oncology in different areas and the evolution in the diagnosis and treatment of tumors are the result of the knowledge acquired through this research.  
The combination of multimedia resources, real clinical cases and updated contents will complete the specialization of the student, who will also acquire skills in communication, psychosocial approach and research, essential to provide quality care based on scientific evidence.
The updating of the contents of this Postgraduate Diploma and its integrative approach will give rise to a complete vision of all aspects related to oncology nursing. The contents will provide a journey through the diverse needs of cancer patients, whose particularities require personalized attention.
Both the design of the program and the didactic material used will facilitate the understanding of concepts, and the realization of practical cases will help to adapt what has been learned to clinical practice. In this way, the completion of the Postgraduate Diploma will provide immersive learning to achieve the professional's training in real situations of their usual professional practice. 
Don't miss the opportunity to study at the largest private online university in the Spanish-speaking world"
This Postgraduate Diploma in Clinical Manifestations and Oncology Nursing Research has the most complete and updated educational program on the market. The most important features of the specialization are:  
The development of case studies presented by experts in Oncology Nursing.  
The graphic, schematic, and eminently practical contents with which they are created provide scientific and practical information on the disciplines that are essential for professional practice. 
News on clinical manifestations and research in oncology nursing. 
Practical exercises where the self-assessment process can be carried out to improve learning. 
Special emphasis on innovative methodologies in Oncology Nursing. 
Theoretical lessons, questions to the expert, discussion forums on controversial topics and individual reflection papers. 
The availability of access to the contents from any fixed or portable device with Internet connection. 
This Postgraduate Diploma is the best investment you can make in selecting a refresher program to update your knowledge in Clinical Manifestations and Oncology Nursing Research" 
The teaching staff includes professionals from the field of Oncology Nursing, who bring their experience to this specialization program, as well as renowned specialists from leading societies and prestigious universities.
Its Multimedia Content, elaborated with the latest Educational Technology, will allow the Professional a situated and contextual learning, that is to say, a Simulated Environment that will provide an immersive specialization programmed to train in real situations.
This program is designed around Problem Based Learning, whereby the specialist must try to solve the different professional practice situations that arise during the academic year. For this purpose, the professional will be assisted by an innovative interactive video system created by renowned and experienced experts in Oncology Nursing with extensive experience.    
This specialisation comes with the best didactic material, providing you with a contextual approach that will facilitate your learning"
This 100% online Postgraduate Diploma will allow you to combine your studies with your professional work while increasing your knowledge in this field"
The structure of the contents has been designed by the best professionals in the field of Oncology Nursing, with extensive experience and recognized prestige in the profession, backed by the volume of cases reviewed and studied, and with extensive knowledge of new technologies applied to healthcare.        
We have the most complete and updated scientific program on the market. We strive for excellence and for you to achieve it too" 
Module 1. Introduction to Oncology. Oncology Nursing 
1.1. Oncology and Oncology Nursing 
1.1.1. Introduction to Oncology Nursing 
1.1.2. Cancer Definition 
1.1.3. Essential Histological Concepts 
1.2. Etiopathogenesis and Biology of Cancer 
1.2.1. Etiopathogenic Theories 
 1.2.1.1. Viral Theory 
 1.2.1.2. Oncogene Theory 
 1.2.1.3. Suppressor Genes Theory 
 1.2.1.4. Gene Theory 
 1.2.1.5. Inflammatory Theory 
1.2.2. Biology of Cancer 
 1.2.2.1. Concepts in Cell Biology 
 1.2.2.2. Mechanisms of Malignant Transformation 
1.3. Carcinogenesis 
1.3.1. Genetic Alterations 
 1.3.1.1. Proto-Oncogenes 
 1.3.1.2. Tumor Repair Genes 
 1.3.1.3. DNA Repair Genes 
1.3.2. Epigenetic Alterations 
1.3.3. Carcinogenic Agents 
1.4. Classification and Nomenclature of Tumors 
1.4.1. Benign Tumors 
1.4.2. Malignant tumours 
1.5. Tumor Progression Staging. 
1.5.1. Tumor Dissemination Routes 
1.5.2. Staging 
 1.5.2.1. Depending on the Size 
 1.5.2.2. Depending on the Level of Differentiation 
1.6. Risk Factors. 
1.6.1 Genetic Factors 
1.6.2 Hormonal Factors 
1.6.3. Radiation 
1.6.4. Tobacco 
1.6.5. Alcohol 
1.6.6. Diet 
1.6.7. Drugs: 
1.6.8. Physical Agents 
1.6.9. Chemical Agents 
1.6.10. Biological Agents 
1.6.11. Occupational Exposure 
1.7. Epidemiology of Cancer. 
1.7.1. Cancer Epidemiology Worldwide 
1.7.2. Cancer Epidemiology in Spain 
 1.7.2.1. Incidence 
 1.7.2.2. Prevalence 
 1.7.2.3. Mortality 
 1.7.2.4. Survival 
1.8. Cancer Prevention. 
1.8.1. Types of Prevention 
1.8.2. Primary Prevention 
 1.8.2.1. Intervention Against Smoking 
 1.8.2.2. Intervention Against Alcohol Consumption 
 1.8.2.3. Promotion of Healthy Diet 
1.8.3. Secondary prevention 
1.8.4. Tertiary prevention 
1.8.5. Quaternary Prevention 
1.9. Early Detection Programs 
1.9.1. Colorectal Cancer Early Detection Program 
1.9.2. Breast Cancer Early Detection Program 
1.9.3. Cervical Cancer Early Detection Program 
1.10. Global Assessment of the Oncologic Patient 
1.10.1. Tumor Markers 
1.10.2. Imaging Tests 
1.10.3. Neurological Assessment Scales 
 1.10.3.1. Quality of Life Rating Scales  
  1.10.3.1.1. Symptom Assessment 
  1.10.3.1.2 Functional Assessment 
  1.10.3.1.3. Quality of life Assessment 
Module 2. Clinical Manifestations and Emergencies in the Oncologic Patient
2.1. Introduction to Semiology in the Oncologic Patient  
2.1.1. Nurse Assessment the Oncologic Patient  
2.1.2. NANDA-NOC-NIC Care Plan  
2.2. Respiratory Manifestations  
2.2.1. Dyspnoea  
2.2.2. Cough  
2.2.3. Hiccup  
2.2.4. Hemoptysis.  
2.2.5. Neoplastic Pleural Effusion  
2.3. Digestive System Manifestations  
2.3.1  Dry Mouth  
2.3.2. Nausea and Vomiting  
2.3.3. Constipation. Fecaloma  
2.3.4. Diarrhea  
2.3.5. Gastric Crush Syndrome  
2.3.6. Dysphagia  
2.3.7. Sialorrhea  
2.3.8. Intestinal Obstruction  
2.3.9. Neoplastic Ascites  
2.4. Urinary Manifestations  
2.4.1. Bladder Spasm  
2.4.2. Urinary Incontinence  
2.4.3. Vesical Tenesmus  
2.4.4. Dysuria  
2.4.5. Hematuria.  
2.5. Psychological Manifestations  
2.5.1. Acute Confusional Syndrome  
2.5.2. Anxiety  
2.5.3. Depression  
2.5.4. Insomnia  
2.6. Nervous System Manifestations  
2.6.1. Seizures.  
2.6.2. Spinal Cord Compression  
2.6.3. Intracranial Hypertension  
2.6.4. Muscle Spasms  
2.6.5. Metabolic Encephalopathy  
2.7. Hematologic and Circulatory Manifestations  
2.7.1. Hemorrhages  
2.7.2. Anaemia  
2.7.3. Superior Vena Cava Syndrome  
2.7.4. Neoplastic Pericardial Effusion  
2.8. Miscellaneous: Systemic Symptoms and Constitutional Syndrome  
2.8.1. Asthenia  
2.8.2. Anorexia. Cachexia  
2.8.3. Diaphoresis  
2.8.4. Neoplastic Lymphedema  
2.8.5. Tumor Ulcers  
2.8.6. Pruritus  
2.8.7. Neoplastic Fever  
2.9. Basis of Pain in Oncologic Patients  
2.9.1. Anatomophysiology  
2.9.2. Etiology  
2.9.3. Subjective Assessment  
2.9.4. Objective Assessment  
2.9.5. Measuring Instrumentation  
2.10. Analgesic Treatment Importance  
2.10.1. Analgesic Treatment Myths  
2.10.2. Analgesia Modalities
Module 3. Oncology Nursing Research 
3.1. Research Bases in Health Sciences  
3.1.1. The Scientific Method. Structure   
3.1.2. Quantitative and Qualitative Research Designs  
3.1.3. Variables Definition Sampling  
3.1.4. Data Analysis  
3.1.5. Results Presentation  
3.2. Oncology Applied Research  
3.2.1. Medical history  
3.2.2. Current Overview  
3.3. Oncology Research Areas  
3.3.1. Surgical Oncology  
3.3.2. Radiotherapy Oncology  
3.3.3. Medical Oncology  
3.4. Oncology Translational Research  
3.4.1. Basic and Clinical Research  
3.4.2. Translational Research as a Roadmap  
3.5. Nursing Oncology Research Areas  
3.5.1. Nursing Care Research  
3.5.2. Research on Oncology Patient Problems  
3.5.3. Research in Activities Derived from Other Disciplines  
3.5.4. Resource Management and Leadership  
3.6. Challenges for the Future of Oncology Nursing Research.  
3.6.1. History of Nursing Research  
3.6.2. Nursing Research Difficulties  
3.6.3. Future Outlook  
3.7. Guidelines for Junior Researchers  
3.7.1. Research Project Design  
3.7.2. Main Groups and Research Lines  
3.7.3. Resources for Junior Researchers  
3.7.4. Financing Means  
3.8. Evidence-Based Nursing  
3.8.1. Evidence-Based Practices in Oncology  
3.9. Critical Reading of Scientific Literature  
3.9.1. Basis of Critical Reading  
3.9.2. Models of Critical Reading  
3.10. Research: ICT and Apps Applied to Oncology  
3.10.1. Use and Communication between Professionals  
3.10.2. Patient Outreach 
This specialization will allow you to advance in your career comfortably"