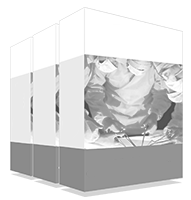 The skin is a very large and complex organ. It is also the fundamental element that determines people's appearance and is exposed to enormous daily wear and tear, so it needs special care. Aesthetic nursing is one of the disciplines that can contribute the most in this sense, and that is why its professionals have within their reach the ability to contribute to the health of their patients by applying innovative treatments. This degree offers students all the necessary knowledge to become experts in skin care, so that they can master all the techniques of aesthetic care applied to this organ.
The world's largest faculty of nursing"
The skin determines people's appearance: know it in depth and apply the best existing treatments in aesthetic nursing"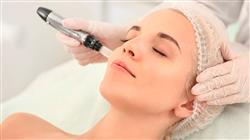 Of the organs that make up the human body, the skin is one of the most important. Aesthetically, it is the most visible part of people, so it influences both socially and emotionally, so it should be treated with the importance it deserves. 
But, although it may seem simple, it is an extremely complex organ that should be known in depth to be able to apply the appropriate treatments according to the existing pathology. And in the case of aesthetics, mastering this knowledge can make the techniques used solve the problems found in patients, making them feel better about themselves thanks to the improvement experienced. 
Thus, this Postgraduate Certificate in Aesthetic Nursing: La Piel offers its students the possibility of specializing in this field, obtaining the necessary skills and competencies to be able to apply innovative skin treatments to their patients, who will know that they are in the best hands thanks to the quality of the treatment they will receive. 
Get to know the skin in depth and offer your patients the most appropriate solutions to their problems" 
This Postgraduate Certificate in Aesthetic Nursing Skin contains the most complete and up-to-date educational program on the market. The most important features include:
Developing practical cases presented by experts in Esthetic Nursing 
The graphic, schematic, and eminently practical contents with which they are created, provide scientific and practical information on the disciplines that are essential for professional practice. 
Practical exercises where self-assessment can be used to improve learning. 
Its special emphasis on innovative methodologies  
Theoretical lessons, questions to the expert, debate forums on controversial topics, and individual reflection assignments 
Content that is accessible from any fixed or portable device with an Internet connection 
The skin is one of the most important organs of the body and with this Postgraduate Certificate you will know everything about how it works"
The program's teaching staff includes professionals from the sector who contribute their work experience to this training program, as well as renowned specialists from leading societies and prestigious universities.  
Its multimedia content, developed with the latest educational technology, will allow the professional a situated and contextual learning, that is, a simulated environment that will provide an immersive training programmed to train in real situations.  
This program is designed around Problem Based Learning, whereby the professional must try to solve the different professional practice situations that arise during the academic year. For this purpose, the student will be assisted by an innovative interactive video system created by renowned and experienced experts.
Your patients will not want to be cared for by another nurse"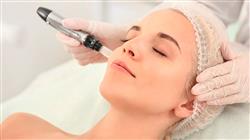 This qualification is what you need to progress. Enroll now and check it out "
The contents of this Postgraduate Certificate in Aesthetic Nursing Skin Designed by great specialists in this organ and its aesthetic treatments. Thus, throughout the module that makes up this degree, students will learn everything about hair, nails, sebaceous and sweat glands, metabolism, temperature regulation and different cares of this organ in the different stages of life, among many other elements.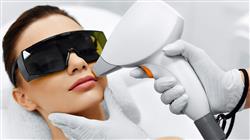 You won't find a better program with which to specialize in aesthetic skin nursing"
Module 1. Skin   
4.1.    Skin Anatomy and Structure of the Skin 
4.2.    Skin Appendages 
4.2.1.    Hair 
4.2.2.    Nails 
4.2.3.    Sebaceous Glands 
4.2.4.    Sweat Glands 
4.3.    Skin Functions and Elementary Lesions 
4.3.1.    Protection 
4.3.2.    Metabolism 
4.3.3.    Temperature Regulation 
4.3.4.    Sensory 
4.3.5.    Excretory 
4.3.6.    Energy Reserve 
4.4.    Care of the Skin in the Different Stages of Life: Neonatal, Pediatrics, Adolescent, Adult, Geriatric, Pregnancy 
4.4.1.    Neonatal 
4.4.2.    Paediatric 
4.4.3.    Adolescent 
4.4.4.    Adult 
4.4.5.    Geriatric 
4.4.6.    Pregnancy 
4.5.    Embryology of the Skin and Skin Appendages 
4.5.1.    Skin Development 
4.5.2.    Hair Development 
4.5.3.    Nail Development 
4.5.4.    Skin Gland Development 
4.6.    Skin Types 
4.6.1.    Density 
4.6.2.    Skin Emulsion 
4.6.3.    Skin Phototype 
4.6.4.    Status 
4.7.    Skin Hygiene 
4.8.    Types of Face and Body Hygiene Treatment 
4.9.    Skin Cleansing 
4.9.1.    Superficial Cleansing of the Face and Body 
4.9.2.    Deep Skin Cleansing 
4.9.3.    Specific Techniques for Deep Skin Cleansing 
4.9.4.    Facial Cleansing Treatment Steps 
4.9.5.     Body Cleansing Treatment Steps 
4.9.6.    Tools and Materials Used in Hygiene Treatments 
4.10.    Skin Hydration 
4.10.1.    Manual Techniques 
4.10.2.    Materials and Technical Methods 
4.10.3.    Specific Cosmetics 
4.10.4.    Equipment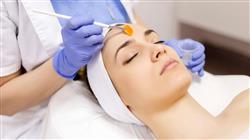 You will be a highly valued nursing professional in your environment thanks to this Postgraduate Certificate"