Clinical Nutrition for Nursing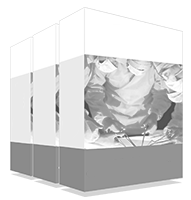 Healthcare practitioners are in direct contact with patients who, on many occasions, require specific nutritional intake. This makes it necessary for nurses to have a high level of knowledge in clinical nutrition in order to perform their work with the highest quality standards. TECH offers the most complete program on the market, designed by leading experts in the field.
completion date
03/28/2025
The world's largest faculty of nursing"
Qualify yourself with the best Advanced Master's Degreeon the market and offer your patients quality nursing care, providing all your knowledge in nutrition"
Keeping a balanced diet helps to maintain health. However, there are pathologies that demand certain dietary protocols that are more beneficial to control and help overcome disease. In this field, the work of the healthcare practitioner is essential, since having a broad knowledge of clinical nutrition will allow them to offer more personalized care to their patients.
Therefore, specialization in nutrition is the healthcare practitioner's essential response to healthcare and preventive needs of the population in terms of nutrition and health, and is especially important in the field of nursing.
In pediatric pathology, nutrition intervenes as an etiological factor and as a complication of other diseases. In the same way in geriatrics, sick patients or even athletes, the exhaustive and complete control of food becomes an essential tool in any therapeutic approach. In this scenario, the study of the human microbiota opens a door to the knowledge of multiple diseases, especially the so-called functional diseases, with the microbiome being the main workhorse of researchers.
In addition, there is ample evidence on the importance of proper nutrition for the prevention and treatment of chronic diseases, such as cardiovascular diseases, type 2 diabetes mellitus, cancer, among others, and this, together with the fact that there are more and more nutritional supplements available to users, makes it vitally important to have the necessary expertise to provide good nutritional advice.
This Advanced Master's Degree offers the possibility to learn in depth and update knowledge in this subject, with the use of the most up-to-date educational technology. It provides an overview of clinical nutrition, while focusing on the most important and innovative aspects of feeding in the pediatric age, as well as the diseases in which feeding plays a highly relevant role. All this in a 100% online specialization, which will allow you to expand your knowledge and, therefore, your professional skills and competencies in a simple way, adapting your study time to the rest of your daily obligations.
Keeping up to date with the latest developments in clinical nutrition will help you provide better care for your patients. Do not hesitate and increase your education in this field"
This Advanced Master's Degree in Clinical Nutrition for Nursing contains the most complete and up-to-date scientific program on the market. The most important features include:
Clinical cases presented by experts in the different specialties
The graphic, schematic, and practical contents with which they are created, provide scientific and practical information on the disciplines that are essential for professional practice
Diagnostic and therapeutic novelties on the management of pathologies in the field of nutrition 
Presentation of practical workshops on procedures, diagnosis, and treatment techniques
Contains real images in high resolution and practical exercises where the self-evaluation process can be carried out to improve learning
An algorithm-based interactive learning system for decision-making in the clinical situations presented throughout the course
Special emphasis on test-based medicine and research methodologies
All of this will be complemented by theoretical lessons, questions to the expert, debate forums on controversial topics, and individual reflection assignments
Content that is accessible from any fixed or portable device with an Internet connection
This program is the best investment you can make in selecting a refresher program for two reasons: in addition to updating your knowledge of Advanced Master's Degree, you will earn a degree from TECH Technological University"
Its teaching staff includes healthcare practitioners from the field of nutrition, who contribute their work experience to this program, as well as renowned specialists belonging to leading scientific societies. 
Thanks to its multimedia content developed with the latest educational technology, it will allow the professional a situated and contextual learning, that is to say, a simulated environment that will provide an immersive learning programmed to prepare in real situations. 
This program is designed around Problem-Based Learning, whereby the physician must try to solve the different professional practice situations that arise throughout the program. To do so, the physician will be assisted by an innovative interactive video system created by renowned experts in the field of Clinical Nutrition for Nursing with extensive teaching experience.  
Increase your confidence in decision making by updating your knowledge through this Advanced Master's Degree, a program created to prepare the best"
We offer you the best teaching methodology, with a multitude of practical contents that will allow you to study in a more complete and effective way"
Aware of the current relevance of specialization and the need to support each study and its application with a solid scientific basis based on evidence, they have created an educational path in which each topic will address one of the relevant aspects for the development of a highly competent professional. All this makes up a syllabus of high educational intensity and unparalleled quality, which includes state-of-the-art virtual theory and practice, and which will propel the professional to the most complete level of mastery in this area.
This program is an unparalleled opportunity to obtain, in a single specialization, all the necessary knowledge in Nutrition including the most recent advances in intervention techniques and protocols"
Module 1. New Developments in Food
1.1. Molecular Foundations of Nutrition
1.2. Update on Food Composition
1.3. Food Composition Tables and Nutritional Databases
1.4. Phytochemicals and Non-Nutritive Compounds
1.5. New Food
1.5.1. Functional Nutrients and Bioactive Compounds
1.5.2. Probiotics, Prebiotics and Symbiotics
1.5.3. Quality and Design
1.6. Organic Food
1.7. Transgenic Foods
1.8. Water as a Nutrient
1.9. Food Safety
1.9.1. Physical Hazards
1.9.2. Chemical Hazards
1.9.3. Microbiological Hazards
1.10. Phytotherapy Applied to Nutritional Pathologies
Module 2. Current Trends in Nutrition
2.1. Nutrigenetics
2.2. Nutrigenomics
2.2.1. Fundamentals
2.2.2. Methods
2.3. Immunonutrition
2.3.1. Nutrition-Immunity Interactions
2.3.2. Antioxidants and Immune Function
2.4. Physiological Regulation of Feeding. Appetite and Satiety
2.5. Psychology and Nutrition
2.6. Nutrition and Sleep
2.7. Update on Nutritional Objectives and Recommended Intakes
2.8. New Evidence on the Mediterranean Diet
Module 3. Probiotics, Prebiotics, Microbiota, and Health 
3.1. Probiotics: Definition, History, Mechanisms of Action
3.2. Prebiotics: Definition, Types of Prebiotics (Starch, Inulin, FOS Oligosaccharides), Mechanisms of Action
3.3. Clinical Applications of Probiotics and Prebiotics in Gastroenterology
3.4. Clinical Applications of Endocrinology and Cardiovascular Disorders
3.5. Clinical Applications of Probiotics and Prebiotics in Urology
3.6. Clinical Applications of Probiotics and Prebiotics in Gynecology
3.7. Clinical Applications of Probiotics and Prebiotics in Immunology. Autoimmunity, Pulmonology, Vaccines
3.8. Clinical Applications of Probiotics and Prebiotics in Nutritional Diseases. Obesity and Eating Disorders. Metabolism, Malnutrition, and Malabsorption of Nutrients
3.9. Clinical Applications of Probiotics and Prebiotics in Neurological Diseases. Mental Health. Old Age
3.10. Clinical Applications of Probiotics and Prebiotics in Critically Ill Patients. Cancer
3.11. Dairy Products as a Natural Source of Probiotics and Prebiotics. Fermented Milk
Module 4. Sports Nutrition
4.1. Physiology of Exercise
4.2. Physiological Adaptation to Different Types of Exercise
4.3. Metabolic Adaptation to Exercise. Regulation and Control
4.4. Assessing Athletes' Energy Needs and Nutritional Status
4.5. Assessing Athletes' Physical Ability
4.6. Nutrition in the Different Phases of Sports Practice
4.6.1. Pre-Competition
4.6.2. During
4.6.3. Post-Competition
4.7. Hydration
4.7.1. Regulation and Needs
4.7.2. Types of Beverages
4.8. Dietary Planning Adapted to Different Sports
4.9. Nutrition in Sports Injury Recovery
4.10. Psychological Disorders Related to Practising Sport
4.10.1. Eating Disorders: Bigorexia, Orthorexia, Anorexia
4.10.2. Fatigue Caused by Overtraining
4.10.3. The Female Athlete Triad
4.11. The Role of the Coach in Sports Performance
Module 5. Clinical Nutrition for Nursing and Hospital Dietetics
5.1. Management of Hospital Nutrition Units
5.1.1. Nutrition in the Hospital Setting
5.1.2. Food Safety in Hospitals
5.1.3. Hospital Kitchen Organization
5.1.4. Planning and Managing Hospital Diets. Dietary Code
5.2. Hospital Basal Diets
5.2.1. Basal Diet in Adults
5.2.2. Pediatric Basal Diet
5.2.3. Ovo-Lacto-Vegetarian and Vegan Diet
5.2.4. Diet Adapted to Cultural
5.3. Therapeutic Hospital Diets
5.3.1. Unification of Diets and Personalized Menus
5.4. Bidirectional Drug-Nutrient Interaction
Module 6. Nutrition in Digestive System Pathologies
6.1. Nutrition in Oral Disorders
6.1.1. Taste
6.1.2. Salivation
6.1.3. Mucositis
6.2. Nutrition in Esophageal and Gastric Disorders
6.2.1. Gastroesophageal Reflux
6.2.2. Gastric Ulcers
6.2.3. Dysphagia
6.3. Nutrition in Post-Surgical Syndromes
6.3.1. Gastric Surgery
6.3.2. Small Intestine
6.4. Nutrition in Bowel Function Disorders
6.4.1. Constipation
6.4.2. Diarrhea
6.5. Nutrition in Malabsorption Syndromes
6.6. Nutrition in Colonic Pathology
6.6.1. Irritable Bowel
6.6.2. Diverticulosis
6.7. Nutrition in Inflammatory Bowel Disease (IBD)
6.8. Most Frequent Food Allergies and Intolerances with Gastrointestinal Effects
6.9. Nutrition in Liver Diseases
6.9.1. Portal Hypertension
6.9.2. Hepatic Encephalopathy
6.9.3. Liver Transplant
6.10. Nutrition in Biliary Diseases. Biliary Lithiasis
6.11. Nutrition in Pancreatic Diseases
6.11.1. Acute Pancreatitis
6.11.2. Chronic Pancreatitis
Module 7. Nutrition in Endocrine-Metabolic Diseases
7.1. Dyslipidemia and Arteriosclerosis
7.2. Diabetes Mellitus
7.3. Hypertension and Cardiovascular Disease
7.4. Obesity
7.4.1. Etiology. Nutrigenetics and Nutrigenomics
7.4.2. Pathophysiology of Obesity
7.4.3. Diagnosis of the Disease and its Comorbidities
7.4.4. Multidisciplinary Team in Obesity Treatment
7.4.5. Dietary Treatment. Therapeutic Possibilities
7.4.6. Pharmacological Treatment. New Drugs
7.4.7. Psychological Treatment
7.4.7.1. Intervention Models
7.4.7.2. Treatment of Associated Eating Disorders
7.4.8. Surgical Treatments
7.4.8.1. Indications
7.4.8.2. Techniques
7.4.8.3. Complications
7.4.8.4. Dietary Management
7.4.8.5. Metabolic Surgery
7.4.9. Endoscopic Treatments
7.4.9.1. Indications
7.4.9.2. Techniques
7.4.9.3. Complications
7.4.9.4. Patient Dietary Management
7.4.10. Physical Activity in Obesity
7.4.10.1. Assessment of the Patient's Functional Capacity and Activity
7.4.10.2. Activity-based Prevention Strategies
7.4.10.3. Intervention in the Treatment of the Disease and Associated Pathologies
7.4.11. Update on Diet and Obesity Studies
7.4.12. International Intervention Strategies for Obesity Control and Prevention
Module 8. Nutrition in Special Situations
8.1. Nutrition in Metabolic Stress Situations
8.1.1. Sepsis
8.1.2. Polytrauma
8.1.3. Burns
8.1.4. Transplant Recipient
8.2. Oncology Patient Nutrition
8.2.1. Surgical Management
8.2.2. Chemotherapy Treatment
8.2.3. Radiotherapy Treatment
8.2.4. Bone Marrow Transplant
8.3. Immune Diseases
8.3.1. Acquired Immunodeficiency Syndrome
Module 9. Nutrition in Deficiency Diseases 
9.1. Malnutrition
9.1.1. Hospital Malnutrition
9.1.2. The Fasting and Refeeding Cycle
9.2. Anaemia. Hemochromatosis
9.3. Vitamin Deficiencies
9.4. Osteoporosis
9.5. Oral Disease and its Relation to Diet
Module 10. Artificial Nutrition in Adults 
10.1. Enteral Nutrition
10.2. Parenteral Nutrition
10.3. Artificial Nutrition at Home
10.4. Adapted Oral Nutrition
Module 11. Assessment of Nutritional Status and Diet. Practical Application 
11.1. Bioenergy and Nutrition
11.1.1. Energy Needs
11.1.2. Methods of Assessing Energy Expenditure
11.2. Assessment of Nutritional Status
11.2.1. Body Composition Analysis
11.2.2. Clinical Diagnosis. Symptoms and Signs
11.2.3. Biochemical, Hematological and Immunological Methods
11.3. Intake Assessment
11.3.1. Methods for Analyzing Food and Nutrient Intake 
11.3.2. Direct and Indirect Methods
11.4. Update on Nutritional Requirements and Recommended Intakes
11.5. Nutrition in a Healthy Adult. Objectives and Guidelines. Mediterranean Diet
11.6. Nutrition in Menopause
11.7. Nutrition in the Elderly
Module 12. Nutritional Consultation 
12.1. How to Carry Out a Nutritional Consultation?
12.1.1. Analysis of the Market and Competition
12.1.2. Clientele
12.1.3. Marketing. Social Media
12.2. Psychology and Nutrition
12.2.1. Psychosocial Factors Affecting Eating Behavior
12.2.2. Interview Techniques
12.2.3. Dietary Advice
12.2.4. Stress Control 
12.2.5. Child and Adult Nutrition Education
Module 13. Physiology of Infant Nutrition 
13.1. Nutrition During Pregnancy and its Impact on the New-born
13.2. Current Trends in the Premature New-born Nutrition
13.3. Nutrition of Newborns with Intrauterine Growth Delay. Implications on Metabolic Diseases
13.4. Nutrition in Lactating Women and its Impact on the Infant
13.5. Breastfeeding
13.5.1. Human Milk as a Functional Food
13.5.2. Process of Milk Synthesis and Secretion
13.5.3. Reasons for it to be Encouraged
13.6. Human Milk Banks
13.6.1. Milk Bank Operation and Indications
13.7. Characteristics of the Formulae Used in Infant Feeding
13.8. Influence of Nutrition on Growth and Development
13.9. Nutritional Requirements in the Different Periods of Childhood
13.10. Nutritional Assessment in Children
13.11. Physical Activity Evaluation and Recommendations
13.12. The Move to a Diversified Diet. Complementary Feeding During the First Year of Life 
13.13. Feeding 1–3-Year-Old Children
13.14. Feeding During the Stable Growth Phase. Schoolchild Nutrition
13.15. Adolescent Nutrition. Nutritional Risk Factors
13.16. Child and Adolescent Athlete Nutrition
13.17. Other Dietary Patterns for Children and Adolescents. Cultural, Social, and Religious Influences on Infant Nutrition
13.18. Prevention of Childhood Nutritional Diseases. Objectives and Guidelines
Module 14. Artificial Nutrition in Pediatrics 
14.1. Nutritional Therapy in Pediatrics
14.1.1. Evaluation of Patients in Need of Nutritional Support
14.1.2. Indications
14.2. Enteral Paediatric Nutrition
14.3. Parenteral Paediatric Nutrition
14.4. Dietary Products Used for Sick Children or Children with Special Needs
14.5. Implementing and Monitoring Patients with Nutritional Support
14.5.1. Critical Patients
14.5.2. Patients with Neurological Pathologies
14.6. Artificial Nutrition at Home
14.7. Nutritional Supplements to Support the Conventional Diet
14.8. Probiotics and Prebiotics in Infant Feeding
Module 15. Infant Malnutrition 
15.1. Infant Malnutrition
15.1.1. Psychosocial Aspects
15.1.2. Pediatric Assessment
15.1.3. Treatment and Monitoring
15.2. Undernourishment
15.2.1. Clinical Classification
15.2.2. Repercussions on a Developing Organism
15.3. Iron Deficiency
15.3.1. Other Nutritional Anemias in Childhood
15.4. Vitamin and Trace Element Deficiencies
15.4.1. Vitamins
15.4.2. Trace Elements
15.4.3. Detection and Treatment
15.5. Fats in Infant Diets
15.5.1. Essential Fatty Acids
15.6. Childhood Obesity
15.6.1. Prevention
15.6.2. Impact of Childhood Obesity
15.6.3. Nutritional Treatment
Module 16. Childhood Nutrition and Pathologies 
16.1. Nutrition of Children with Oral Pathologies
16.1.1. Major Childhood Oral Pathologies
16.1.2. Repercussions of These Alterations on the Child's Nutrition
16.1.3. Mechanisms to Avoid Related Malnutrition 
16.2. Nutrition of Infants and Children with Gastroesophageal Reflux
16.2.1. Repercussions of These Alterations on the Child's Nutrition
16.2.2. Mechanisms to Avoid Related Malnutrition
16.3. Nutrition in Acute Diarrhea Situation
16.3.1. Repercussions of These Alterations on the Child's Nutrition
16.3.2. Mechanisms to Avoid Related Malnutrition
16.4. Nutrition in Children with Celiac Disease
16.4.1. Repercussions of These Alterations on the Child's Nutrition
16.4.2. Mechanisms to Avoid Related Malnutrition
16.5. Nutrition in Children with Inflammatory Bowel Disease
16.5.1. Repercussions of These Alterations on the Child's Nutrition
16.5.2. Mechanisms to Avoid Related Malnutrition
16.6. Nutrition in Children with Digestive Malabsorption Syndrome
16.6.1. Repercussions of These Alterations on the Child's Nutrition
16.6.2. Mechanisms to Avoid Related Malnutrition
16.7. Nutrition in Children with Constipation
16.7.1. Nutritional Mechanisms to Prevent Constipation
16.7.2. Nutritional Approaches for Treating Constipation
16.8. Nutrition in Children with Liver Disease
16.8.1. Repercussions of These Alterations on the Child's Nutrition
16.8.2. Mechanisms to Avoid Related Malnutrition
16.8.3. Special Diets
Module 17. Childhood Nutrition and Pathologies 
17.1. Feeding Difficulties and Disorders in Children Small
17.1.1. Physiological Aspects
17.1.2. Psychological Aspects
17.2. Eating Disorders
17.2.1. Anorexia
17.2.2. Bulimia
17.2.3. Others
17.3. Inborn Errors of Metabolism
17.3.1. Principles for Dietary Treatment
17.4. Nutrition in Dyslipidemias
17.4.1. Nutritional Mechanisms to Prevent Dyslipidemias
17.4.2. Nutritional Approaches for Treating Dyslipidemias
17.5. Nutrition in Diabetic Children
17.5.1. Repercussions of Diabetes on the Child's Nutrition
17.5.2. Mechanisms to Avoid Related Malnutrition
17.6. Nutrition in Autistic Children
17.6.1. Repercussions of These Alterations on the Child's Nutrition
17.6.2. Mechanisms to Avoid Related Malnutrition
17.7. Nutrition in Children with Cancer
17.7.1. Repercussions of Disease and Treatments in the Child's Nutrition
17.7.2. Mechanisms to Avoid Related Malnutrition
17.8. Nutrition in Children with Chronic Pulmonary Pathology
17.8.1. Repercussions of These Alterations on the Child's Nutrition
17.8.2. Mechanisms to Avoid Related Malnutrition
17.9. Nutrition in Children with Nephropathy
17.9.1. Repercussions of These Alterations on the Child's Nutrition
17.9.2. Mechanisms to Avoid Related Malnutrition
17.9.3. Special Diets
17.10. Nutrition in Children with Food Allergies and/or Intolerances
17.10.1. Special Diets
17.11. Childhood and Bone Pathology Nutrition
17.11.1. Mechanisms for Good Bone Health in Childhood
A unique, key, and decisive master's degree experience to boost your professional development"