Pain and Aging in Physical Therapy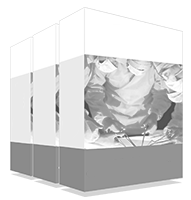 Within the physiotherapy approach in geriatrics, the advances that have occurred in the treatment of pain over the past few years have affected the professional practice in this area in a very interesting way. This specialization will allow you to acquire knowledge of new approaches that will allow you to offer cutting-edge care to your geriatric patients with the most up-to-date and effective intervention.
completion date
09/21/2023
The world's largest school of physiotherapy"
A complete study about the most outstanding advances in the attention and care of patients with pain from the techniques of physiotherapy work in the geriatric area"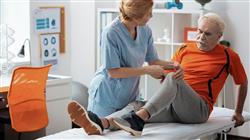 One of the priorities of physiotherapists is to achieve pain management that allows sufferers to find the wellbeing they need. This applies to all types of patients, but especially geriatric patients who require greater delicacy in all interventions.  
To this end, the professional must assess and explore the patient's resistance and physiological reserves in order to establish the appropriate framework for action and choose between home care, residential care, day care centers, social centers or private clinics.
Treatment should include pre-frailty, frailty, trauma and neurological disorders, respiratory and/or pelvic floor disorders, which may be associated with gerontological syndromes or cognitive impairment, side effects of drugs and/or biopsychosocial conditions that may complicate the clinical picture.
It is therefore essential to know the tools of physiotherapy and the appropriateness of their application in each case, such as active exercise, manual therapy and electrotherapy. Being able to work in an interdisciplinary team, with appropriate communication tools, understanding the concept of person-centered care, having the most up-to-date knowledge of support devices and even the support of current technology can be key to success in physical therapy treatment.
Learn how to treat, prevent or alleviate pain derived from aging and the most common associated disorders" 
This Postgraduate Diploma in Pain and Aging in Physical Therapy offers you the characteristics of a program of high-level scientific, teaching and technological level. These are some of its most notable features:
The latest technology in online teaching software
A highly visual teaching system, supported by graphic and schematic contents that are easy to assimilate and understand
Practical cases presented by practising experts
State-of-the-art interactive video systems
Teaching supported by telepractice
Continuous updating and recycling systems
Autonomous learning: full compatibility with other occupations
Practical exercises for self-evaluation and learning verification
Support groups and educational synergies: questions to the expert, debate and knowledge forums
Communication with the teacher and individual reflection work
Content that is accessible from any fixed or portable device with internet connection
Supplementary documentation databases are permanently available, even after the programa    
Boost your professional growth with the convenience of a Postgraduate Diploma that adapts to your pace and real study possibilities"  
The program's teaching staff includes professionals from the sector who contribute their work experience to this program, as well as renowned specialists from leading societies and prestigious universities. 
The multimedia content, developed with the latest educational technology, will provide the professional with situated and contextual learning, i.e., a simulated environment that will provide immersive learning programmed to train in real situations. 
This program is designed around Problem-Based Learning, whereby the professional must try to solve the different professional practice situations that arise during the academic year. For this purpose, the student will be assisted by an innovative interactive video system created by renowned and experienced experts.
A dynamic and effective Postgraduate Diploma that will bring a high-impact change to your professional skills"
Using the most efficient audiovisual systems, this Postgraduate Diploma will allow you to consolidate what you learn through direct and realistic observation"
Through a complete and detailed syllabus, you will cover all the essential subject areas, gradually acquiring the skills required to put the necessary knowledge into practice. A very well-developed learning structure that is tailored to your needs and will allow you to learn in a continuous, efficient way.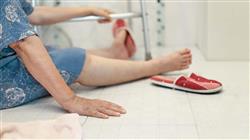 A complete teaching program structured in educational units of great impact, including all the aspects that must be considered in rehabilitative medicine when caring for patients with frailty"
Module 1. Clinical Reasoning in Physiogeriatrics
1.1. Past, Present and Future of Physiotherapy in Geriatrics
1.1.1. Brief History of Physiotherapy
1.1.1.1. Origin of Physiotherapy Beyond our Borders
1.1.1.2. Origin of Physiotherapy
1.1.1.3. Conclusions
1.1.2. Current Situation of Physiotherapy in Geriatrics
1.1.3. Future of Physiotherapy in Geriatrics
1.1.3.1. Physiotherapy and New Technologies
1.2. Active Aging
1.2.1. Introduction
1.2.2. Concept of Active Aging
1.2.3. Classification
1.2.4. Active Aging from the Patients Point of View
1.2.5. Role of the Physical Therapist in Active Aging programs
1.2.6. Example of Intervention
1.3. Physiotherapy in Geriatrics and Context of Action
1.3.1. Introduction and Definitions
1.3.2. Fields of Action
1.3.2.1. Residential Centers
1.3.2.2. Socio-Sanitary
1.3.2.3. Primary Care
1.3.2.4. Physiotherapy in Palliative Care Units
1.3.3. Future Areas in Physiogeriatrics
1.3.3.1. New Technologies
1.3.3.2. Physiotherapy and Architecture
1.3.4. Interdisciplinary Teams in Geriatrics
1.3.4.1. Multidisciplinary or Interdisciplinary Teams?
1.3.4.2. Composition and Functioning of the Interdisciplinary Team
1.3.4.3. Main Functions within the Interdisciplinary Team
1.4. Differential Diagnosis and Warning Signs and Symptoms: Red and Yellow Flags in Geriatrics. Differential Diagnosis: Red and Yellow Flags
1.4.1.  Introduction and Definitions
1.4.1.1. Differential Diagnosis
1.4.1.2. Diagnosis in Physiotherapy
1.4.1.3. Geriatric Syndromes
1.4.1.4. Red and Yellow Flags
1.4.2. Most Common Red Flags in Clinical Practice
1.4.2.1. Urinary Infection
1.4.2.2. Oncologic Pathology
1.4.2.3. Heart Failure
1.4.2.4. Fractures
1.5. Pharmacology, Effects on the Neuromusculoskeletal System
1.5.1. Introduction
1.5.1.1. Drugs Influencing Gait
1.5.2. Drugs and Risk of Falls
1.6. Approach to the Physical Therapy Session in Geriatrics
1.6.1. Examination and Physiotherapy Evaluation of the Geriatric Patient
1.6.1.1. Valuation Components
1.6.1.2. Most Commonly Used Scales and Tests
1.6.2. Determination of Treatment Objectives
1.6.3. Organization of the Treatment Session
1.6.4. Organization of the Physiotherapist's Job
1.6.5. Treatment Follow-Up in the Elderly Patient
Module 2. Person-Centered Care (PCC) from a Physiotherapy Perspective
2.1. Definition, Concepts and Basic Principles
2.1.1. Decalogue of People-Centered Care

2.1.1.2. Clarifying Concepts. Glossary of Terms
2.1.2. Origin and Conceptual Basis of PCC
2.1.2.1. References from Psychology
2.1.2.2. Referents from Social Intervention
2.1.2.3. Quality of Life Benchmarks
2.1.2.4. References from the Study of Disability
2.1.2.5. Civil Rights Referents from the Civil Rights of Individuals
2.1.2.6. Referrals from Gerontological Resources
2.1.2.7. Legal and Regulatory Aspects
2.2.The PCC Model
2.2.1. Paradigm and Intervention Model
2.3. Good Practices in PCC
2.3.1. Definition and Concept of Good Practices
2.3.2. Areas of Best Practices
2.3.3. "Best Practices", the Path to a Best Practice
2.3.4. Key Best Practices
2.4. The Process of Transformation from a Service Model to a PCC Model
2.4.1. How to Build an Apprenticeship
2.4.2. Transformation of Services
2.4.3. Transformation of People
2.5. Provision of Physical Therapy Services in an PCC Model
2.5.1. Person-Centered Physical Therapy vs. Individualized Physiotherapy
2.5.2. Epistemology of People-Centered Physiotherapy
2.6.1. Introduction
2.6.2. Actions 
2.6.2.1. The Reception of the Physiotherapist
2.6.2.2. Assessment and Evaluation Processes
2.6.2.3. The Intervention
2.6.2.4. Interrelationship with Co-Workers
2.6.2.5. Interrelation with the Physical Environment
2.6.2.6. Interrelation with the Community
Module 3. Pain and Aging, Update According to Current Scientific Evidence
3.1. Anatomy and Physiology of Pain Transmission
3.1.1. Peripheral Elements
3.1.2. Nociceptors
3.1.3. Nociceptor Depolarization
3.1.4. Peripheral Sensitization of Nociceptors
3.2. Types of Pain
3.2.1. Introduction
3.2.2. Temporal
3.2.2.1. Acute Pain
3.2.2.2. Chronic Pain
3.3. Pain and Aging
3.3.5.1. Differences in Pain Perception
3.3.5.2. Increased Chronic Inflammation in Aging
3.3.5.3. Disruption of the Circadian Cycle in Aging
3.3.5.4. Neurodegeneration and Implications for Learning
3.3.5.5. Elderly Depression
3.5.5.6. Sedentary Lifestyle and Frailty in the Elderly
3.5.5.7. Under-Recognized and Under-Treated Pain
3.4. Pain Syndromes in Geriatrics
3.4.1. Introduction
3.4.2. Cervical Osteoarthritis
3.4.3. Occipital Neuralgia
3.4.4. Cervicogenic Dizziness
3.4.5. Vertebral Fracture due to Osteoporosis
3.4.6. Lumbar Osteoarthritis and Facet Syndrome
3.4.7. Central Canal Stenosis in the Lumbar Spine
3.4.8. Hip Osteoarthritis
3.4.9. Shoulder Rotator Cuff Rupture
3.4.10. Knee Osteoarthritis
3.5. Pain Assessment
3.6. Pharmacological Treatment of Pain in the Geriatric Patient
3.6.1. Drugs for Pain
3.6.2. Aines
3.6.3. Coxibs
3.6.4. Paracetamol
3.6.5. Metamizole
3.6.6. Opioid Drugs
3.6.7. Phytotherapy
3.6.8. Adjuvant Drugs
3.7. Physiotherapist Treatment of the Geriatric Patient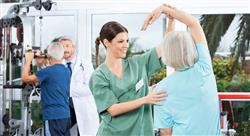 You will learn in such a way that the content of the program becomes fixed and transformed into knowledge, through a structured study that will cover all the points of interest that you need to update your practice in geriatric rehabilitation"