Advanced Treatments in Conventional Orthodontics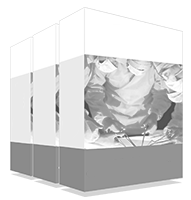 Orthodontics has undergone a true technological revolution in recent years. The new techniques allow ad hoc solutions for each patient to reduce treatment times and obtain the desired results in a more effective, comfortable and faster way. This program is designed to bring the professional up to date in advanced treatments in conventional orthodontics in a practical way.
The world's largest faculty of dentistry"
Improve your knowledge through this program, where you will find the best didactic material with real clinical cases. Learn here about the latest advances in the speciality to be able to perform quality dental practice"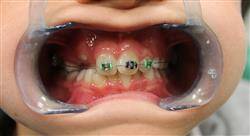 Orthodontics as a specialty is no longer directed only to patients of a specific age range. Not only children and adolescents, but also adults of both sexes and different ages are increasingly demanding dental treatment which, together with implantology, has perhaps experienced the greatest technological and quality advances in recent years.

It has been proven that having misaligned or maladjusted teeth when biting not only has aesthetic and even psychological effects, but also effects our health. Taking care of the teeth and gums is not enough to ensure a well-functioning mouth and an attractive smile. Oral hygiene is hindered by malocclusion, which can lead to periodontal disease, loss of dental support and even tooth loss. It is a process that does not stop in adulthood, and as the years go by the malposition of the teeth worsens, the lips lose support and the furrows around the mouth become more pronounced.

This program is aimed at providing the professional with an update on the main aspects of advanced treatments in conventional orthodontics, in a practical way, 100% online, and adapted to their needs.
Expand your knowledge through the Postgraduate Certificate in Advanced Treatments in Conventional Orthodontics in a practical way and adapted to your needs"
This Postgraduate Certificate in Advanced Treatments in Conventional Orthodontics contains the most complete and up-to-date scientific program on the market. 
The most important features of the program include:
Development of clinical cases presented by experts in lingual orthodontics
The graphic, schematic, and practical contents with which they are created, provide scientific and practical information on the disciplines that are essential for professional practice
Latest diagnostics and treatments related to advanced treatments in conventional orthodontics
An algorithm-based interactive learning system for decision-making in the clinical situations presented throughout the course
With special emphasis on evidence-based medicine and research methodologies in dentistry
All of this will be complemented by theoretical lessons, questions to the expert, debate forums on controversial topics, and individual reflection assignments.
Availability of content from any fixed or portable device with internet connection
This Postgraduate Certificate may be the best investment you can make when selecting a refresher program, for two reasons: in addition to updating your knowledge in Advanced Treatments in Conventional Orthodontics, you will obtain a Postgraduate Certificate from  TECH"
Forming part of the teaching staff is a group of professionals in the world of Dentistry, who bring to this course their work experience, as well as a group of renowned specialists, recognised by esteemed scientific communities.

The multimedia content developed with the latest educational technology will provide the professional with situated and contextual learning, i.e., a simulated environment that will provide immersive training program to train in real situations.

The design of this program is based on Problem-Based Learning, whereby the dentist must try to solve the different professional practice situations that arise throughout the program. For this reason, you will be assisted by an innovative, interactive video system created by renowned and experienced experts in the field of radiology with extensive teaching experience.
This program offers training in simulated environments, which provides an immersive learning experience designed to train for real-life situations"
It includes clinical cases to bring the program's degree as close as possible to the reality of care in dentistry"
The structure of the contents has been designed by a team of professionals knowledgeable about the implications of specialization in daily practice, aware of the current relevance of training in the principles of Advanced Treatments in Conventional Orthodontics, and who are committed to quality teaching through new educational technologies.
This Postgraduate Certificate in Advanced Treatments in Conventional Orthodontics contains the most complete and up-to-date scientific program on the market"
Module 1. Advanced Treatments in Conventional Orthodontics 
1.1.    Implants and Microscrews as Anchorage
1.1.1.    Microscrew Indications and Limitations
    1.1.1.1. Main Indications
    1.1.1.2. Skeletal Anchorage Limitations and Complications
1.1.2.    Clinical and Laboratory Techniques to Improve System Effectiveness and Efficiency: Current Evidence-Based Protocols
    1.1.2.1. Implanting Microscrews
    1.1.2.2. Activating Microsrews
1.2.    Surgical and Non-Surgical Aids to Speed Up Movement
1.2.1.    Chemical Techniques
1.2.2.    Physical Techniques
1.2.3.    Surgical Techniques.
1.2.4.    Micro-Osteoperforation Indications
1.3.    Impacted Teeth Treatment and Other Eruption Disorders
1.3.1.    Non-Erupted or Impacted Teeth
1.3.2.    Retained Canines
1.3.3.    Treating Other Eruption Disorders
1.4.    Treating Open Bites: Multi-Loop Technique
1.4.1.    Multi-Loop Structure and Function
1.4.2.    Multi-Loop Technique Diagnosis
1.4.3.    Treating Class III High Angle
1.4.4.    Treating Class III Low Angle
1.4.5.    Treating Class I Open Bite
1.4.6.    Treating Class II Open Bite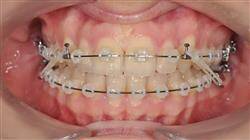 A unique, key, and decisive training experience to boost your professional development"